If you've spent time with your children in nature, you can see the positive effects of time spent outdoors. For most people, once you look into it, the health and wellness benefits are even more numerous than you realize. Studies have shown that spending time outdoors reduces stress, blood pressure and heart rate, encourages physical activity and enhances mood and mental health. And, a regular pattern of spending time in nature can even extend our life span.
Just two hours a week reaps those rewards, a large-scale study of adults young and old, of different ethnicities and in varying financial situations found. That means the stress-reducing, body-healing benefits of nature are 120 minutes away.
Also, it doesn't matter how much time you spend in each visit, as long as your weekly total—at your favorite park, forest, beach, or city block— adds up to the magic 120. The best part? Spending time outdoors with kids, even in little bits, is actually a form of self-care for parents and caregivers, too.
The Benefits of Time Outside
Time outdoors is essential for kids' well-being—and for ours, as well. When kids get outdoors, they enjoy reduced anxiety and enhanced mood. The same goes for us adults. Outdoor settings also provide kids' sensory systems with an ideal mix for learning, because the outdoors is both stimulating and calming at the same time.
Here are even more wellness benefits of outdoor play:
"To be healthy, children need several hours (not minutes!) of movement a day — preferably outdoors, where the senses are fully alive and their bodies are free to move in many different ways."—Angela Hanscom
It is not only medically sound, but plain common sense that running around outside in any season is far more beneficial than being cooped up indoors. — Dr. Michel Cohen, Author and Founder of Tribeca Pediatrics
There is so much pressure on parents to be everything today—to be there for your kids, to be your own village and to be your best you. 120 minutes a week outdoors may not completely alleviate that, but it certainly can help us all balance it—and have more reserves to bring to parenting challenges.
That goes for those of us whose schedule includes regular, daily time outdoors and those of us who find little moments before and after work. When getting outside is tough, research has found that just looking at photos of nature has restorative effects. Read here for how to bring the outdoors—and all that wellness—inside.
Here are a few of our favorite ways to explore nature with children you love:
Take the Moon for a Walk
Needed: PJ's and a lantern/flashlight
After dinner, put on PJs and grab a lantern or flashlight (If it's dark out) and take the moon for a walk. Slow down and take time to use all of your senses to experience the beauty and peace of nighttime outdoors.
For the full activities: Make a Lantern and Take the Moon for a Walk
Befriend a Tree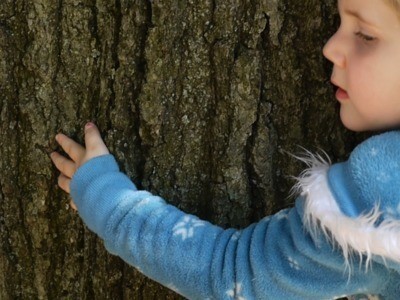 Outdoor Feast
Magic Carpets
A Twist on the Squiggle
Download a free monthly calendar full of easy ways to celebrate nature at tinkergarten.com/calendar. Or search for your own easy, fun DIY activities designed to help the whole family get your dose of Vitamin N at tinkergarten.com/activities. And join the conversation in our free Facebook Community, Outdoors All 4!