Magic Carpet Ride Activity for Kids
Up in the Northeast, the autumn woods feel like the world's most spectacular, long-running and totally free magic show. The vibrant colors and varied shapes that fall through the sky and cover the ground are captivating and define this time of year. But, after ten years of Tinkergarten happening in every corner across all 50 states, we love that there is a huge and beautiful range of stones, tree fruits, fallen flowers, leaves and other treasures out there, just waiting to be discovered and used to spark play.


So, if you want a simple and memorable way to pique kids' interest during peak season, peek no further. Collect petals, leaves, berries, seed pods, stones and other treasures and arrange them to make your very own magic carpets. And, if magic is not a fit for your family, enjoy making marvelous designs, instead.


The Guide
Get them hooked:
First, I go out ahead and lay down a magic carpet. Then, I like to hook kids in by telling them I've found something extraordinary on the ground and asking them to come and take a look with me. Together, we look at the carpet and discuss what they notice about it, sharing ideas about what it could be, who might have made it and how. I tell them I think it's a forest magic carpet, explaining the power of a magic carpet and adding some mystery and excitement to the whole business. I've found that as soon as a kid sees one and hears that it is magic, he wants to make his own magic carpet. If you don't have time to make one in advance, simply suggest trying to make your own forest magic carpets.
Make the carpets:
To make a magic carpet, each child needs a 6 foot loop of twine and four small sticks to create the rectangular outline for a carpet. Then, kids can use their
bindles
(or bag/bucket) to gather leaves of various colors and shapes along with acorns, sticks, grasses, berries and flowers. Once they have enough to get started, let kids arrange the leaves and other treasures to fill in their carpets. If your explorers are young, work directly with them. If not, make your own carpet alongside, modeling different ideas and being careful not to direct kids too much—this is their creation!
Pretend!
Once the carpets are done, the real fun begins. Take a first voyage together, pretending to buckle your safety belts, grab hold of the carpets and zoom towards whatever destination kids dream up. Hop off the carpet, and they can pretend to adventure in the far-off place of their choice. If they're into it, let them hop on and off, traveling to wherever their imaginations take them.

Vary it by age:
Our youngest friends (~age 2-3), likely unable to see this through alone, benefit from doing this as a team with an adult. They may not be able to pretend for long on the carpet, but will be glad to go on a pretend "voyage" with you to a known place like the bagel shop or grandma's house. Many preschoolers (~ages 3-5) have the staying power and focus to fill a small carpet, and many are even able to be purposeful about color, shape and placement of leaves. They will likely love hopping on the carpet, holding on tight and pretending to zoom all over the world. Older kids (~ages 6+) will not only make a carpet, but are capable of planning, adjusting and executing a sophisticated pattern or design. These guys are super pretenders! Share
stories like these
from the Arabian Nights, a tradition from which magic carpets originated. Kids can close their eyes and channel these stories as they envision flying to exotic places.
Why is this activity great for kids?
Planning, designing and making a "magic carpet" develops a kid's ability to turn a vision into a reality—an essential part of
creativity
. Further, the imaginative play that follows makes this a super imagination-boosting activity. Gathering materials and placing them to create a carpet requires that kids
stay focused
until the task is complete. If kids aren't ready to complete the carpet, do not despair! Participating in any part of this is still practice that helps develop their ability to direct and sustain focus.
Most carpets, magic or otherwise, are full of patterns of repeated colors and shapes. Kids can explore such patterns as they make their own "magic carpets." Why is pattern-making important? Patterns are everywhere in our world. When we learn to see patterns, we can make predictions and notice when things are not as they should be—critical skills we all need for learning, relating to others and simply navigating the world. Patterns are also the basis for algebra and much of the magic in mathematics. The more children play with pattern, the more readily they can make sense of these higher level math concepts later on.


Try a Free Lesson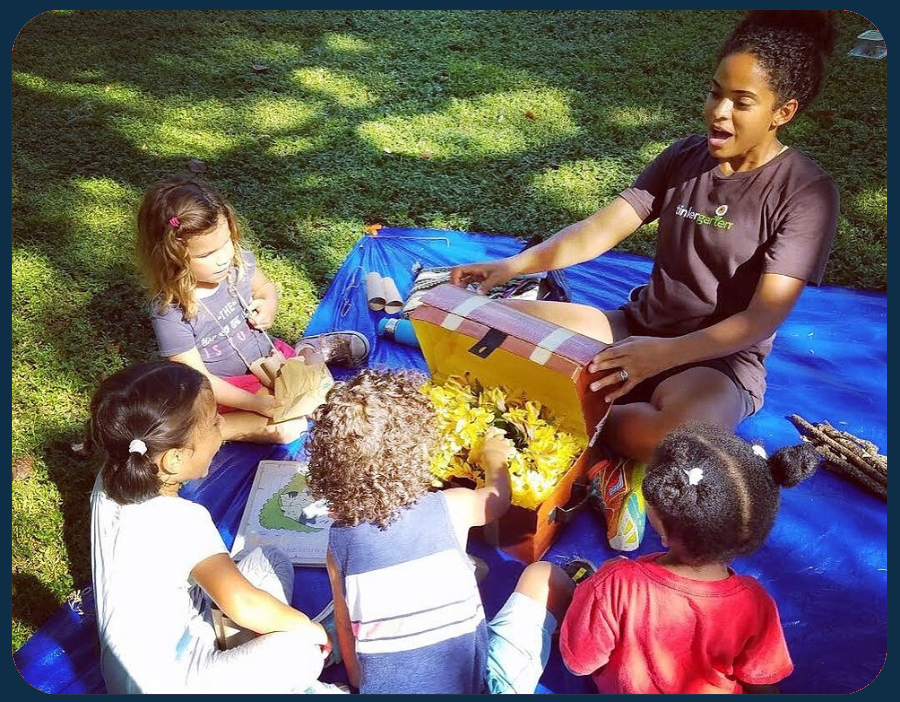 Tinkergarten for Teachers
Teach Tinkergarten in your community or classroom!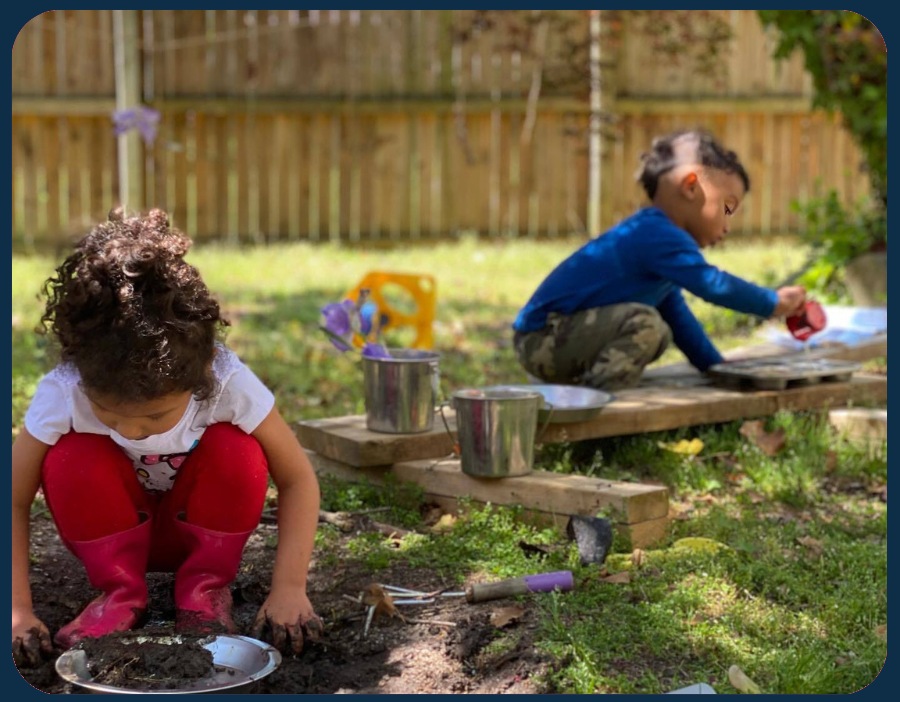 Tinkergarten Anywhere
Enjoy Tinkergarten as a family anytime, anywhere!