Yesterday, we took the kids on a hike, and it put everyone on a better path for the rest of the day. All day today, I've been counting the minutes until work calls are done and we can get out there for our end-of-day reconnecting hike. But, the state of Massachusetts has just officially announced stay-home orders. What will happen to our hikes? What should happen to them? And, how are the over 100 million of us ordered to stay home going to get the outdoor time we need so badly?
We need outdoor time, especially now.
Research and experience tell us time outdoors is essential for kids' well-being — and for ours, as well. If you have kids, you notice the difference in them after time spent indoors vs time outdoors. When kids get outdoors, they're more physically active and enjoy reduced anxiety, improved sleep and enhanced mood. The same goes for us adults. Outdoor settings also provide kids' sensory systems with an ideal mix for learning, because the outdoors is both stimulating and calming at the same time.
At times like these, we want our kids to reap the physical, mental, emotional, and educational benefits of time outside more than ever. If hikes are still okay where you are, visit this quick reference about how to maintain social distancing with kids in tow. But how do we all maintain that outdoor lifeline when one in three Americans (and counting) are living under stay-at-home orders and those restrictions may become even tighter? The solution might just be to redefine what "outdoors" can really mean for each of us.
None of us need to give up on the dream of our kids running free, exploring open green spaces, and learning in a classroom "with no walls." Just like with playdates, that dream is merely on pause. We will be back out there again soon — and it will be even sweeter for having to defer it a bit. For now, let's figure out how to work as much nature into this temporary "new normal" as we can. Let's start by thinking about how we define "outdoors."
A simple definition
At Tinkergarten, we have a simple definition of nature:
Nature

/

ˈnāCHər

/

noun. 1. anywhere you can find earth, sky and other living things.
This has allowed us to offer kids and families connection with outdoors in all kinds of spaces — not just pristine parks, but on rooftops, in city playgrounds and even, you guessed it, indoors. Nature is everywhere — even in the tiniest corners. It is there to be sensed, and it is there to inspire — especially for our kids.
How do we redefine outdoors in a stay-home moment — or maybe even in general?
Families have a wonderful range of habitats — from apartments in our biggest cities to remote mountaintop homesteads. No matter our settings, we can all still provide our kids with a connection to the outdoors, even while we practice social distancing. And when we have moved through this challenging and uncertain time, we can continue to encourage a more open definition of outdoors, increasing access to all families, regardless of location, environment or resources.
As we adapt to bring more outdoors into our current reality, let's not underestimate how exciting little changes can be to kids. And let's lean into that. Whether you move the craft table outside, turn on a recording of nature sounds during the day, or make a new habit of cuddling on the stoop each evening, just make it feel special, and kids will respond.
Better yet, remember that life just dumped a truckload of lemons on each of our doorsteps. The sweeter the lemonade we make, the better we do at teaching our kids to adapt to whatever life hands them. Out of all the things we're struggling to teach them now, this might be the one home-school lesson they'll benefit from the most. So, here's how to make the most of what ever outdoor space is available to you and your family.
Homebound, with a yard
No matter how big or small, the patch of green attached to home can become a nature wonderland. Here are some ways to make the most of it:
• Look closely and marvel. Behold all of the nature you've got right in your yard. It's marvelous to visit parks, but it's easy to overlook the wonderland that is a flower bed or the world there is to discover in the small area surrounding the shrubs right next to your front door. We've enjoyed hours of discovery just by marking off a few square feet of the back yard with string and examining it really closely — you'll be amazed at how many wonders a few square feet can hold!
• Move indoor activities outdoors. As long as temperatures and clothing allow, your family can move the indoor fun outside. Got a game table? Move it out to the yard and have the next family game session outdoors. Crafting at the kitchen table? Put your supplies in a laundry basket or box, take them outside, then flip the basket or box to make a table. Voila — crafts al fresco! Every little change is a lesson on how to adapt, too!
• But I have to work! Yep, we hear you. So, if you can't transport all of your kids' activities outside, follow some of the tips below. And, make pre- and post-work outdoor time for the whole family — it'll help you to get out and play, too!
Homebound, without a yard
Even though we can't recreate the magic mix of the great outdoors inside, we can weave in the sensory elements and get some real benefit. Research even tells us that simply seeing photographs of nature can have restorative effects. Whether you're indoors because you don't have private outdoor space or because you have to work during the day, or both, here are some easy ways to bring a little outdoors inside:
Add nature elements to your home environment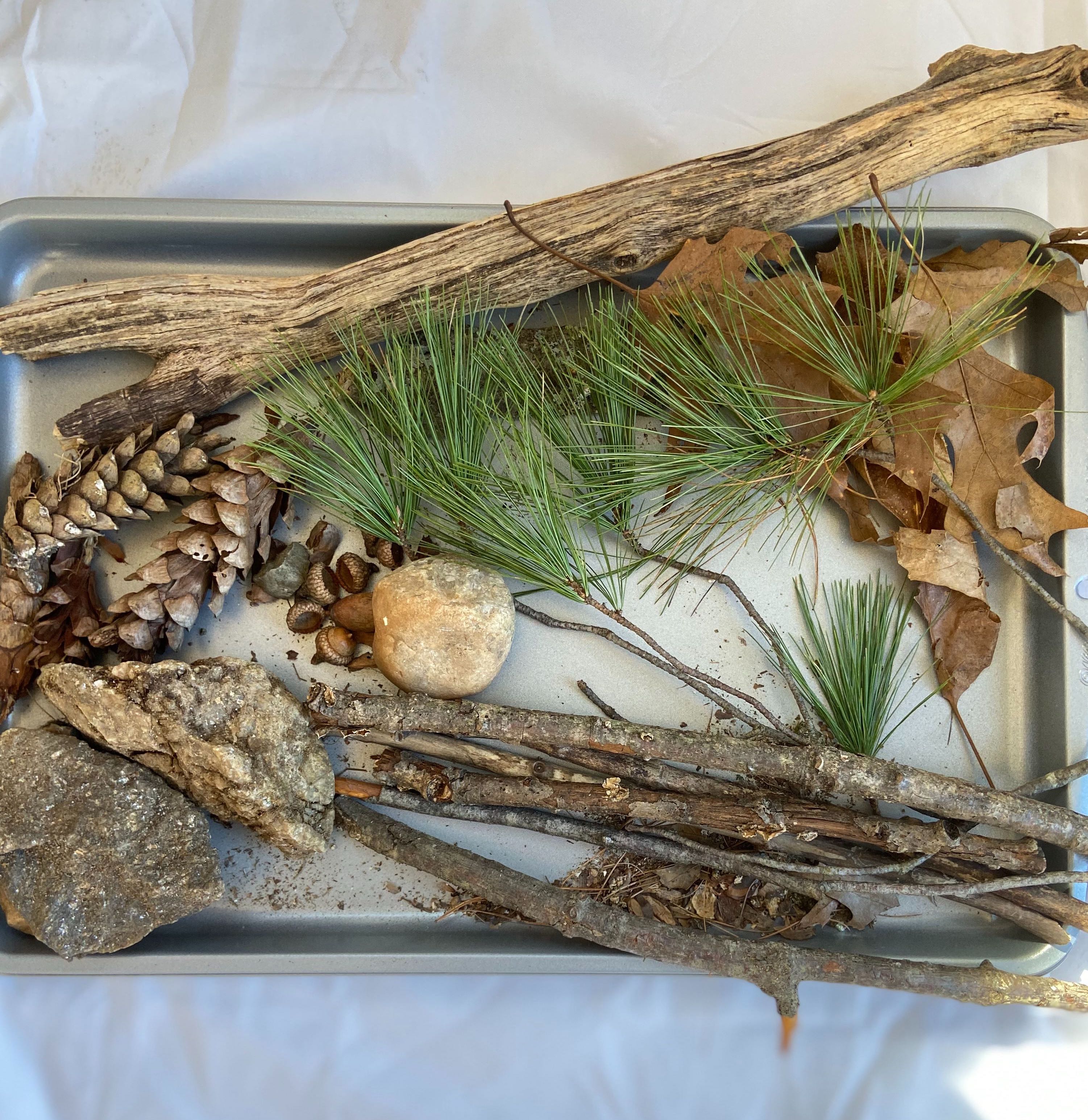 • Let there be light. Forget your current furniture design if need be, and focus on a natural light source. Put a table or some chairs right next to the window so you and the kids can spend much of the day soaking up sunshine.
• Get fresh air. If it's not too cold, open up the windows and let fresh air flow through your home. Even if it's chilly, put on heavy sweaters or your coats, stand around the window and enjoy some deep breaths a few times a day.
• Import nature objects. If you can't play in the park, bring a few nature objects indoors. Just a few sticks, rocks, pinecones and leaves can offer kids the chance to feel, smell, see, hear and interact with nature. (If you can, make a plan to bring the treasures back to wherever you found them—you can still teach "leave no trace" when all this has passed.)
• Play nature sounds. Research shows that nature sounds are highly relaxing for all of us. So, go ahead and play them in the background all day long to help bring nature indoors. Check out nature sounds apps on Google Play, Apple App Store, search in Spotify, or listen for free online at Calmsounds.
• Borrow from the kitchen. Many of the items in our kitchens originate from nature. And, even though we all need to conserve food, you could allocate a little dried food for play before you cook it. For example, pour rice or dried beans into a large bowl and let kids scoop, funnel and even bury other objects for marvelous sensory play. Or, open up the spice cabinet so a pinch of this or a dash of that could become the next potion.
• Give extra time to house plants. Our house plants are often overlooked. Involve the kids in caring for the plants and make time to gently observe, feel, smell and even chat with them. If you have a large plant, use objects from around the house to make a fairy or mouse house in the pot.
Act like you are in nature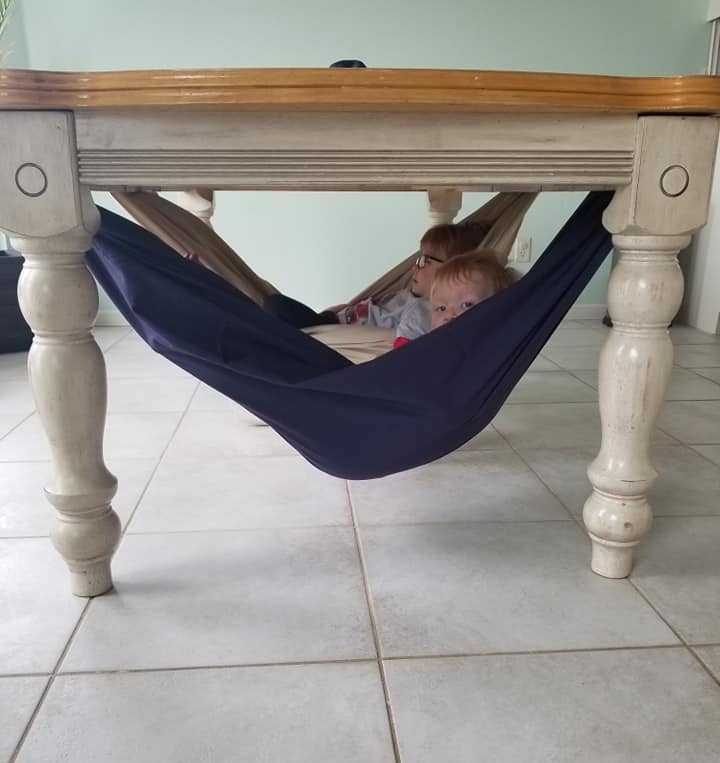 • Sensory freedom. One of the best things about being outside is freedom. It's hard to recreate that within four walls, but we can designate a messy play zone to get kids a bit closer. The bathtub or shower stall is a perfect spot for this purpose — it's contained and makes it easy to wash down both kids and the scene after the play is done!
• Block walk. For those of us who live in concentrated urban areas (or not-so-concentrated suburban ones), this is a great time to just take a walk around the block. Let what you see, hear, and smell guide conversation with your littles. Find your favorite house on the block. Find a house you're curious about. Count how many steps it takes to get around the block. Bring chalk and leave a little picture on a neighbor's stoop or walk.
• Seasonal dress-up. If your kids are into dressing up, play dress up to match every season. Wonder together, if it were summer, what would we wear? Then set them loose in the closets to get outfitted. Once they're dressed the part, segue to pretend play. Use play-dough to make snow-people, imitate a spring shower with a spray bottle and an umbrella in the bathroom, use bed sheets to make summery hammocks to hang in, or scatter crumpled up, fall-colored papers on the floor to simulate crunching leaves underfoot.
• Keep nature top of mind. Make nature the focus of play lessons and activities. Here are some easy ways:
Got clay? Make a forest or a spring flower garden.

Got paint? Look outside and paint a painting inspired by the sky or weather each day. Listen to nature sounds and draw or paint whatever the sounds inspire.

Use boxes and sheets to create a play space that connects you to nature. Imagine your fort is a lion den, a bird's nest or an underwater scene. Have fun playing lions, birds, fish or whatever animal superheroes your child is interested in.

Sign up for Tinkergarten at Home free DIY activities each week—simple, fun and designed for learning as a family at home, using only what you have on hand and including easy ways to bring them indoors, if needed.
Show your kids lots of nature
• Join Tinkergarten at Home LIVE online! Join us for a live Tinkergarten session each week. We'll stream to you from the great outdoors, but we'll make sure you can follow along and play from any home setting. Sign up for Tinkergarten at Home at tinkergarten.com to get invites to live sessions and weekly DIY activities that are inspired by nature but doable anywhere. Or join us every Tuesday at 11:30am Eastern on the Tnkergarten Facebook page for our next live session.
• Turn screen time into green time. We all may need a little screen time these days, so use yours to immerse your family in nature scenes. There are wealth of wonderful nature films for kids — and who wouldn't love to use screens to help our kids fall even harder for other animals and our planet? Remember, just seeing natural beauty will give kids benefits, too! Here are some helpful sources:
Step outside and soak up the sun.
Whether you stroll in your yard, sit on your stoop or stand on the sidewalk, take breaks to go stand in the sunshine, or splash in some puddles, and feel the fresh air. Make these moments special. This too shall pass, and, when we look back, our families will remember the little, sweet moments we managed to create in the midst of all this challenge—and, once we recover, so will we.