If you've spent time with your children in nature, you know about the positive effects of the outdoors on health and wellness.
But do you know how much time it takes to reap those rewards? Just two hours a week, a large-scale study from the University of Exeter found. That means the stress-reducing, body-healing benefits of nature are 120 minutes away.
When I read that news, the parent in me felt great that I've been logging hours with my children in nature, right from the start. But the person in me—that person who seems to get remembered last on the list—was impacted the most by this news. Suddenly, I could see how my choice to spend time outdoors with the kids, even in little bits, is actually a form of self-care.
The Study
In prior studies, spending time outdoors has been shown to reduce stress, blood pressure and heart rate, while encouraging physical activity and enhancing mood and mental health. A regular pattern of spending time in nature can even extend our life span. But the University of Exeter study, done on 20,000 adults—young and old, of different ethnicities, and in varying financial situations—found that, consistently, 120 minutes was the sweet spot for getting those benefits.
Further, the amount of each visit matters not, as long as your weekly total adds up to the magic 120. That means that 120 minutes per week at your favorite park, forest, beach, or city block can translate into self-care.
Self-care eludes all of us
We all need the chance to rejuvenate and refuel. And, I don't know about you, but the term "self-care" can feel like just one more thing I need to do (and one more way I am failing to nail it). Some days I feel like it's truly too hard to put lotion on before I run out the door, and just getting a shower is a mountain too high to climb.
There is so much pressure on parents to be everything today—to be there for your kids, to be your own village and to be your best you. 120 minutes a week outdoors may not completely alleviate that, but it certainly can help us all balance it—and have more reserves to bring to parenting challenges.
So, I say, hurrah for this marvelous study! Playing together with our kids outdoors can give us a way to fill our mom or dad buckets and get the therapeutic benefits. That goes for those of us whose schedule includes regular, daily time outdoors with our kids and those of us who find little moments before and after work. As long as you get your 120 in, you're getting the benefits. You'll feel your bucket fill as those minutes add up.
Even when getting outside is tough, research has found that just looking at photos of nature has restorative effects. Read here for how to bring the outdoors—and all that wellness—inside.
If you are looking for easy, fun and creative ways to increase that quality time with kiddos outdoors, here are a few of our favorite ways to explore nature with children you love: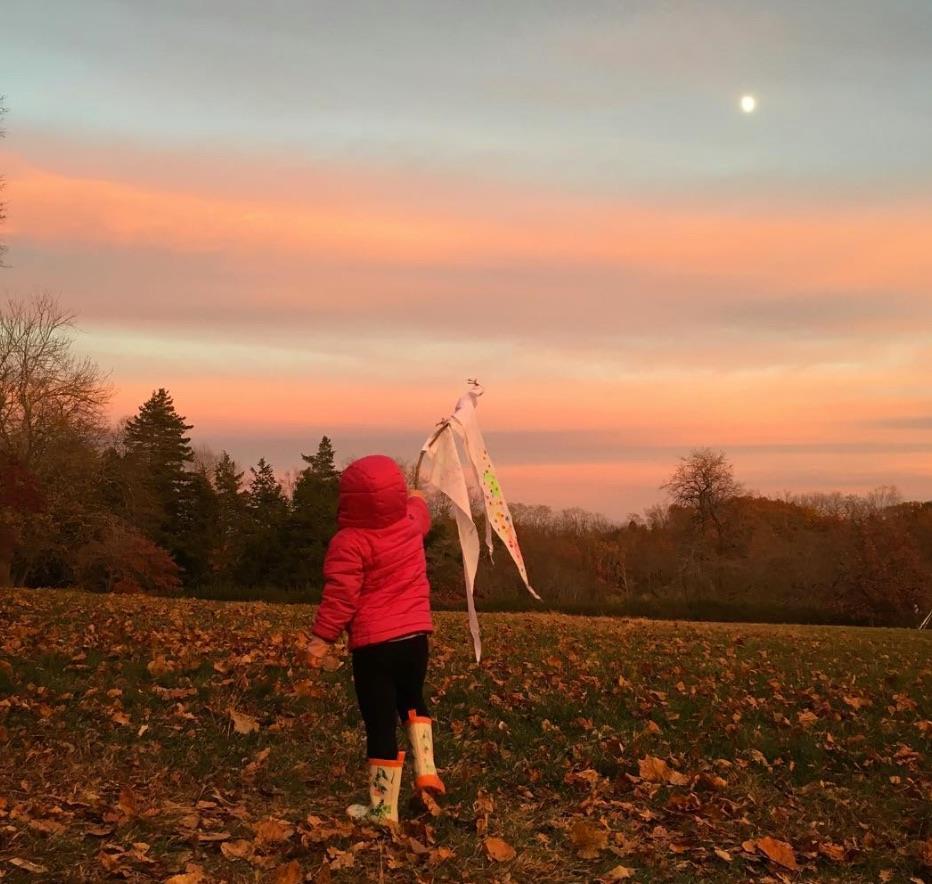 Take the Moon for a Walk
Needed: PJ's and a lantern/flashlight
After dinner, put on PJs and grab a lantern or flashlight and take the moon for a walk. Slow down and take time to use all of your senses to experience the beauty and peace of nighttime outdoors.
For the full activities: Make a Lantern and Take the Moon for a Walk
Befriend a Tree
Needed: All you need is time outdoors and at least one tree to love.
Choose a tree to befriend. Approach it—see it, smell it, touch it, name it—and even watch it over time to see how it changes in the seasons to come (this is a great way to teach your child empathy!).
For the full activity: Befriend a Tree
Fall Feast
Needed: Kitchen items (muffin tins, baking dishes), water, a patch of earth and plenty of nature treasures (acorns, wood chips, grass, twigs, etc.) Forest putty optional.
Use water, earth and nature treasures along with cooking/baking tools from the kitchen to whip up a Fall Feast (we love this one for building sensory skills in children).
For the full activity: Fall Feast
Magic Carpets
Needed: String and colorful leaves.
Set up a circle or rectangle of string, then fill it with colorful leaves, just like a carpet. Sit on your "magic carpet" and imagine where it can take you (creativity boost? Yes please!).
For the full activity: Magic Carpet
A Twist on the Squiggle
Needed: 2-yard pieces of ribbon, streamer or fabric.
Inspired by a delightful story, you can run, jump, and move with your squiggles (i.e. long piece of ribbon). Who knows what they'll become!
For the full activity: A Twist on the Squiggle
Find more easy, fun DIY activities designed to help the whole family get your dose of Vitamin N at tinkergarten.com/activities. And don't forget that even when the weather's less inviting, you can get #OutdoorsAll4!