From the perspective of our kiddos, the holidays as many of us celebrate them are heavily focused on receiving. It's built into the writing of lists, opening presents and the influx of new, special things from generations of friends and relatives.
In the lead up to the holidays, we have a chance to counterbalance all of this—and better yet, to capitalize on an incredible opportunity—by getting kids hooked on giving and teaching lasting lessons about empathy in the process.
It's not too hard to get kids to fall in love with giving. Kids are born with prosocial tendencies—the ability to do kind things and feel the positivity of kindness. And once kids have the experience of the giving cycle—picking out something special for someone you love, wrapping it up, giving it to them to see their reaction—they feel joy and satisfaction and get on board to do it again.
The bucket principle.
The best place to start is getting kids talking, thinking and even drawing about the people they love. At Tinkergarten, when we teach about kindness, we help kids to imagine that everyone has a bucket in their hearts. That bucket fills up when we experience acts of kindness and feel joy.
To make the concept even more concrete, scoop water or rice into an actual bucket as you talk about things that might fill up yours. Ask kids about what fills their own buckets so they can apply what they know to other people.
Watch a conversation about kindness, including a demo of bucket play, we enjoyed with our friends from Kindness.org and Circle Around.
What fills others' buckets?
Once you have the concept of the bucket down, you can start to wonder about what fills the buckets of the people you love. Ask kids questions like, "What makes Daddy happy?" or "What do you think fills Nana's bucket?" You can continue to surface these questions in the days leading up to the holidays, welcoming kids to keep thinking of new ideas.
For a real treat, make quick videos or audio recordings of kids describing what fills their loved ones' buckets. Hearing the ideas in their own voices is sweeter than any present you can buy—and these recordings become even more treasured by everyone as kids get older.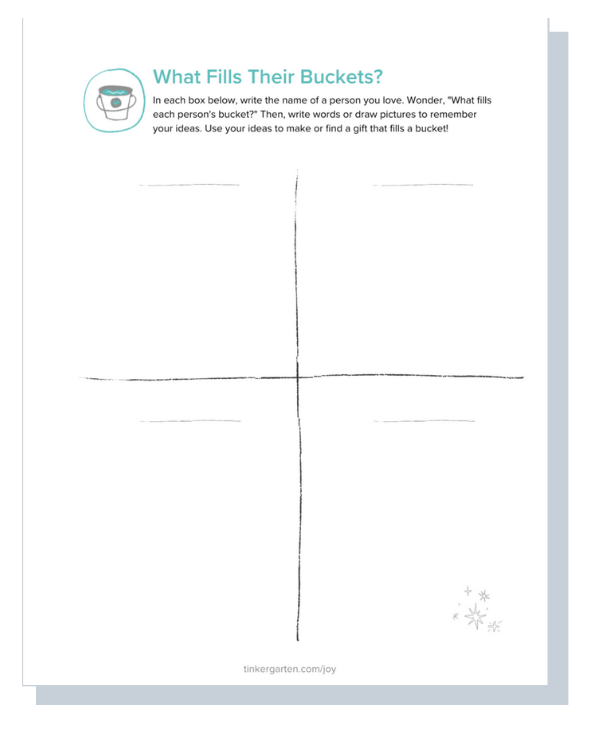 For kids who can draw and write their ideas, download simple worksheets like these. They can practice their language and communication skills as they brainstorm and record their ideas. Their words and drawings can become sweet treasures to save or give to the people they love, too.
Pick Gifts That Fill Buckets
Once you have ideas about what fills buckets, you can also pick gifts that will truly bring joy. Helping kids to make the connection between what each person likes and the gifts you pick also makes the act of giving more meaningful and exciting. And, the gifts don't need to be costly—they are thoughtful, which often means the most to both the giver and the receiver.
Give gifts that promise experiences that will fill buckets. For example, you can create and give coupons for the kinds of adventures that immediate family love. If dad loves to go on hikes, give him ten tickets for ten hikes, or give him a list of hikes near you with the chance to cross them all off in 2021. If a sibling loves colors, get some liquid watercolors and a fun ice mold with the promise of hours and hours of play outside with colorful frozen treasure!
Tangible gifts get even better, too. If grandpa really loves coffee, a bag of fresh beans or even a small coffee-related item feels like a super sized gift to give. If your elderly neighbor loves the birds in her garden, give her a gift bag with little bird seed, a few pine cones and some nut butter to make nature feeders. Do this same activity at your house, and kids will be able to visit and talk with her about the birds they're each seeing—a gift that keeps on giving!
You're Really Giving Kids Empathy
Slowing down and encouraging kids to think with you about what would make each person you love happy teaches kids powerful lessons in empathy. Specifically, you're helping kids develop two key types of empathy. "Affective empathy" is the ability to recognize emotions like happiness in others, and "cognitive empathy" is the ability to consider the other person's unique point of view. Though we're wired for empathy, we learn it through practice, and the holidays can give us a perfect way to give kids that practice.
No matter how you go about it, we wish you and your circle of family and friends a season full of bucket-filling giving!