Since even before they were born, I wanted more than anything for my kids to learn three words from me—I love you. I say and show "I love you" to them in any way I can, and even though I'll have to pick my moments as they age, I always will.
Now that they are 7, 9 and 11, I'm starting to realize that, along the way, I have been giving them three other words—a trio that didn't feel as obvious as "I love you," but that may prove just as important. Three words that will help them make sense of their world, connect, love and exist alongside other people: I wonder why.
Why "I wonder why…"
When they were little, I regularly dropped, "I wonder why" statements to model intellectual curiosity and show them how to ask the kinds of questions that help you discover how the world works. "I wonder why that tree doesn't turn different colors in fall?" "I wonder why our tower just toppled?" "I wonder why the stars are extra bright tonight?"
And, it worked. I see them actively wondering in this way all the time—in and out of classrooms, on hikes, and as we read books or watch movies. I didn't quite realize this "I wonder why" practice would surface, though, in how they view other humans.
Two times in the past week, they've used these three little words in a way that gives me hope. First, when my 7 year old was describing her sadness that a friend said "no" when she asked if they could sit together on the bus, she stopped and said, "I wonder why he would do that? Maybe he was having a bad day? Or maybe his older brother wouldn't sit with him, and that made him too sad to sit with me—that happens sometimes."
A few days later, my 9-year-old saw an older person in town who holds up signs with messages designed to provoke and offend, filled with misinformed and even degrading or hateful ideas.
When we saw their latest sign (the details of which I will spare you), I was particularly frustrated and wished he would simply disappear. Then my kiddo said, "Hey mom, did you see their sign today?" I was about to say something like, "You're right, baby. That's awful, isn't it" when my kiddo surprised me with, "I wonder why he wrote that."
Just asking that question holds space for differences, for the idea that you may not have all of the information or perspective, and for the opportunity to listen and understand.
We quickly agreed that the content of his sign was hurtful and important to dispute, but we got there while maintaining the possibility that there was something that person needed or that something was driving his behavior. I wonder…if every grown up on Facebook took this approach to people with different views, how different would so many threads be? And how much more progress might we make?
What does it mean to develop curiosity?
Curiosity is the ability and habit to apply a sense of wonder and a desire to learn more. Curious people try new things, ask questions, search for answers, relish new information, and make connections, all while actively experiencing and making sense of the world. Curiosity can act like a child's ticket to engaging fully in learning and in life.
Curiosity is a superpower
"The important thing is not to stop questioning. Curiosity has its own reason for existing." —Albert Einstein
Curiosity is so powerful—strong and nurtured curiosity is even linked to greater academic and life success, according to research. And yet, so many grown ups seem to be shutting off our kids' curiosity. People have wildly diverging views about what should or should not be taught in schools. Differences are being lauded as beautiful by some and dangerous by others. Celebrating others' identities has become an imperative to many and a threat to others' own identity—and people on all ends of issues seem rather quick to dismiss one another without curious outreach to understand why.
This reminded me of the work of Loretta J. Ross, an activist and advocate for "calling in" to listen and learn vs. calling out or shutting down dialog with those whose views oppose ours, even around topics that cut us to our core. Curious about the term "calling in"—get to know the wonderful work of Loretta J. Ross by watching her TED talk.
How to build an "I wonder why..." mindset
Start by listening to your own inner dialog as you navigate the world and especially as you encounter people who have very different ideas than you do. How do you respond? Do you react or wonder? Check out this infographic for ideas and thought starters, and try to focus on finding connection vs shutting down.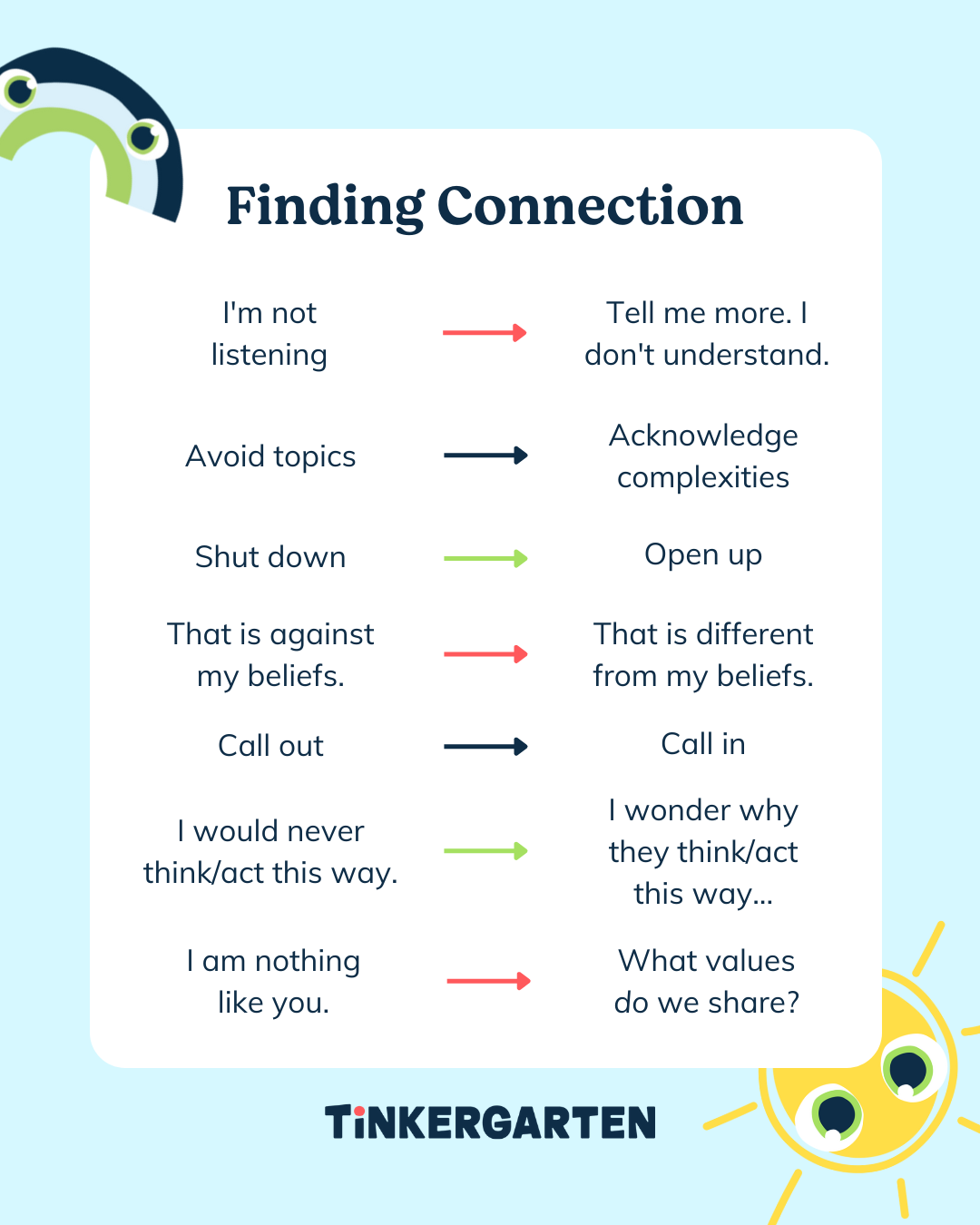 Help kids wonder why
Kids arrive to the world curious, so helping foster curiosity can really just be about giving lots of opportunities to lean into inquiry by asking and entertaining a lot of questions together. It can really help when we wonder things out loud—modeling the practice of noticing, wondering and finding out more.
It can be especially helpful to wonder out loud about other humans. This can help kids develop both curiosity and empathy. For example, when you notice that your child or other kids/siblings are expressing emotion or making interesting social choices, say, "I wonder why your friend looks sad?" "I wonder why they ran away?" or "I wonder why you didn't want to share your toy today?" Then, without prescribing an answer, you could explore possibilities for why your child or another person appeared to feel or acted as they did.
Some other helpful, related resources:
I'm continually amazed by how my curious kids teach me—and remind me of the value of staying open to wonder. In writing this post, I found the following quote from actress Tracee Ellis Ross, and I share it as it also reminded me that, even though our minds are less plastic, we can decide to continue to embrace curiosity as we grow, too.
"As I get older, the more I stay focused on the acceptance of myself and others, and choose compassion over judgment and curiosity over fear." —Tracee Ellis Ross