Orange you Glad We Made This Feeder?
As part of our #OutdoorsAll4 series, repurpose an orange to use as a bird feeder, enjoying the brilliant splash of color and marvelous summery scent it adds to whatever you winter landscape.
The Guide
Set up
Prepare the oranges:
Cut the oranges in half.
Scoop out the contents (and enjoy!).
On each hollowed-out half, cut an x through the orange skin, aiming to get the x about ¼ inch below the rim. Rotate the orange to make 4 such cuts, each ¼ of the way around the orange.
Engage kids to the extent they are able to help:
Poke a stick straight through the orange between two opposite holes. Poke a stick through the other pair of opposite holes.
Cut four pieces of string, twine or yarn, each about 2 feet in length.
Tie each piece of string to a different end of the two sticks.
Walk outdoors and find a tree limb or other hanging spot for your feeder. Tie the loose ends of the four strings together around a branch to hang the feeder up.
Lift your child up and spoon or scoop bird seed from your bucket into your feeder. Note: The squirrels thank you for not being too careful on this step.
Stand back a ways and observe who comes to your feeder. Watch how your feeder changes over time. Re-up the birdseed as needed, too!
Invitation
To kick this off, wonder together how the birds around your home are doing. What do they need and want? Once you are ready to help them, take out an orange and ask, "What is this?" Kids may, naturally answer, "an orange." But you can say, Nope. Today, it's a bird feeder! Should we find out how...and your off to the races.
Note: The construction of this particular feeder can be a bit challenging because it requires some precision and hand-eye coordination. Talk about what is satisfying and what is challenging as you work your way through the design process. Once the feeder is up, enjoy observing both the feeder and the creatures who flock to it hour to hour and day to day.
Why is this activity great for kids?
Considering the needs of other creatures develops cognitive empathy.
Doing something to meet those needs develops compassionate empathy.
The construction of the orange feeder requires patience and persistence.
Taking time to scoop seeds and smell/taste/feel/see oranges as they are transformed into bird feeders is a marvelous workout for the senses.
Family projects designed around helping others are wonderful ways to reinforce both family and community values. Hurrah!
Try a Free Class
Two class formats: take a free online live session any day. Or try a free in-person session where and when available.
In either format, a certified Tinkergarten Leader will teach a Tinkergarten lesson and inspire your kids to play.
Sample the additional activities and resources families get each week to keep kids learning outside at home.
Become or Recommend a Leader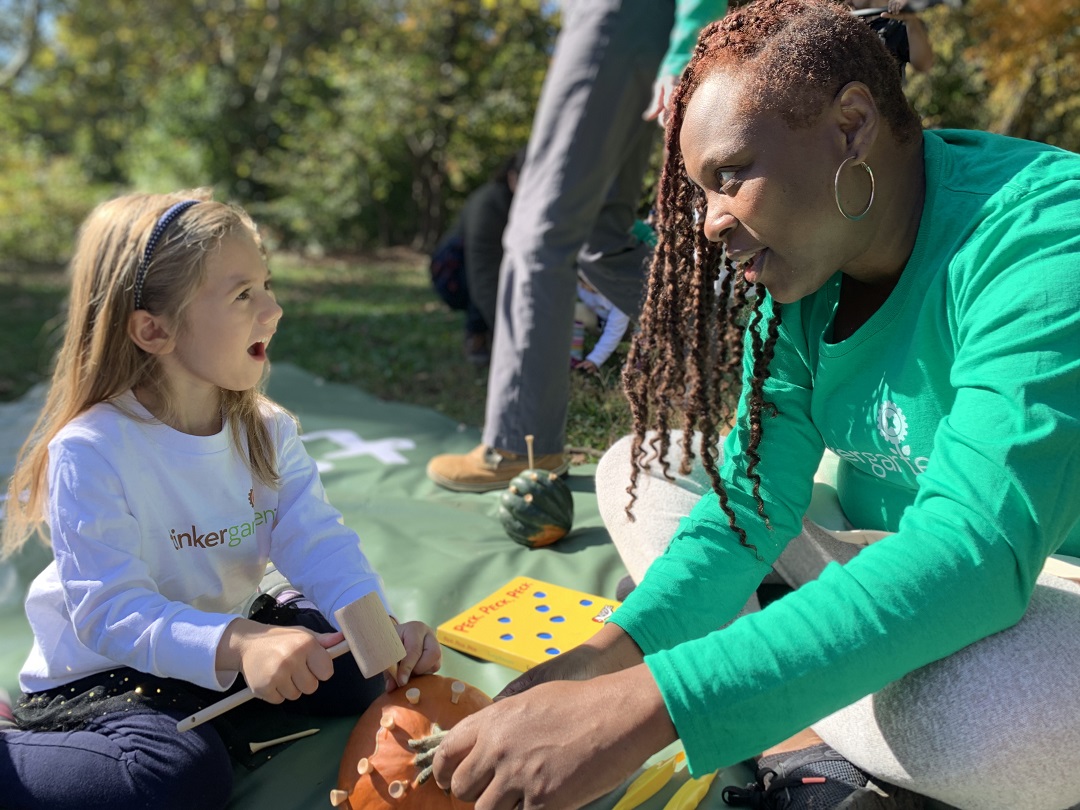 Help us bring Tinkergarten to your community.
Recommend people you think would make great Tinkergarten Leaders.
Maybe that's you!
Earn a $100 gift card to Amazon if your nominee becomes a Leader!