Gift a Potion Pot (or Mixing Pot)
Tis the season for giving and receiving gifts, and what better gift than the
gift of playful outdoor experiences
? When kids help prepare the gift, they also get to flex their creativity and the foundation skills for lasting empathy, too.
This activity is featured along with other gift-giving ideas and sweet ways spark joy in our free December activities calendar. Need your copy? Visit
tinkergaten.com/calendar
today.
The Guide
Step 1: Pick a context that works for you.
This activity is all about giving a friend the chance to mix up ingredients and engage in imaginative play outdoors—what a gift! At Tinkergarten, many families and children thoroughly enjoy and benefit from centering this kind of play in the context of making pretend "potions."

We recognize that, to some families, the word "potion" carries meaning that feels at odds with their beliefs. If that is true for you, you can easily adapt the context. For example, you could make yours a kit for "stone soup," "a nature mix," or "nature nectar."


Step 2: Start with a jar.
Any jar or clear container can be transformed into a marvelous potion pot. We often repurpose mason jars or clean and remove the labels from recycled food jars, too.

Step 3: Transform your jar.
Show your child the jar and ask, "Do you know what this is?!" Take ideas, then say, "This is a future potion pot!" Ask kids if they know what potion is. At Tinkergarten, it's water and whatever treasures and ingredients kids want to add! Potion can also help us pretend, too!

Ask kids if they know of someone who might love to spend time outside, to collect nature treasures and to mix up a nature potion. (Who wouldn't, really?). Who would your child like to gift a winter potion kit to? A friend? Sibling? Extended family member? Neighbor? Once your child has a recipient in mind, head out to create y0ur winter treasure box together.

Step 4: Collect some winter treasures.
Grab a bag or container and head outside together to collect fallen or found objects from nature that can fit in or get picked apart and added to a potion pot (e.g. leaves, pine sprigs, pine cones, acorns, pebbles). Look for objects with a variety of colors, textures and smells.

Step 5: Add a few of the ingredients.

For whomever receives your potion pot gift, much of the fun will be gathering even more ingredients outside. Sprinkle a few ingredients you collected to get them started, leaving plenty of room for them to add more. Or, if you have extra small jars or containers, you could package up the treasures as ingredients and include them in a bundle with your potion pot.


Step 6: (Optional) Add a "special ingredient"
If you have some kitchen spices to spare add a bit of them as well. We especially love using cinnamon sticks, star anise and dried lavender in our potions. We tend to stick to natural ingredients for potions, but you can also offer ingredients like glitter, and colors. Or, add a dash of baking soda and include "add a splash of vinegar" in your invitation to play.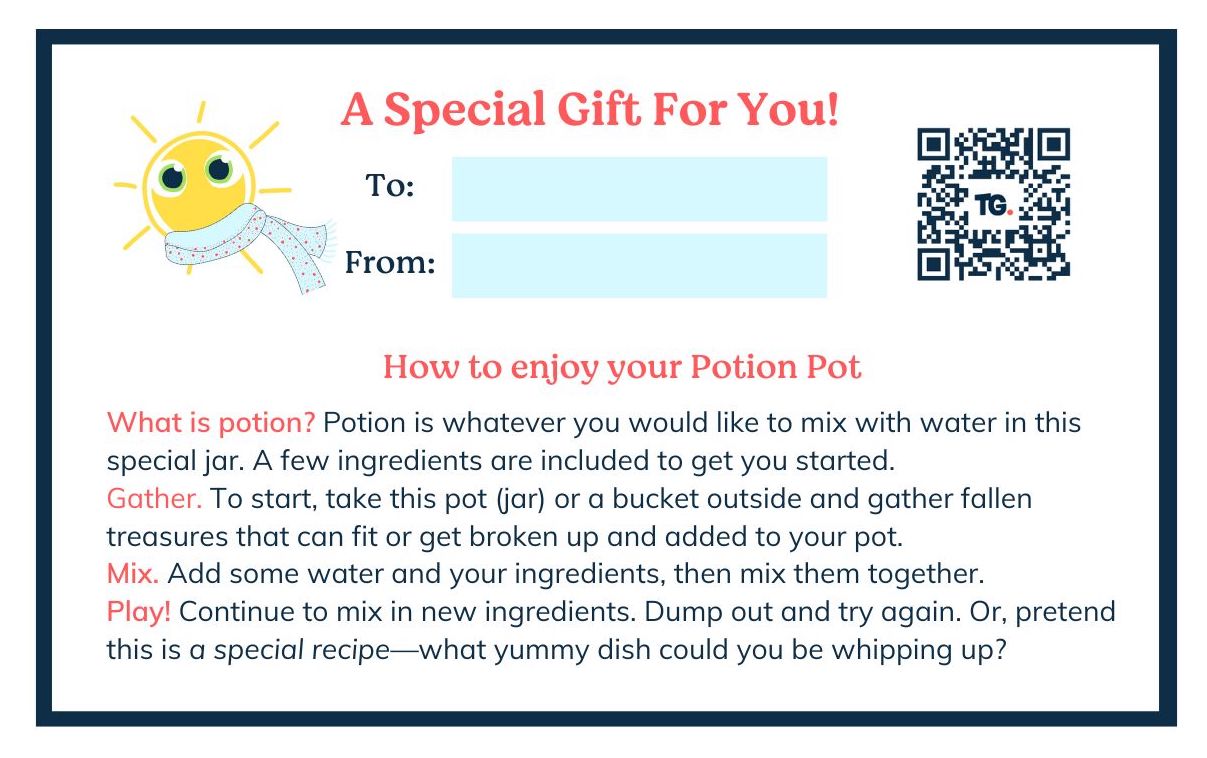 (click
here
to see a version for Potion Pot or Mixing Pot)
Step 7: Print or Write an Invitation to Play!
Print out this card
or write your own invitation to play with your gift. Attach it or include it with your potion pot and ingredients to give the recipient some inspiration for how they can use their new potion pot box to create with nature treasures all winter long.
If you live nearby the person or people you're gifting to, you can also set a date to meet up and enjoy making potions or mixtures together—an added gift!
Why is this activity great for kids?
Making experience gifts:
Engaging kids in creating gifts for the people they love helps them develop empathy and can help balance out the receiving that tends to dominate the holiday season. Gift the gift of experiences is the greatest gift of all. Read more about how experiences benefit us all i
n this article
.
Potion of mixture play:
Making mixtures never gets old—it's a tool for play and investigation they can (and likely will) use again and again. Gathering and mixing ingredients stimulates a range of senses. And, by giving kids a broad goal and the ability to design a concoction recipe in any way they like, you also give them both a reason and the freedom to create in their own way. Kids can engage in the kind of playful and iterative exploration that is fundamental
tinkering
. And why is tinkering so important? It's a critical way to develop
creativity
and
problem solving
skills.
Try a Free Lesson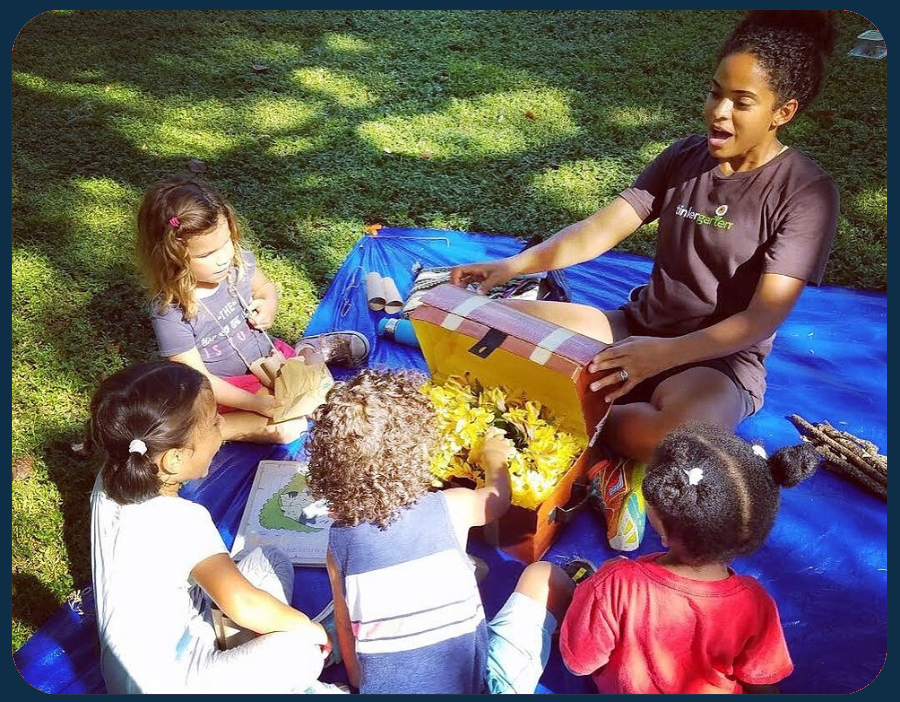 Tinkergarten for Teachers
Teach Tinkergarten in your community or classroom!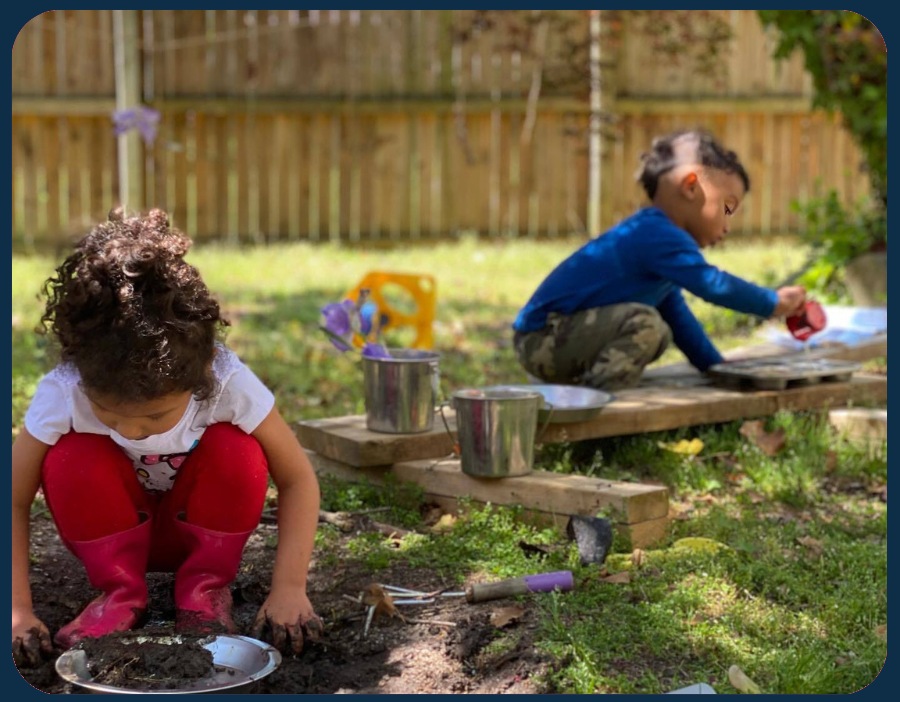 Tinkergarten Anywhere
Enjoy Tinkergarten as a family anytime, anywhere!