Gift a Winter Treasure Box
Age: 0 to 8+

Time: 1 hour+

Materials: cardboard or wooden box, objects from nature, various art materials

Skills: Creativity, Sensory, Empathy
From the perspective of our kiddos, the holidays as many of us celebrate them are heavily focused on receiving. Involving kids in the process of making homemade gifts for siblings, friends or younger relatives is a great way to counterbalance all of this and get kids hooked on giving.


Here we share a sweet way for kids to make a Winter Treasure Box—a homemade gift to surprise, delight, and spark outdoor play for another child all winter long.


This activity is featured in our December calendar. If you do not yet have your free copy, get it
here
.
The Guide
Step 1: Start with a box.
Any box of any size can be transformed into a nature treasure box. You can purchase an
unfinished wooden box
online or from a craft store or repurpose a cardboard box.
Step 2: Proclaim your box a treasure box!
Show your child the box and ask, "Do you know what this box is?!" Take ideas, then say, "This box is a winter treasure box—a space to collect special nature treasures!" Ask kids if they know of someone who loves to spend time outside and/or loves to collect nature treasures. Who would your child like to gift a winter treasure box to? A friend? Family member? Once your child has a recipient in mind, head out to create your winter treasure box together.
Step 3: Collect some winter treasures
Grab a bag or container and head outside together to collect fallen or found objects from nature (e.g. leaves, pine sprigs, pine cones, tree fruits). Look for objects with a variety of colors, textures and smells.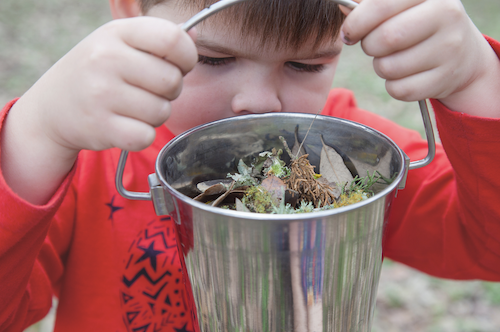 Step 4: Decorate your treasure box
Use the enter treasures you collected to transform your cardboard or wooden box into a winter treasure box. Here are some ideas:
Glue winter nature treasures to the outside of the box.
Draw pictures of the nature treasures on paper. Then, cut out the drawings and tape or glue them to the outside of the box.
Dip treasures in paint and make prints on the box.
Make paint using nature materials like beets, berries, spices and even dirt, then paint your box.
Cut up magazines, calendars or other recyclables (especially photos of plants and animals!) and cover your box in a recycled nature collage.
Step 5: Gift your winter treasure box!
Print out this card
and place inside the box to give the recipient some inspiration for how they can use their new treasure box to discover, collect and create with nature treasures all winter long. If your child would like, they can also gift a treasure or two inside the box.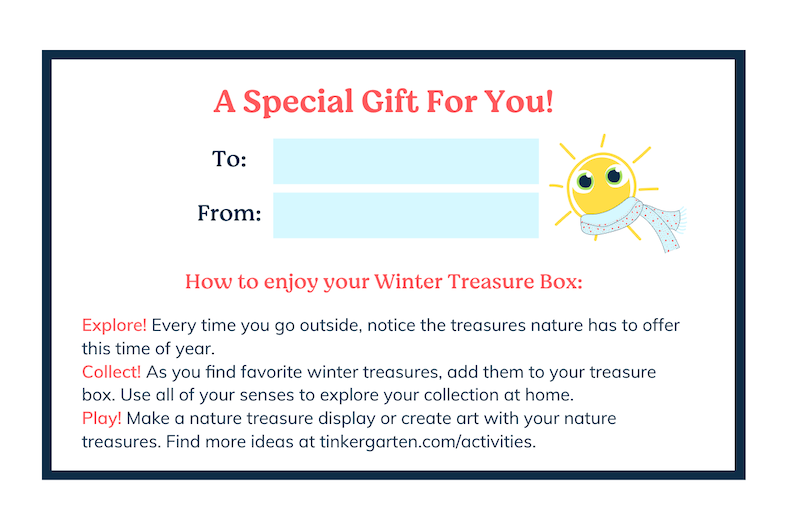 Why is this activity great for kids?
Kids use and develop multiple
senses
as they collect, arrange and create with natural objects. Thinking about another person and creating a homemade gift for them is a super way to help kids get hooked on
kindness
and
giving to others
and boost
empathy.
Try a Free Lesson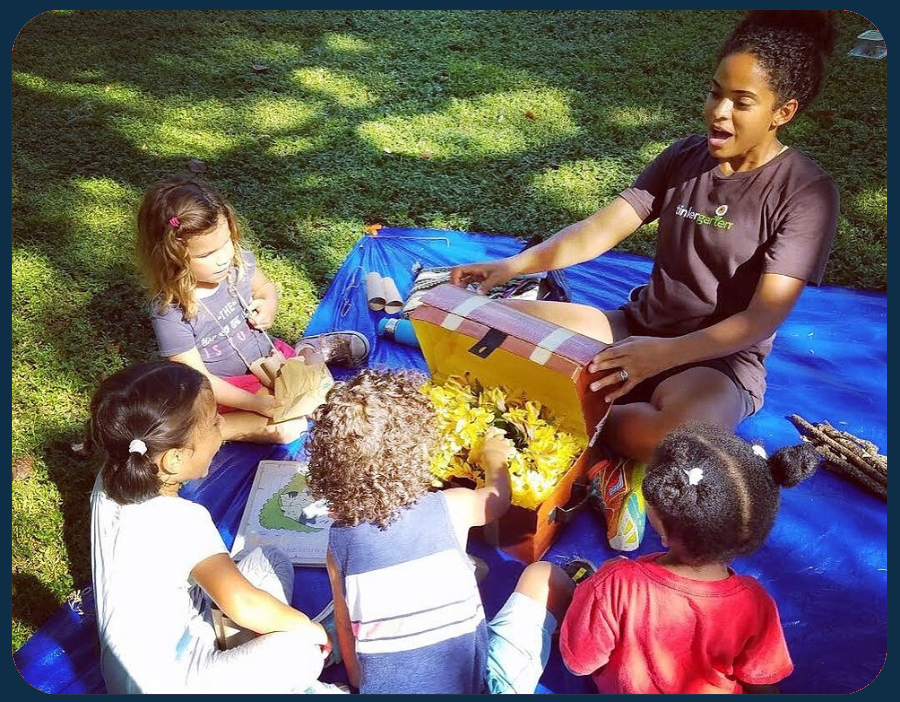 Tinkergarten for Teachers
Teach Tinkergarten in your community or classroom!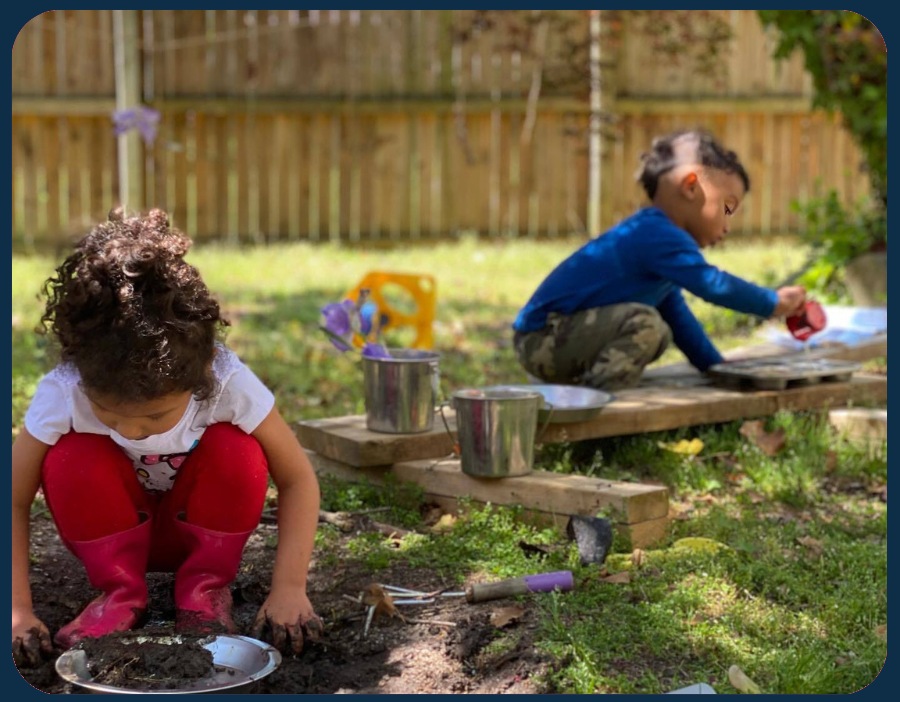 Tinkergarten Anywhere
Enjoy Tinkergarten as a family anytime, anywhere!