In the midst of preparing for a family feast each year, we've also wrestled with how to talk to our kids about Thanksgiving. We want our children to learn from and do their part in changing the inequality in their world, and perpetuating the Thanksgiving story we were taught in elementary school runs squarely at odds with that mission.
But, it can be hard to know how and when to start having the true Thanksgiving conversation with kids. So first, remember that we don't need to nail this by the time the turkey hits the table. This is ongoing and important work to do all year round. To follow are a few ideas and resources that are helping our family to lay a foundation that, we hope, will help our kids respect and respond to the real history in a way that supports a better future.
Build a foundation of knowing and respecting Native peoples.
Start by teaching children real stories and truths about Native and Indigenous peoples, both from the past and the present. The more our children can be curious and aware about people for their strengths and rich history, the more they will push back on stereotypes and absorb the real history in a way that makes them compelled to act.
Here are a few easy ways to do this, even with very young children:
Question the story together.
When you feel your kids are ready, work with them to question and point out the mismatches between the accurate history and the often perpetuated Thanksgiving Story. To start:
Get to know the full story yourself.

PBS Kids

offers wonderful resources for parents and educators on how to approach Thanksgiving with authenticity. These resources also help us parents better understand, for ourselves, the story of the people we call Pilgrims, their interaction with Wampanoag people, and the full history of the holiday we've come to know as Thanksgiving.

Don't be afraid to share with children that there is more to the story. It's important to help them understand that

the familiar story that has been shared for a long time is over-simplified and, as such, can even be hurtful to whole groups of people as well as the allies of those people. One way you can present the disparity to kids is, although there was a feast between the Pilgrims and the Wampanoag, it happened during a time of terrible cruelty and unthinkable loss to the Wampanoag.

Seek out additional tools for learning.

This

New York Times article

has helped us use both age-appropriate resources and inquiry to start engaging our kids in conversation about Thanksgiving. For example, it has encouraged us to help our kids ask "Who is telling the story and what is their perspective? How is this story different from other accounts and facts that we now know?"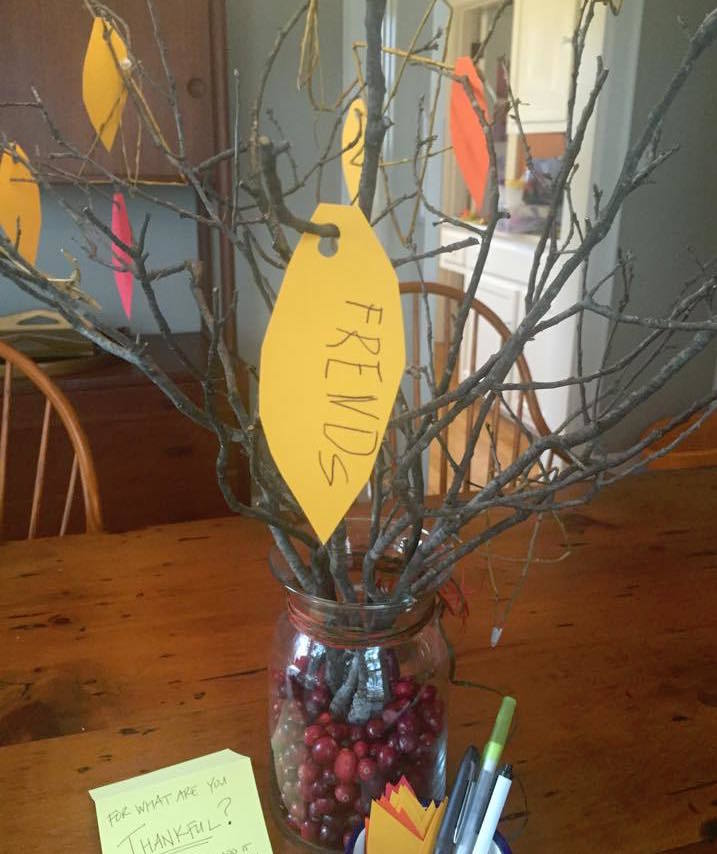 Focus on gratitude.
While, it's essential that we help our children become more attuned to inequality and injustice, telling the true story of Thanksgiving doesn't have to undermine our practice of sharing gratitude. You can even kickstart an annual gratitude tradition that's respectful of Native history. Once you learn about the original caretakers of the land you live on, it becomes easy to express thanks for all they've done to preserve its natural beauty as part of Thanksgiving.
Be sure to help kids reflect on what they're grateful for in their day to day lives, too. For many years, our family has focused our Thanksgiving on expressing thanks for our family, our health, our earth, and whatever else feels authentic to our kids. We engage in rituals like building a Tree of Thanks or turning a pumpkin into a Gratitude Pumpkin to make this even more concrete for them, and fun for kids. This has extended far beyond Thanksgiving for us as well, helping us use simple rituals to develop a gratitude practice as a family and improve our own mental wellbeing in the process.
And, if you want even more ways to make this most unusual Thanksgiving extra sweet, read more here.
However you choose to celebrate this holiday, remember that while we cannot change history, we can make our children alert to who is telling and what needs to be told about the story. It's the only way our kids will learn to do their part to make sure better stories are written in their time.