As a lover of outdoor play, I'm always looking for ways to find deeper connections to the natural spaces my family enjoys. And as an educator and member of the Tinkergarten team, I enjoy sharing ideas and resources for families to learn more about Native American and Indigenous cultures in ways that really engage children. For me, these two ideas actually go hand-in-hand beautifully — the land we enjoy, and surrounding natural resources, connect to these nations of people and vibrant cultures in so many ways!
This work has personal significance for me. I'm a mom of three curious children and am a Native person myself! I'm both Muscogee Creek and a citizen of the Seminole Nation of Oklahoma. We enjoy learning about our own and other cultures and, as a mom, I especially want my children to fall in love with the many, many Indigenous peoples, cultures, nations and stories of our country and the land we explore.
Getting to know Native American peoples and cultures, and making these connections to our outdoor adventures, is so important for all children. Here are a few resources that I have used with my children, as well as some ideas that you can use with your family, too!
Spark curiosity about the land you live on.
If you are just getting started, apps like https://native-land.ca/ allow you to find out which Indigenous People live, or historically lived, in your area. This is a place to begin to learn about the land you live on if you're not already familiar with this part of its history. My family lives in Central Texas on the ancestral homeland of the Tonkawa people. I refer to it as ancestral homeland because today, the Tonkawa Tribal Reserve is located in Oklahoma as a result of forced relocation by the US government. I know that phrases like "forced relocation" and "stolen land" are hard to hear — but facing this uncomfortable truth is an important step in honoring the true history of the lands we explore.
For young children though, a great starting place is the present — using present tense and the thriving, vibrant cultures of today. Here's an example of how I've started this conversation with my own children. "Native people today, and all of (our/their) family and ancestors before (us/them), have always lived here on the land where our country is built. The Tonkawa tribe is from the land where we live."
Once you know whose land you live on, what's next?
Books are a wonderful way to celebrate Native American culture! Former Tinkergarten Leader, Cholena Smith-Boyd, and I collaborated to select these beautiful picture books to inspire learning. Cholena is a member of the Shinnecock Indian Nation of Long Island, NY and the former Education Program Manager of the Shinnecock Nation Cultural Center and Museum.
And then, keep going!
Search using the specific names of the tribal nations and the name of your city, state, or even local park. Look for historically accurate accounts of how each of these peoples lived and stories that celebrate how the members and/or culture live on today.
Wonder together with your children about how these Indigenous peoples may have used the land around you. What about today?
Search for local places to visit that were important to these people and help bring history to life! For example, I've chosen to lead Tinkergarten classes in my city along Brushy Creek. The Tonkawa were nomadic hunter-gatherers and built temporary villages along the same banks as far back as 10,000 years ago — wow! It's incredible to hike local trails and reflect with deep respect on the many stories and people of the land that came before us.
As you learn, remember to share, share, share with friends! You'll likely inspire others to join you.
Make it a regular part of your outdoor adventures.
When you visit local parks, trails and bodies of water, wonder about the beauty around you and which people have come before you. I am endlessly inspired by Jaylyn Gough, founder of Native Women's Wilderness, and her work to increase awareness about whose land we're exploring on.
Ask, who or what is this place named after? What names are used by the local Indigenous People for nearby rivers? The beautiful mountain range? What cultural significance do they hold? More often than not, the names we use today are not the same words used by the first caretakers of the land — and, if you can find the names they use, this can be a wonderful, on-going family research project!
Perhaps you can keep a list of the places you've been, including both names. Or, get a map of your local area and start to write in the original names of important spaces and features as you learn them.
Wonder and find out about the plants that are native to your area. Take in the beauty of your local park and use an app like Seek by iNaturalist to identify the trees, flowers, and even wildlife that you find. Later, investigate how these connect back to the cultures of tribal nations. Were those kinds of trees used to build homes? Were the flowers used as medicine? Are they still used today?

When you do an internet search about the history of the greenspace or city where it's located, stop to ask, "Does this reflect a full history that includes Indigenous People? If not, whose story is missing? Why?" Wonder and talk about this together with your children. For now, written accounts about the history of my own city begin with colonization, but we hope to change that as we learn more!
Research Steps Being Taken to Honor Native Ancestral Lands Today
Our Problem Solving series introduces children to the Wabanaki Nations who are renowned for designing and building incredible canoes made from the bark of birch trees — ancestral knowledge that has been passed down for generations.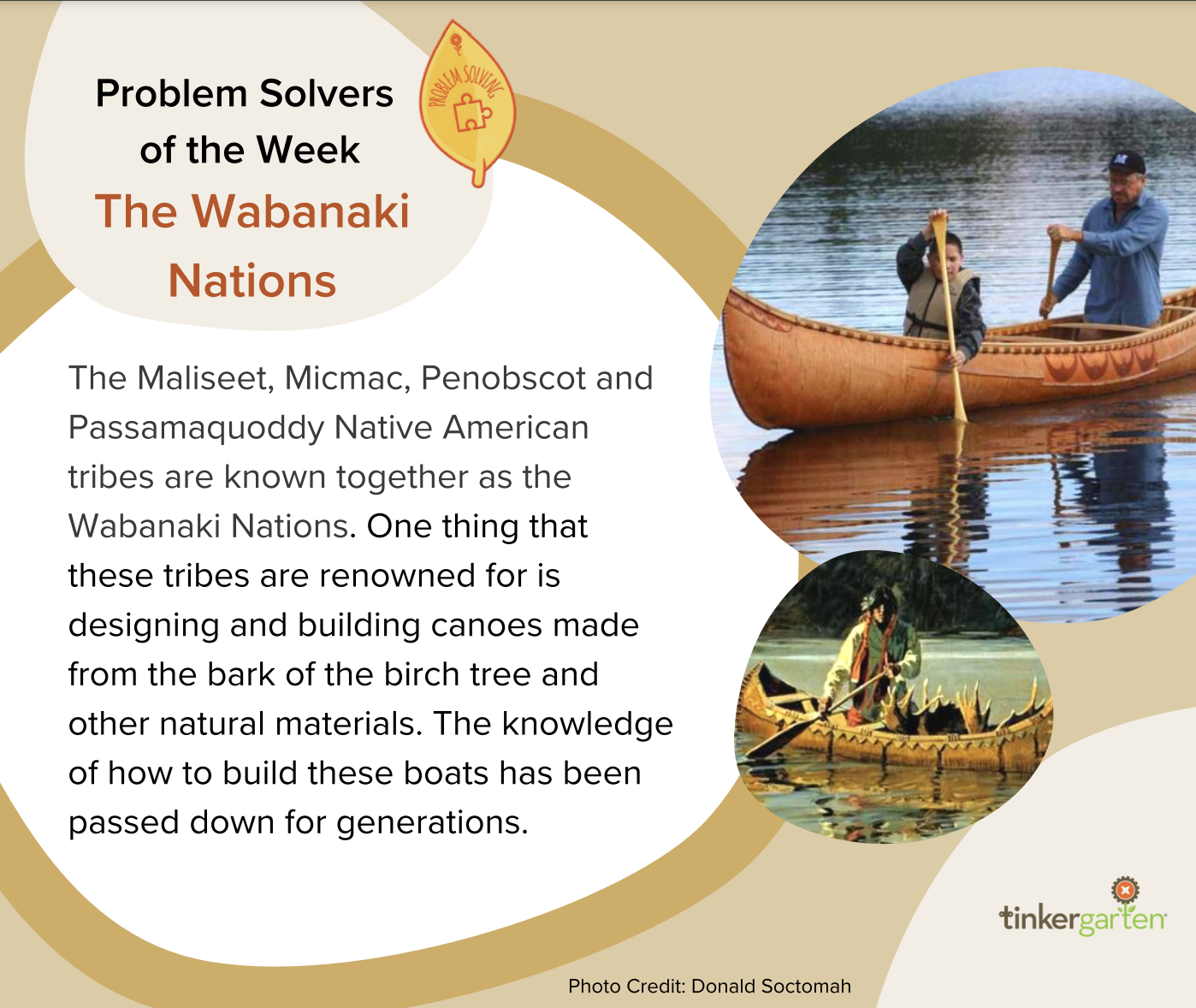 Through researching the Wabanaki Nations and seeking to learn about their culture today, I learned about an organization called First Light. First Light acts as a bridge between conservation organizations that oversee the land today and the Wabanaki Nations. Their mission is to improve the health and well-being of Wabanaki people by expanding access, management and ownership of Wabanaki homelands in present-day Maine and to "create a stronger conservation movement that includes and reflects Indigenous expertise and perspective. All will benefit from this, and it all begins with the land."
WOW! While we cannot change history, we can work toward a more inclusive future each and every day. We each have a role to play in undoing stereotypes that diminish native peoples in our culture—especially in conversations with our young people. Knowing, sharing and passing the rich history and strong present of each, unique native people is a critical part of doing that.
Curious to learn more about how to support Indigenous Youth? Indigenous Vision created this action guide for Building Inclusive Communities and Strong Indigenous Youth.