November is Native American Heritage Month! This is a special time of year for our family — my three children and I are Mvskoke-Seminole and we always use this month to talk even more about our own heritage! We're also committed to learning as much as we can about other Native people and communities. I know that, like us, many families are looking for high-quality resources to help children learn about and celebrate Native American culture—both this month and throughout the year.
To help you get started, I reflected on the books I've enjoyed reading with my own children, and then I turned to a member of our Tinkergarten Teacher Alumni community, Cholena Smith-Boyd, for more ideas. Cholena is a citizen of the Shinnecock Indian Nation of Long Island, NY. She's also the former Education Program Manager of the Shinnecock Nation Cultural Center and Museum and has a unique understanding of the importance of preserving Native cultures!
Together, we've selected 20 beautiful picture books to help inspire your family's learning journey. All of these books are written by Native authors about Native protagonists, and many feature illustrations by Native artists, as well. We are grateful for these stories told from the authentic perspective of Indigenous people. We also encourage you to further support Native American heritage by seeking out Indigenous-owned bookstores, whenever possible. I love Birchbark Books!.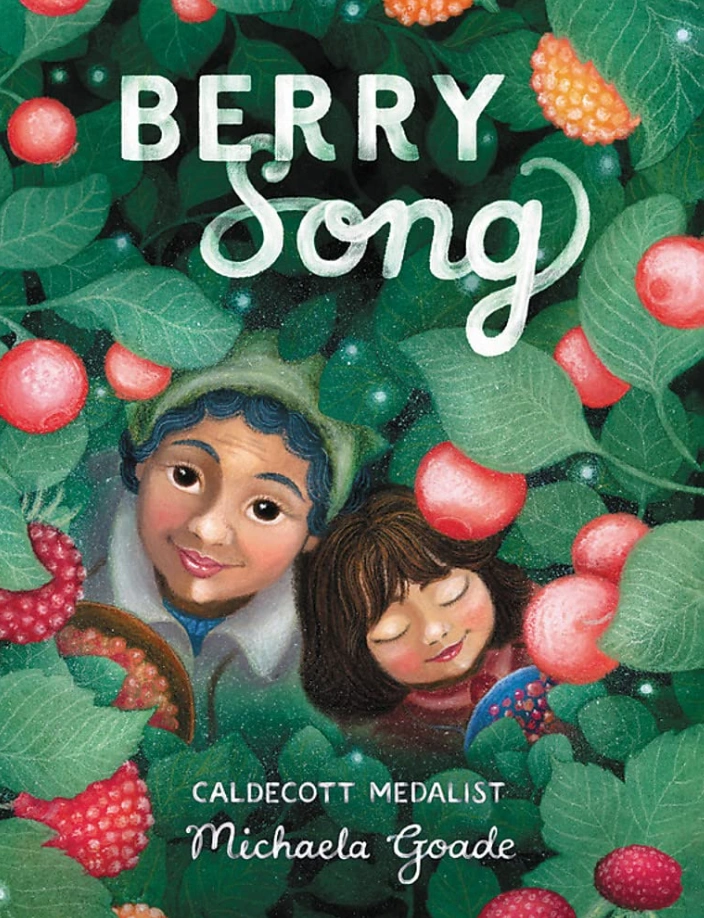 Berry Song by Caldecutt Medalist Michaela Goade (Tlingit/Haida)
The story is truly a gorgeous celebration of the land and the powerful wisdom of elders. Throughout the seasons, the family sings to the land, and the land sings back to them. It's full of joy, connection, gratitude and encourages us to deepen our own relationships with the planet.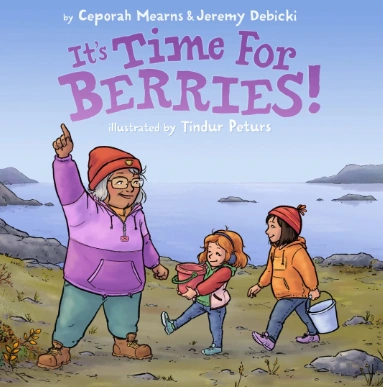 It's Time for Berries! by Ceporah Mearns (Inuit) & Jeremy Debick, illustrated by Tindur Peturs
This book highlights traditional harvests and foraging throughout the seasons seasons until finally, it's time for berries! We love the relationship between Ningiuq (grandmother) and her granddaughters in this beautiful, empowering story.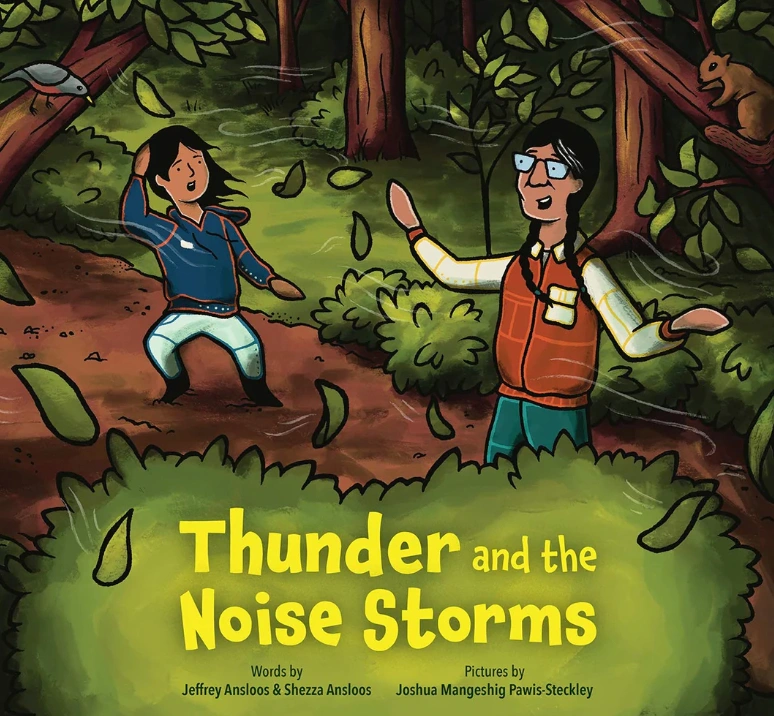 Thunder and the Noise Storms by Jeffrey Ansloos (Cree) & Shezza Ansloos (Cree), illustrated by Joshua Mangeshig Pawis-Steckley (Ojibwe)
The sounds of the world feel loud and overwhelming for Thunder, and we so appreciate the gentle, understanding approach of his mosom (grandfather) who teaches him to listen to the sounds of nature with wonder. Tuning into the calming sounds of rushing water and birds flying by help ground Thunder so he feels calm and connected.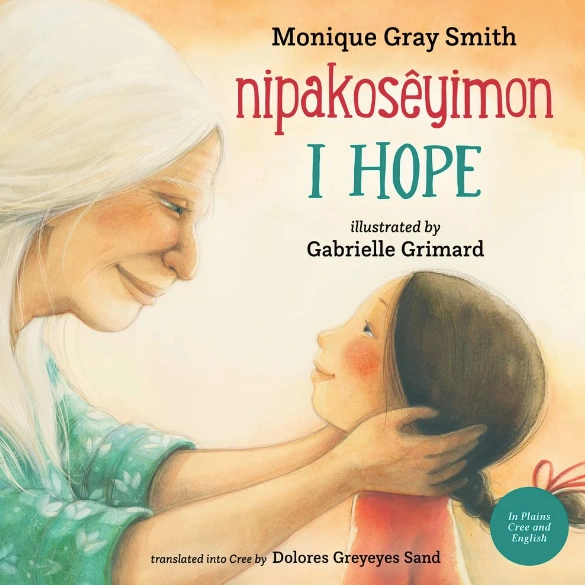 I Hope by Monique Gray Smith (Cree, Lakota), illustrated by Gabrielle Grimard
This dual-language (English and Plains Cree) book is full of heart-touching hopes and dreams for kids. We especially love the wishes for joy, the love of learning and for little ones to grow to be caretakers of the earth—things we hold dear and hope to inspire for kids, too!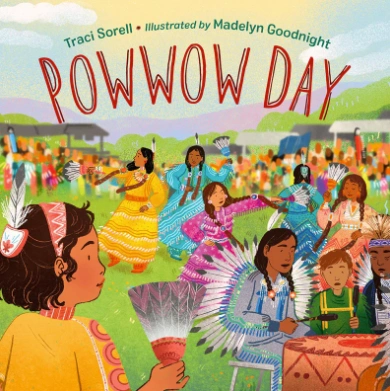 Powwow Day by Traci Sorrell (Cherokee Nation), illustrated by Madelyn Goodnight (Chickasaw Nation)
Kids are introduced to River who is on a healing journey following an illness. She wants so badly to dance at powwow day as she does every year and this touching, empathy-boosting story reminds us about the uplifting power of community.

Be sure to check out the included information about powwows! They take place across the US and Canada and are often open to Native families and the public—a wonderful way to help kids connect with vibrant, thriving nations of today.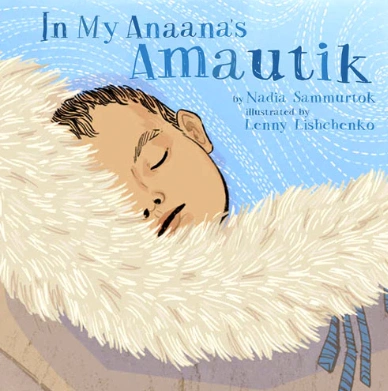 In My Anaana's Amautik by Nadia Sammurtok (Inuit), illustrated by Lenny Lishchenko
Calm, cozy, soft, safe—we love the descriptive, sensory-rich language that fills this board book all about the love an Inuit baby feels when held close in their mother's traditional carrier.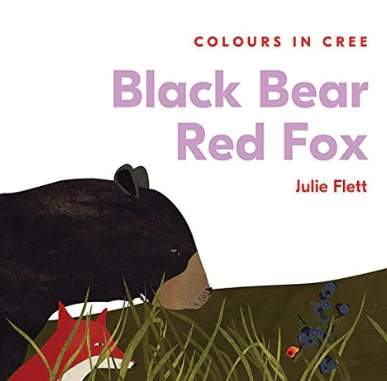 Black Bear, Red Fox: Colors in Cree, by Julie Flett (Cree/Métis)
This simple book is full of delightful and engaging illustrations of our natural world! Each page highlights a new color and animal in both English and Cree! We love the pronunciation guide and background about the Cree language.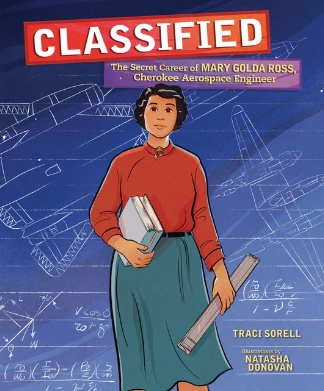 Classified: The Secret Career of Mary Golda Ross, Cherokee Aerospace Engineer, by Traci Sorell (Cherokee), Illustrated by Natasha Donovan (Métis)
This is an inspiring, true story of Mary G. Ross—master of science & mathematics. She was the first female Native American Engineer and designed rockets and missiles for Lockheed! We love how author Traci Sorell highlights the ways Mary Golda Ross's Cherokee values and her passion for math shaped her life!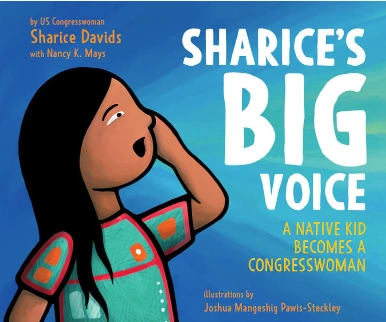 Sharice's Big Voice: A Native Kid Becomes a Congresswomen by Sharice Davids (Ho-Chunk) with Nancy K. Mays, illustrated by Joshua Mangeshig Pawis-Steckley (Ojibwe)
This inspiring autobiography follows Sharice David's journey to become one of the first Native women elected to congress and Kansas' first LGBTQ+ congressperson! We love that the story highlights the importance of representation for everyone and how Sharice's campaign "made room for everyone."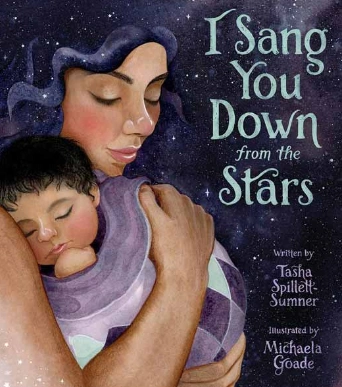 I Sang You Down from the Stars by Tasha Spillett-Sumner (Cree), illustrated by Caldecott Medalist Michaela Goade (Tlingit and Haida)
Perfect for bedtime, this lovely story sings with love as a mother prepares her heart and life to welcome a little one. "I loved you before I met you. Before I held you in my arms, I sang you down from the stars."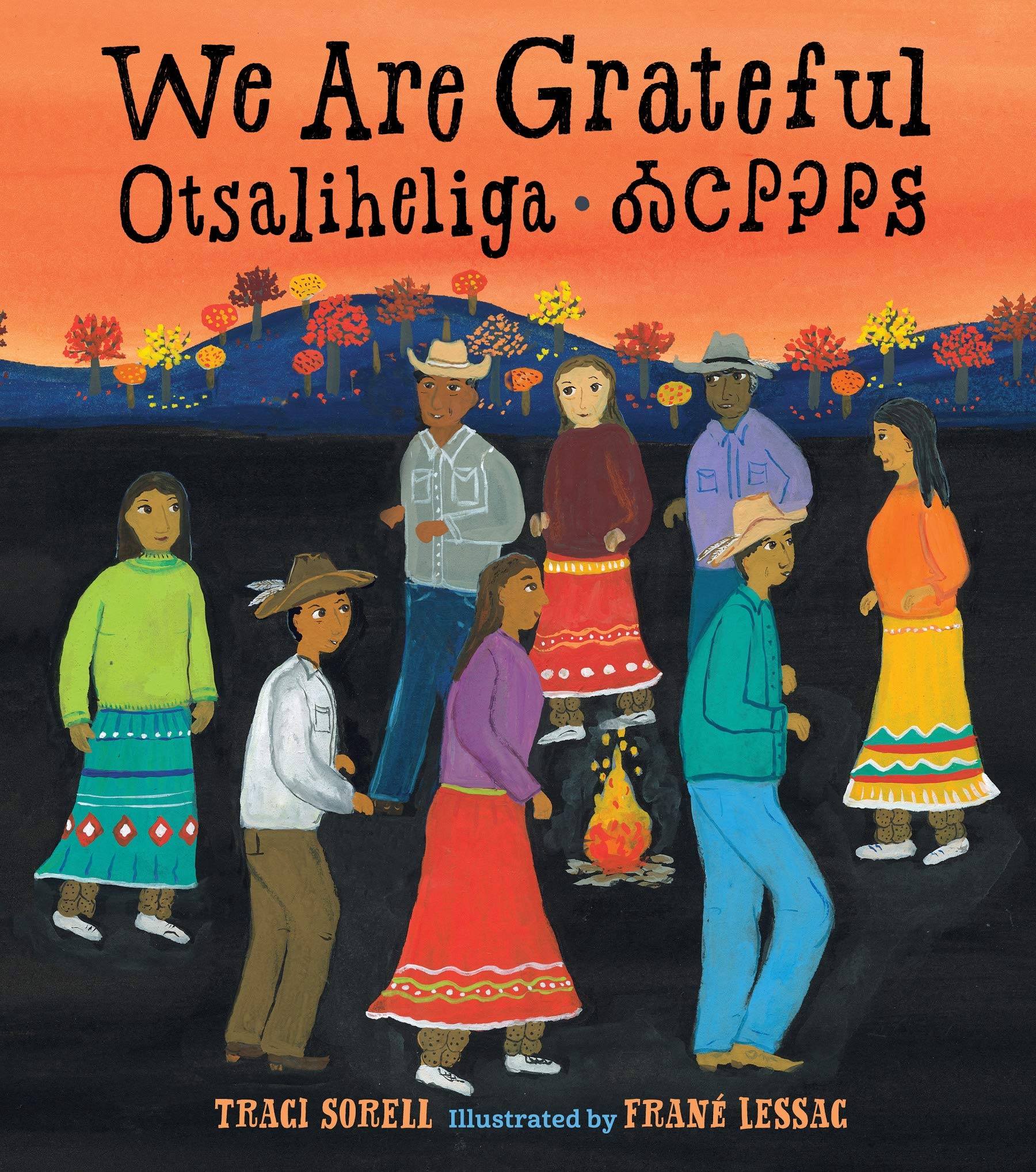 We Are Grateful Otsaliheliga by Traci Sorell (Cherokee), illustrated by Frané Lessac
"Cherokee people say otsaliheliga to express gratitude. It is a reminder to celebrate our blessings and reflect on struggles — daily, throughout the year, and across the seasons." This story if perfect to tie to your outdoor experiences and adventures as it takes you on a journey of gratitude through all four seasons. From cool breezes and falling leaves, to elders sharing stories and gathering spring's first food, contemporary Cherokee culture is woven throughout the journey.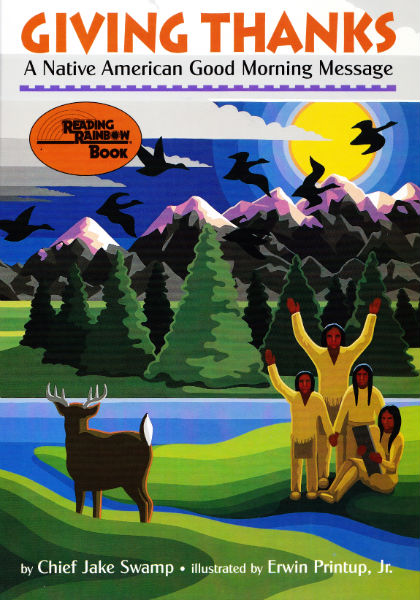 Giving Thanks: A Native American Good Morning Message by Chief Jake Swamp (Tekaronianeken), illustrated by Erwin Printup, Jr. (Cayuga/Tuscarora)
This book is based on the Thanksgiving Address, a morning prayer message of gratitude for Mother Earth from the Haudenosaunee or Iroquois (Six Nations) people— Mohawk, Oneida, Cayuga, Onondaga, Seneca, and Tuscarora. These words are still spoken at ceremonial gatherings held by the Iroquois.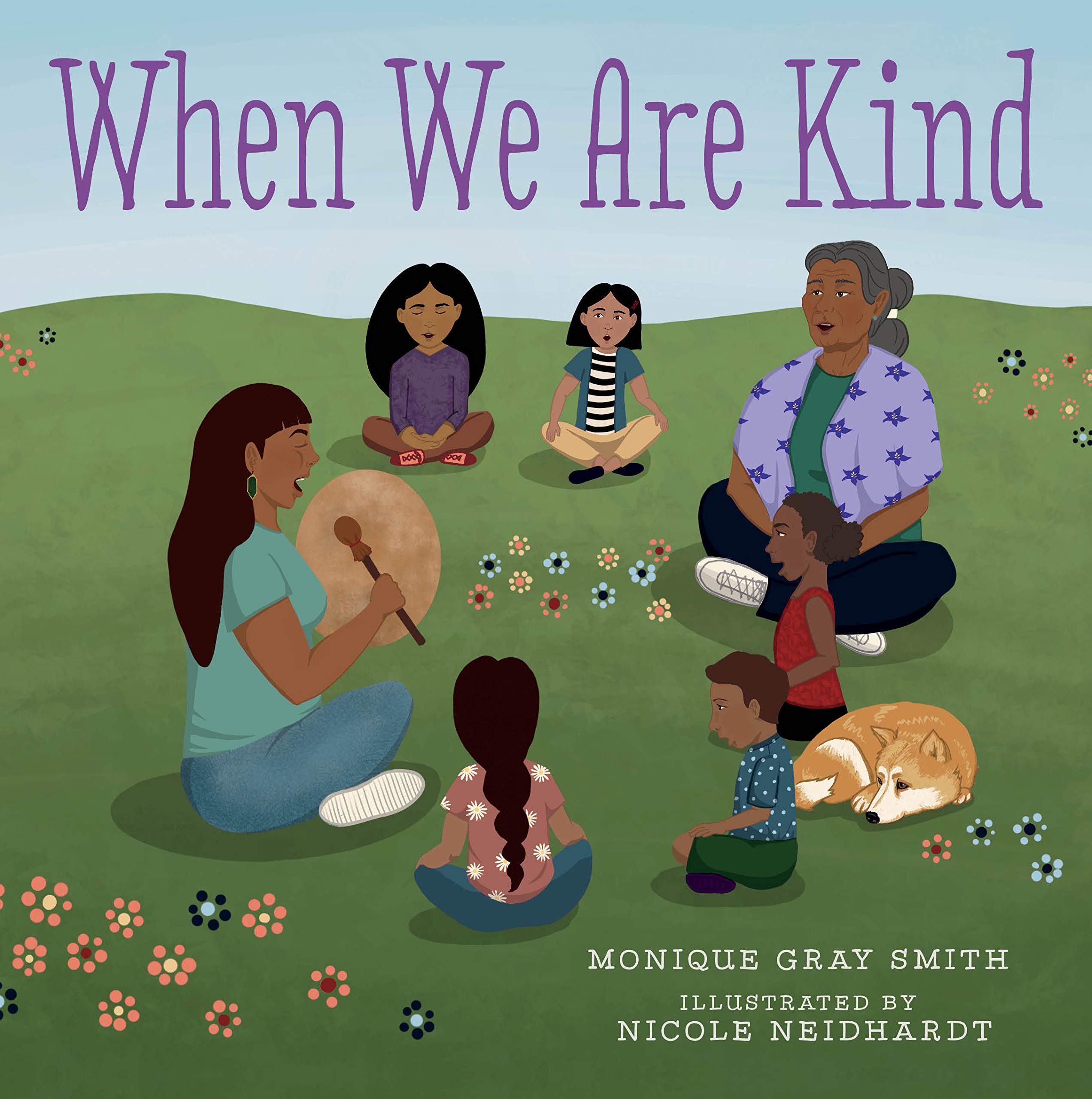 When We Are Kind by Monique Gray Smith (Cree, Lakota), illustrated by Nicole Neidhardt (Diné)
Written in both English and Diné (Navajo), this beautiful story encourages kindness through simple, loving acts like helping our neighbors and taking care of the earth. Children are also encouraged to think about the acts of kindness from others that help them feel joy, happiness, comforted and loved and the impact our kindness has on one another.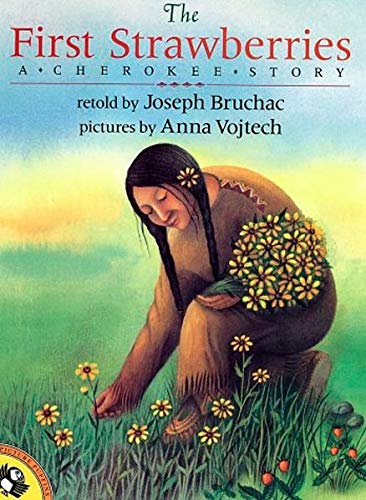 The First Strawberries: A Cherokee Story retold by Joseph Bruchac (Nulhegan Abenaki), illustrated by Anna Vojtech
This Cherokee story tells how strawberries came to be and outlines their significance in Cherokee culture: "To this day, when the Cherokee people eat strawberries they are reminded to always be kind to each other to remember that friendship and respect are as sweet as the taste of ripe, red berries."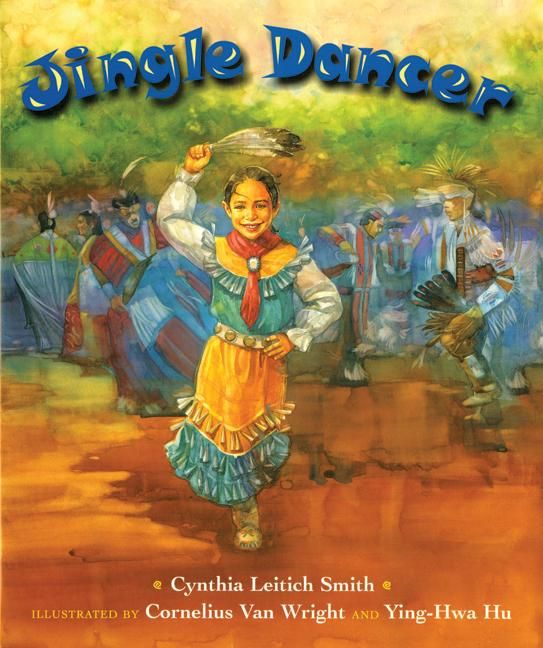 Jingle Dancer by Cynthia Leitich Smith (Muscogee Creek), illustrated by Cornelius Van Wright and Ying-Hwa Hu
Jenna is a member of the Muscogee (Creek) Nation and is also of Ojibway (Chippewa/Anishinabe) descent. Jenna hopes to jingle dance at an upcoming powwow, but her dress is not yet complete — it has no jingles. With the love and support of family, friends, and community, Jenna sets out to complete her regalia and dance with the joy shared by generations of her family.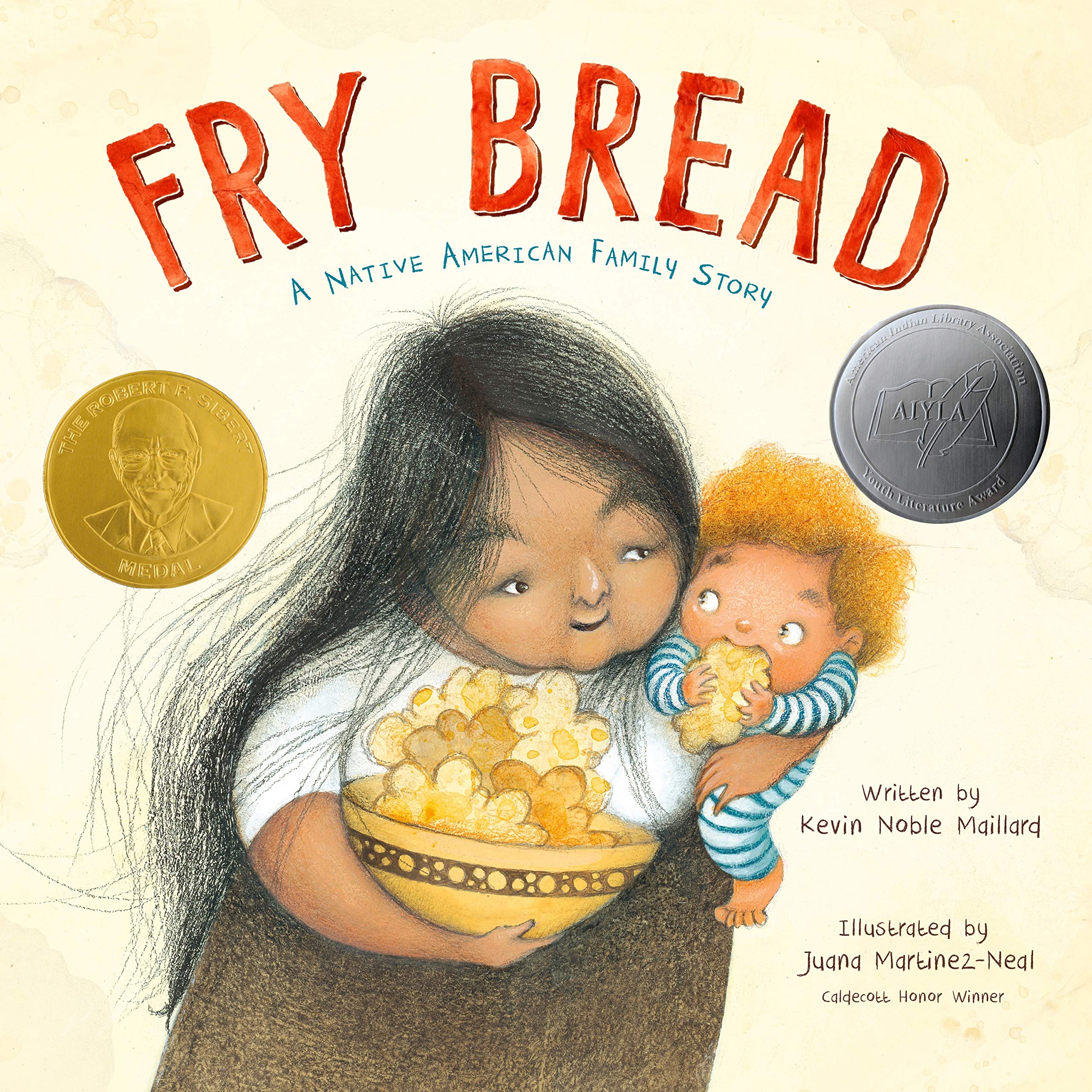 Fry Bread: A Native American Family Story by Kevin Noble Maillard (Seminole), illustrated by Juana Martinez-Neal
For many Native families, fry bread — and the story and history behind it — holds deep cultural significance. This beautifully illustrated book depicts a modern family making, enjoying, and remembering the rich history of this traditional food and the importance it holds in the community.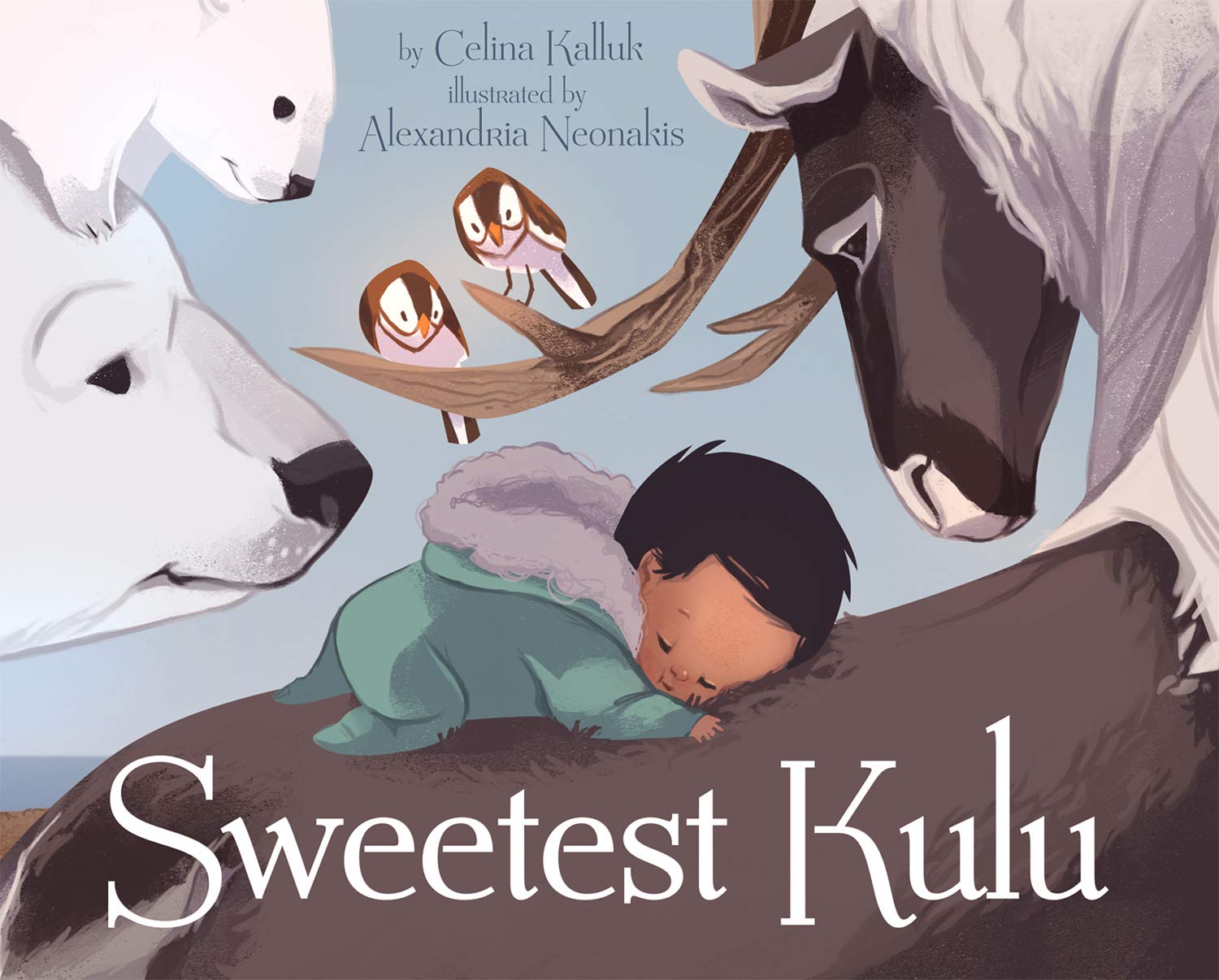 Sweetest Kulu by Celina Kalluck (Inuk), illustrated by Alexandria Neonakis
Newborn baby Kulu is welcomed into the world and showered with gifts from all of the arctic animals. From seeds, to patience, to tenderness and how to protect what you believe in, baby Kulu is celebrated in true love.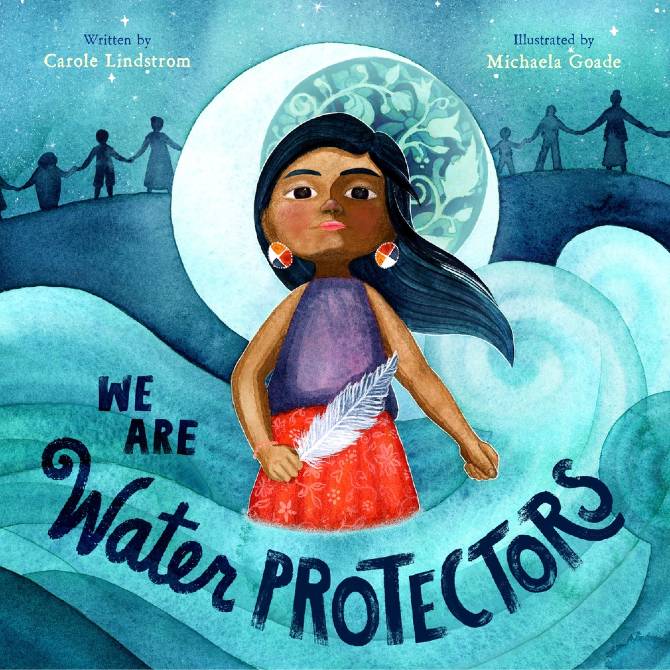 We Are Water Protectors by Carole Lindstrom (Anishinaabe/Métis), illustrated by Michaela Goade (Tlingit/Haida)
"Water is the first medicine, Nokomis told me. We come from water. It nourished us inside our mother's body as it nourishes us here on Mother Earth. Water is sacred, she said." Inspired by the many tribal nations fighting to protect Indigenous lands and waterways, this story illustrates the power and importance of rallying together to stand for water, land and life.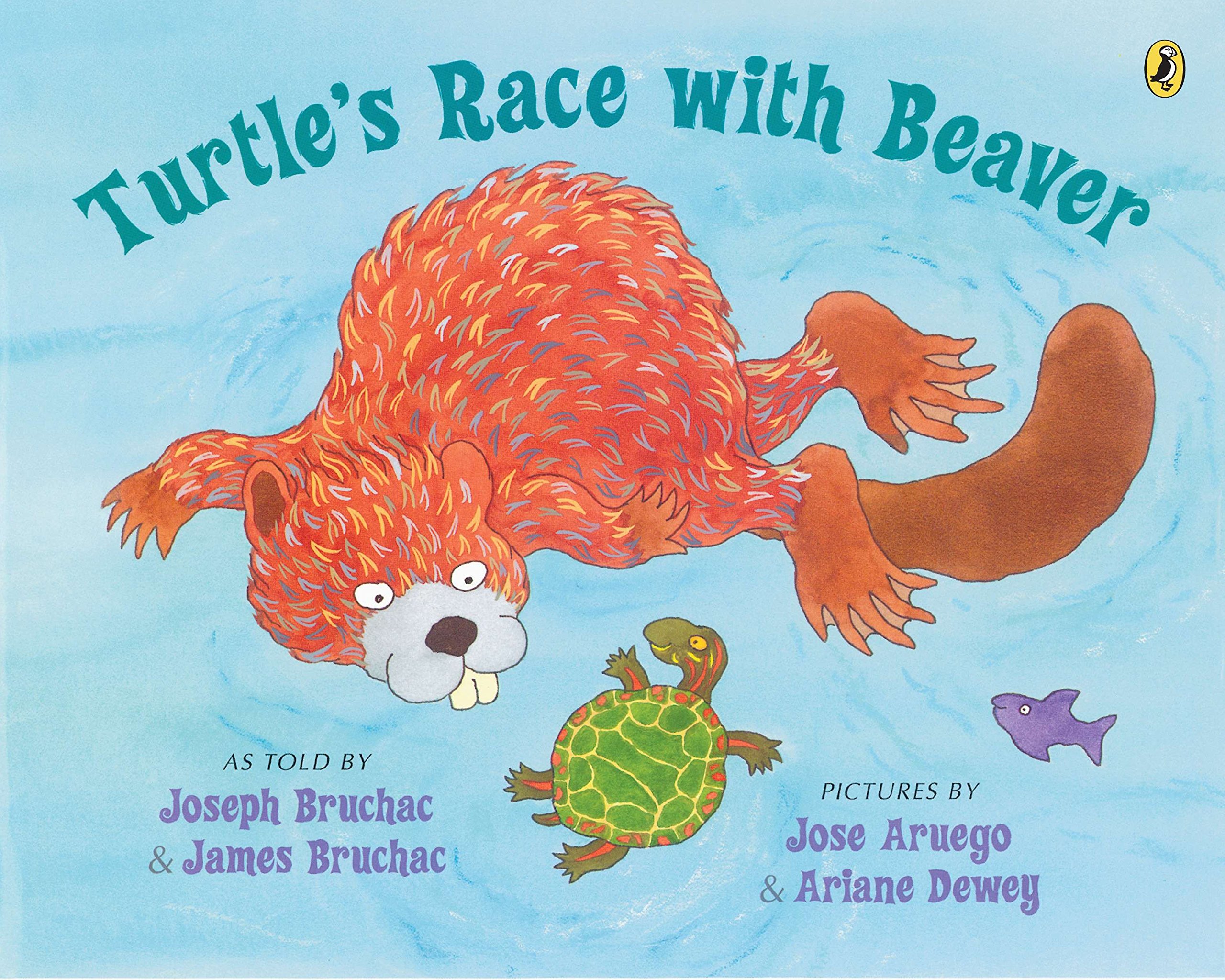 Turtle's Race with Beaver as told by Joseph and James Bruchac (Abenaki), illustrated by Jose Aruego and Ariane Dewey
Based on a traditional Seneca story, this teaching tale is also still alive in oral tradition across many Indigenous cultures. Children will delight in the thrill of the race between a small turtle and a big, strong beaver.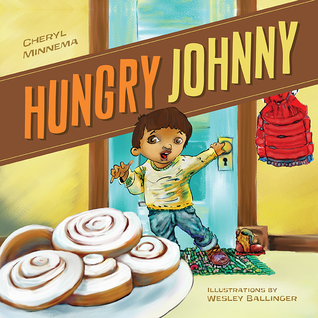 Hungry Johnny by Cheryl Minnema (Mille Lacs Band of Ojibwe), illustrated by Wesley Ballinger (Mille Lacs Band of Ojibwe)
Young Johnny likes to eat and is looking forward to a gathering at the Community Center, but it is a long time to wait. After a long drive and traditional Ojibewe prayer, it is finally time for the feast, and a hungry Johnny must wait for the elders to eat first. Johnny's grandmother gently teaches him lessons about gratitude, patience, and respect for elders and Johnny comes to understand the importance of these when a special guest arrives to join them at the Community Center.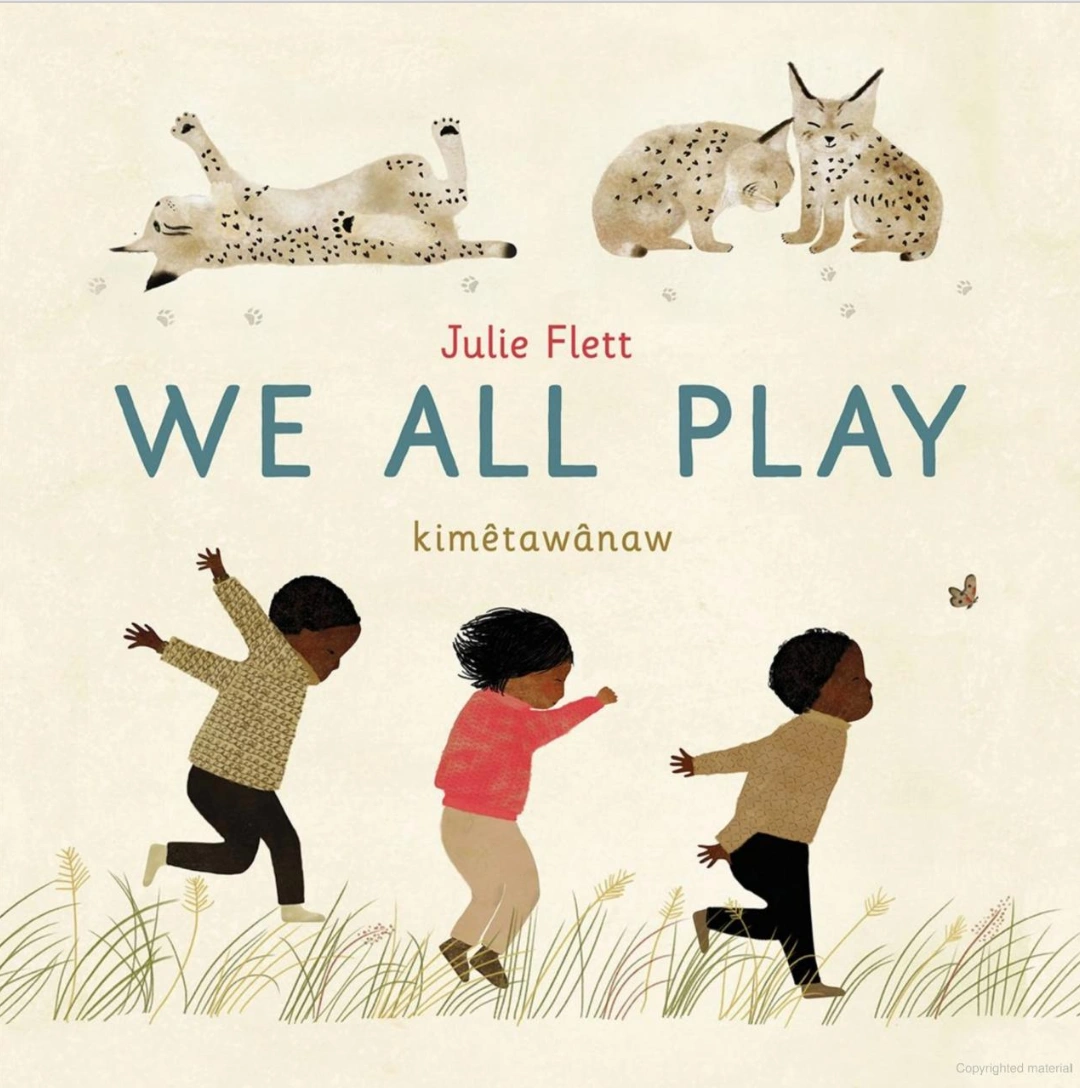 We All Play: kimêtawânaw by Julie Flett
We All Play is one of our favorite celebrations of how both children and animals learn through outdoor play. Though this story is not explicitly focused on Native American/Indigenous history or heritage, it beautifully features Indigenous characters, culture and language.