The Norwegians have among the hardest, longest and coldest winters on Earth, and yet they are the happiest during winter. How? In short, it's all in the approach: They design life to make the most of winter. And, at a high level, it all starts with getting outside and infusing life inside and outside your home with what makes winter so special.
During my first winter as a mama, I had read about this and, inspired, decided to release my inner Norwegian and be awesome at winter. Optimistic though I was, I struggled to find the right gear and just could not find it in myself to let my 7 month old enjoy time outside without incessantly checking for signs of frostbite.
A dear mama friend who watched this go down on our regular trips to the park suggested that maybe I should stop aiming for Scandinavian and try to approach winter as me. So, I wrote down my honest thoughts about how I was feeling at that moment about that winter. That simple act made me realize a more authentic winter mindset. I was good with short visits outdoors and really craved more clarity and comfort with what was and wasn't safe for my kiddo. And, I was really great at creating cozy indoors for my babe and friends who stopped in for tea.
This became my starting place. I gave myself time to build stamina for longer visits to the park, better researched gear and safety for babies, and made lots of tea. Winter got so much better.
After ten winters of Tinkergarten, my winter mindset has broadened to include so many ways to love this season and help my kids do the same. Wherever you are in your relationship to winter, we've collected our favorite ways to enjoy winter in a new 2023 Winter Gear Guide. And in this wild moment, when we need outdoor time more than ever no matter the weather, it's all about finding your 2023 winter mindset and then leaning way in.
Not sure what your mindset is? You could try to write, speak or just think about your honest, authentic answers to questions like these below. Or, skip down to some of the common winter mindsets we've heard reflected back over the years, and see if any of them feel like you! If one speaks to you, we've included some suggestions for how to start from there to deepen your winter love.
Questions
How do I

really

feel about

this

winter?

How does that change when I take my parent hat off (if that is even possible 😉)?

What is hard about winter where I live?

What is really special about winter where I live?

What do I feel most excited to do/experience today/this winter?
Common Mindsets
Here are the mindsets — and clever ways for each to fall a bit more in love with winter this year:
To fall even more in love, keep going, and share your love with friends. Happy Winter, friend!
"Winter is not a season, it's a celebration." —Anamika Mishra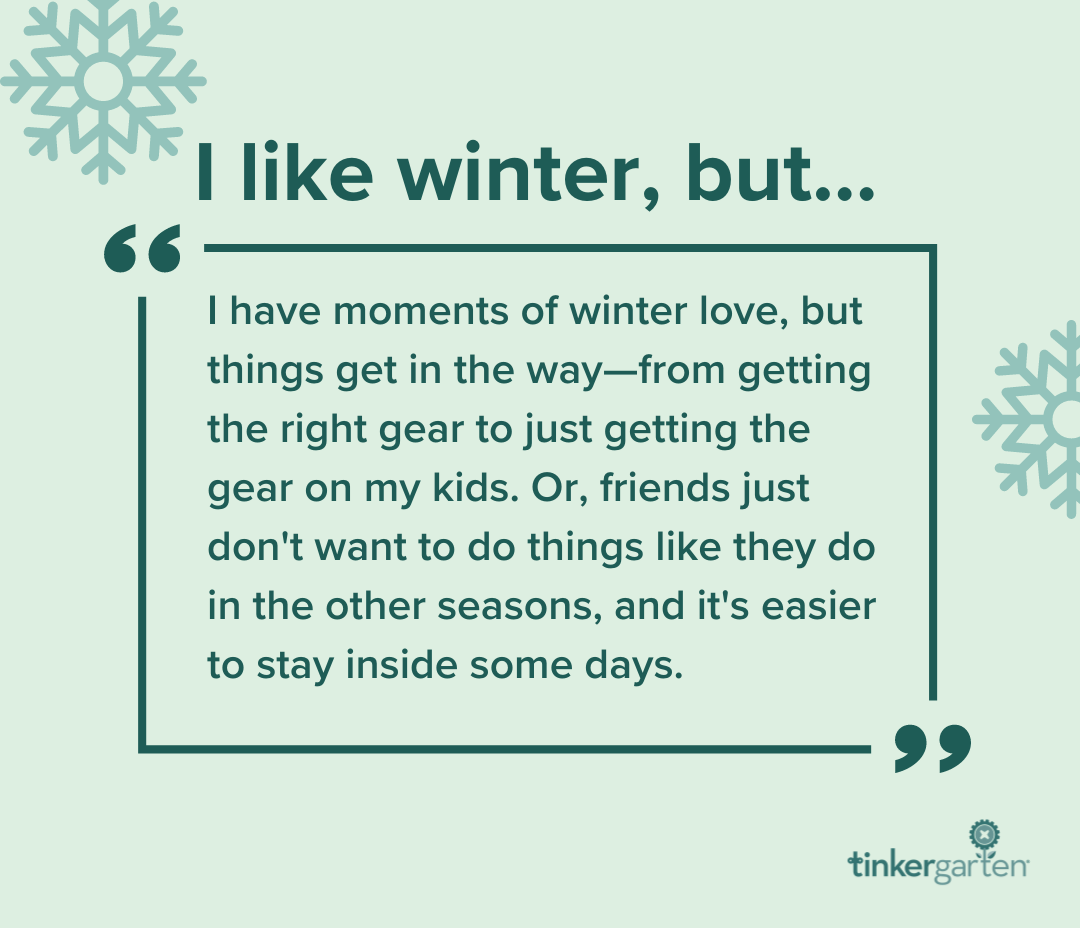 To fall even more in love, make sure you have the gear kids AND YOU need and the tips to make dressing for outdoor play easy. Set aside days or times to get out and try some of our DIY activity ideas to give you and kids a boost out the door.
"If we had no winter, the spring would not be so pleasant."—Anne Bradstreet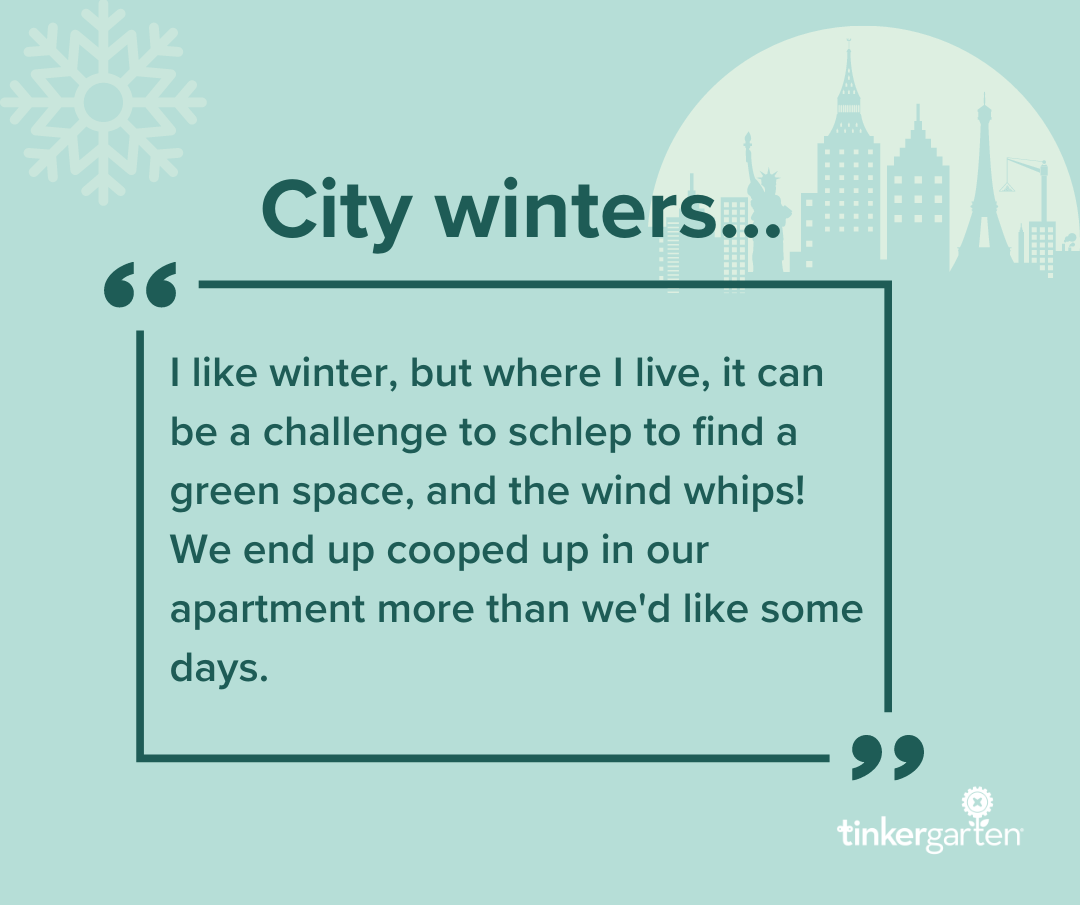 To fall even more in love, pick a time of day when you can step outside. Maybe it's early in the morning or just before bed time when your block is quiet. When you can get to a city park or garden, bring a few nature objects home to bring outdoor play inside, and use whatever freezer space you've got to make frozen treasure! Read even more ways to enjoy outdoor play in an apartment.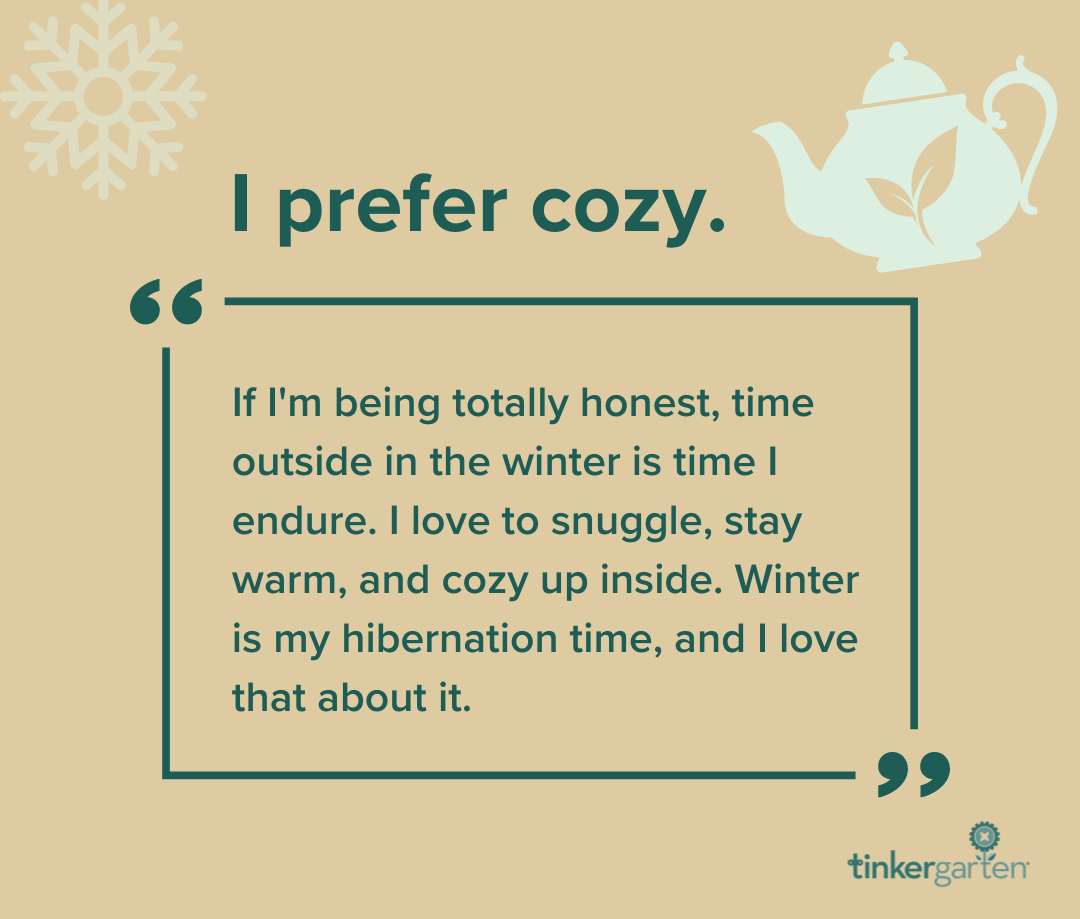 To fall even more in love, lean way into your cozy winter rituals and use them to make coming back inside extra fun for you and your kids. It actually makes the good-for-you time outside even sweeter! On fun tip: pack a thermos and mugs and try adding a tea party to your next outdoor adventure.
"Winter is the time for comfort, for good food and warmth, for the touch of a friendly hand and for a talk beside the fire: It is the time for home." —Edith Sitwell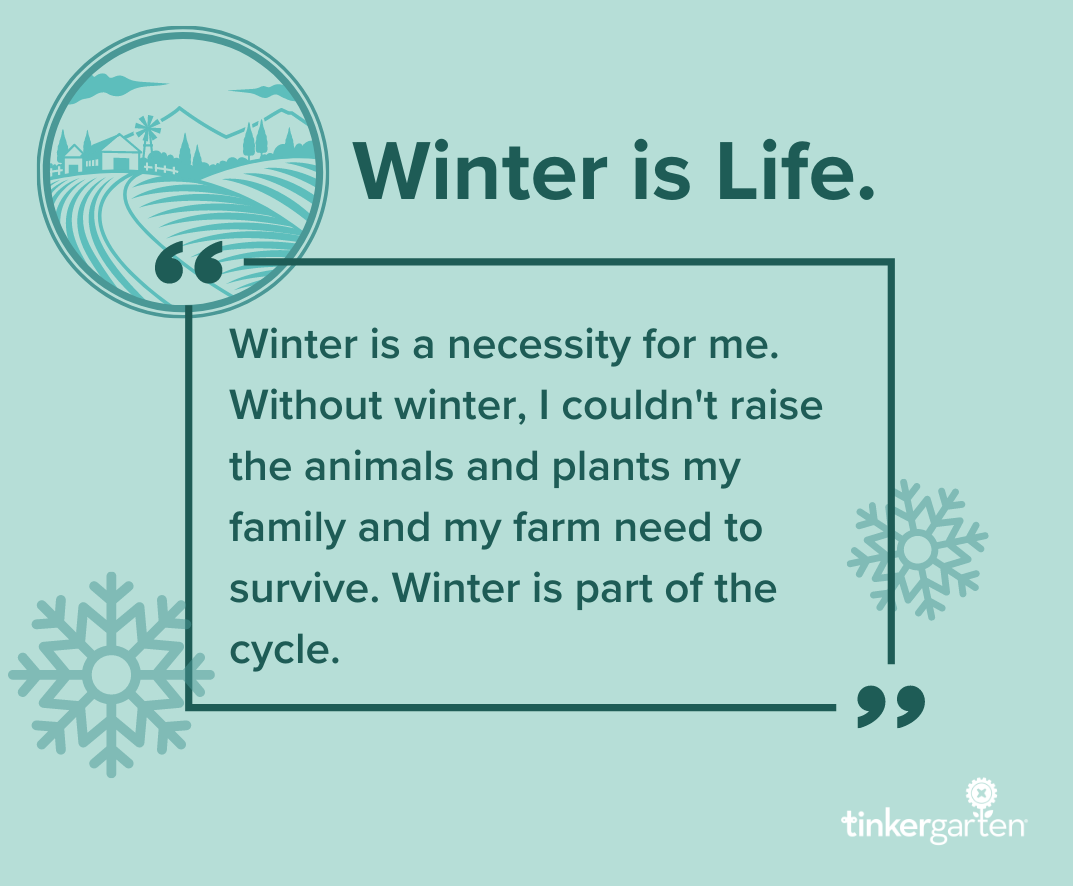 This love affair is a life affair. We celebrate all of the work that homesteaders and farmers do to make their living all four seasons. Celebrate your efforts with your kiddos and capture sweet sensory moments of the season with kids throughout your days outside.
"The greatest fine art of the future will be the making of a comfortable living from a small piece of land." —Abraham Lincoln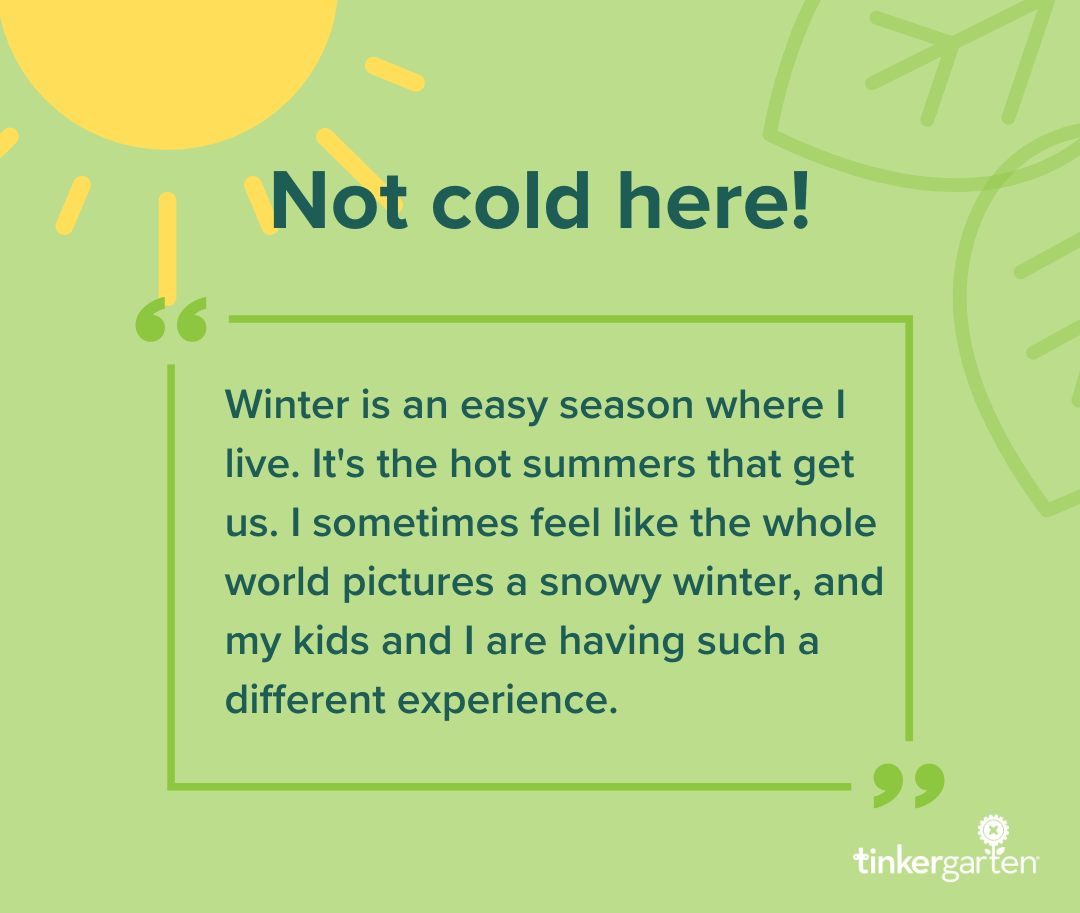 To fall even more in love, enjoy what makes winter special in your area. For example, find out which birds migrate to your area for winter and turn oranges into bird feeders. Days are short everywhere, too, so enjoy stargazing with kids and the chance to light lanterns at dusk.
"Summer's the real winter here, when it's too hot to be outside.—Unknown
No matter where you live or how you approach it, winter is here, and we wish you and yours a season full of winter magic—whatever that looks like for you! If you're enrolled in a Tinkergarten class or using Tinkergarten Anywhere with your family this winter, we'll be doing this together. If you want to get additional ideas and inspiration from thousands of Tinkergarten families and Leaders, join our free OutdoorsAll4 Facebook Group. All year long, our team shares fresh outdoor play ideas and ways to connect with nature, so make sure you are on our mailing list, too. We can't wait to see this community make the most of this incredible season!