Set up Your Play Centers—Art Center
Look around a classroom or the home of a friend who homeschools, and you quickly notice how spaces are arranged to promote active learning and play. Setting up a few simple centers— in your home, yard or even just a "go-bag"—can inspire hours and hours of independent play for your family, too. That's why, as part of our June Activity Calendar, we are sharing ways to set up play centers that will inspire outdoor play all summer long! If you do not yet have your free copy of the June Activity Calendar, get it
here
.
Setting Up an Art Center
Creating art is joyful for humans of all ages. And, it can be really easy to set up an art center that makes materials readily available to kids and gives them even more opportunity and inspiration to create. Here's how:
The Guide
Choose a spot for your art center: Pick a corner of your home where you can set out containers of art supplies and where there is space on the floor or on a table for kids to use the materials. If it helps, lay down a tablecloth or sheet so kids can create and make messes freely without risking damage to furniture or your peace of mind. You can also cover the table with a large piece of paper. Leave it there for a week and—voila—you have a piece of abstract art that documents your child's creativity that week!


If you want to make art outdoors, or you don't have space to dedicate to an art "center," fill a bin or wagon with art supplies for an art center on-the-go.
Gather materials for your art center: Whatever materials you include in your art center, make sure they are visible—merchandising can help inspire kids to use them. Put each kind of material in its own container, if you can, so they are easy for kids to find and keep organized. You can also include a new "surprise" each week or two to reinvigorate your supplies. Here are some ideas for a simple art center:


Crayons
Markers
Colored pencils
Watercolors, water bottle and bowl
Paintbrushes
School glue/glue sticks
Tape
Age-appropriate scissors
Colorful spices (e.g. turmeric)
Paper
Bits of fabric, ribbon, yarn, pipe cleaners, etc.
Old magazines, holiday cards or papers of interesting colors or textures


Let the creativity flow!
Invite kids into the art center with an open-ended invitation to explore and try out the various materials. Or, go on a walk outside and look for inspiration from the colors, shapes and designs in nature. As kids create, share what you notice about their choices in materials and how they are using them rather than on what the art looks like (a super way to support the
process rather than the final product
) Need play ideas? Try our
Make Your Mark
,
Mud Art
, or
Grateful Designs
DIY activities.
Why is this activity great for kids?
Setting up an art center can inspire hours and hours of independent play for your family. Making art supports so many aspects of learning—
creativity
, self expression,
sensory integration
, motor skills and
joy
!
If You Like This Activity, Try More!
Try a Free Lesson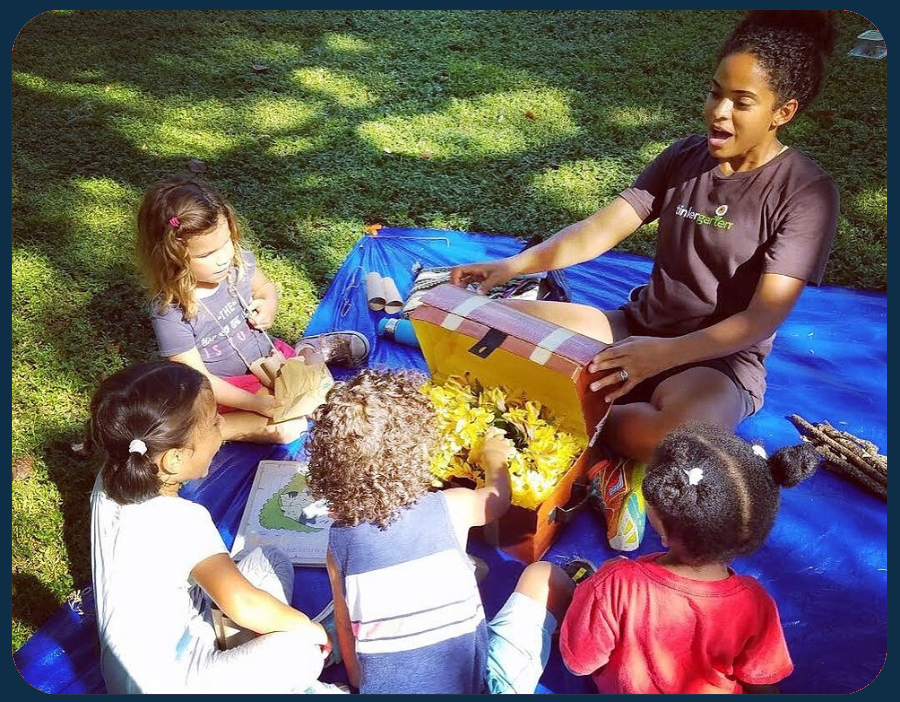 Tinkergarten for Teachers
Teach Tinkergarten in your community or classroom!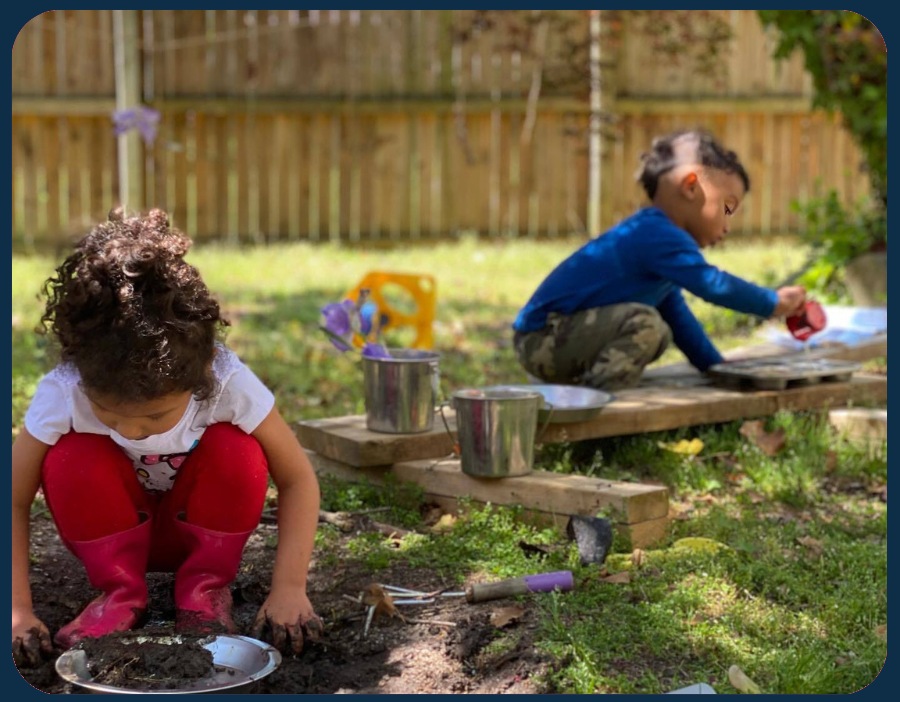 Tinkergarten Anywhere
Enjoy Tinkergarten as a family anytime, anywhere!