Age: 0 to 8+

Time: Under 1 hour

Materials: Sock; 2 rubber bands or twine; rice or beans; bin or large container; scoop; scissors; markers; mason jar lid/ roll of tape/toilet paper roll (optional)

Skills: Creativity, Fine Motor, Sensory, Empathy
Pretending and play with dolls or "stuffies" can help kids form strong roots of perspective-taking that form the basis for more sophisticated cognitive empathy. This week at Tinkergarten Anywhere we help kids turn an ordinary sock into their very own forest friend and imagine how their homemade friends like to play and how they might feel in different situations.
The Guide
Step 1: Watch the Tinkergarten Anywhere Forest Friends video lesson.
Hop into your
My Tinkergarten trial dashboard
to watch the
Forest Friends
video lesson. Kids can watch how Meghan and other explorers create their very own homemade friend to play with outside. Then, kids can get inspired to make and play with their own forest friend!
Step 2: Make a Forest Friend!
Follow the steps below, letting kids do as much of the process as they can. Or, get your child's help to start, then complete the forest friend while your child enjoys exploring the rice and scoops in the bin.


Set the sock up so it is easier to hold and fill. You can put a lid from a mason jar or a roll of tape in the top at the opening of the sock.
Use a scoop to fill the sock about a third of the way with rice. This forms the base/body. [Pro Tip: Do all scooping over the bin to catch spilled rice.]
Put a rubber band tightly around the sock at that point.
Continue to fill the sock with rice to create a smaller section for the forest friend's head. Put another rubber band on to seal the top.
Use scissors to either cut the remaining sock off, or cut down the middle to make into ears if you want.
Draw a face on the forest friend.
Step 3: Learn about your forest friend.
Invite your child to tell you about their forest friend. What is their name? How are they feeling today? What do they like to eat? Where do they like to sleep? How does their friend like to play? Does forest friend like big, wild adventures? Or cozy, quiet activities?


Step 4: Create play adventures for forest friend.
Here are some of our favorite ways to adventure with forest friends:
Show your forest friend a special spot: Head outside to introduce forest friend to one of your child's favorite outdoor spots. Does your child have a favorite tree to show their forest friend? Favorite flower? Favorite hideout or place to swing, jump or climb?
Take your forest friend for a walk: Take your forest friend with you on your next trek or adventure! Create a bindle to carry them, or use a box or cookie sheet to create a sled to pull forest friend. Got an old stroller or wagon? Pull your friend around!
Make a cozy space for forest friend: Offer materials your kids can use to create special spaces just for forest friend. Create a space to read or sing to/with your forest friend, a soft and cozy sleeping space or use mud and nature treasures to prepare a meal for their homemade friend.
Playground for forest friend: Ask kids how their forest friend likes to play. Then, offer materials to help them create "just right" outdoor play experiences for their friend. Here are some ideas:

Slide: Prop a board or cookie sheet against a tree to make a slide for their special friend.
Seesaw/catapult: Place a log or rock underneath the middle of the board to make a balance game for forest friend. Put the forest friend on one side of the seesaw and press down or jump on the other side to make a catapult.
Swing/trampoline: Put the forest friend on a towel and gather the ends in your hands to make a swing. Hold two sides of the towel taut in each hand to bounce the forest friend up and down.
Pulley/zipline: Use rope and a basket or bucket to make a pulley to move forest friend up and down. Or, tie the rope between two trees to make a zipline.
Why is this activity great for kids?
As kids imagine how their forest friend likes to play, they form roots of
cognitive empathy,
the ability to imagine how another person is feeling in a given situation. There's great wisdom in, "Do unto others as you would have done to you." But, empathy is actually about understanding what the
other person
would want, not just what we would. In this activity, we give kids the opportunity to rewrite the golden rule to "Do unto others as they would prefer."
Try a Free Lesson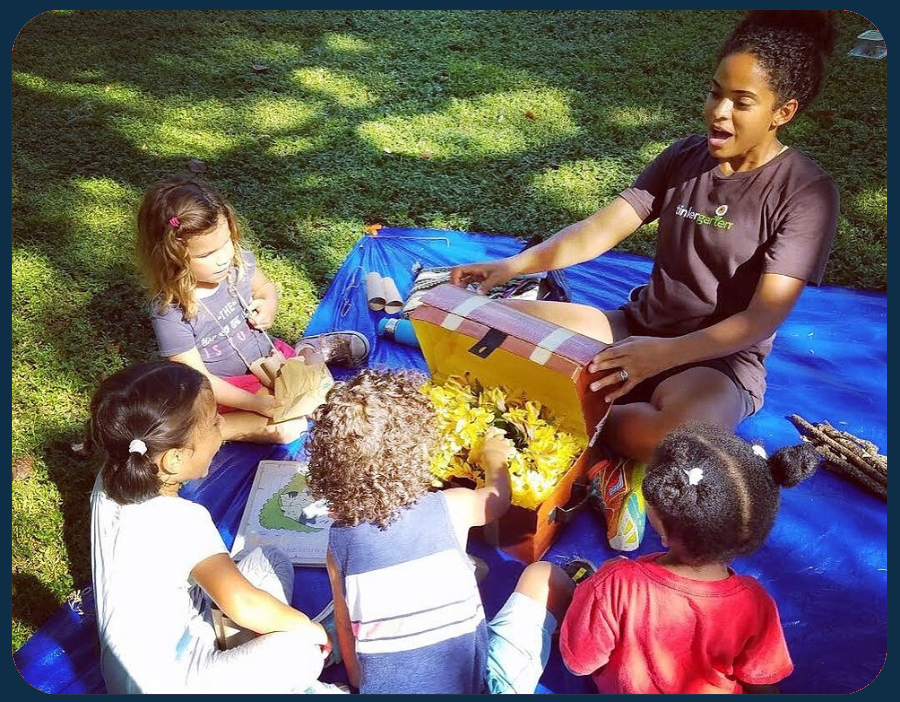 Tinkergarten for Teachers
Teach Tinkergarten in your community or classroom!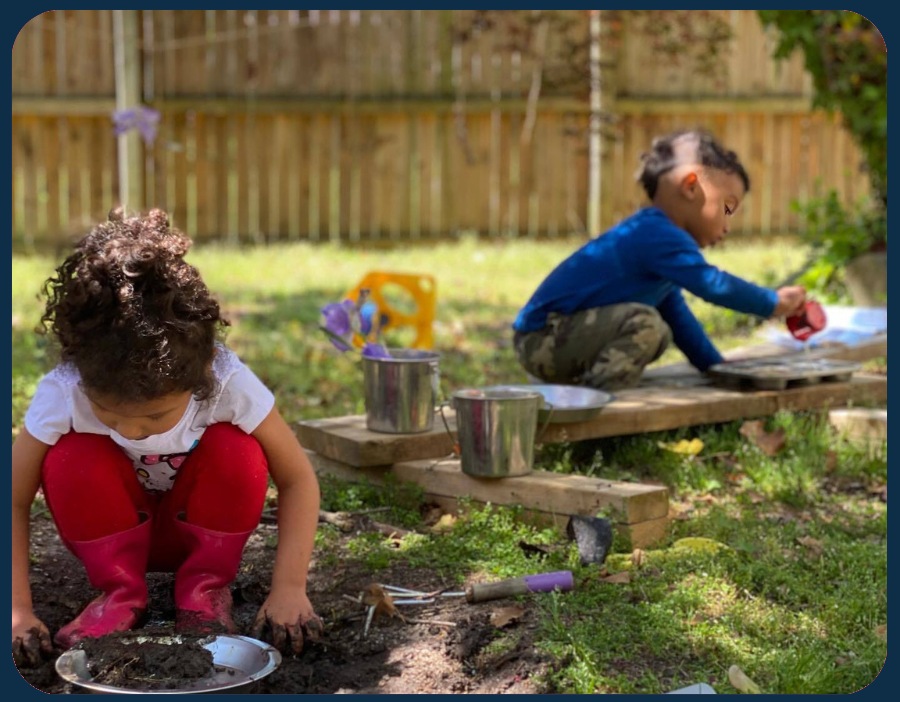 Tinkergarten Anywhere
Enjoy Tinkergarten as a family anytime, anywhere!