Squirrel Play—Cache and Find
Age: 0 to 8+

Time: Under 1 hour

Materials: nature treasures
The squirrel is a whiz at collecting and caching (storing and hiding away) treasures like nuts, seed, acorns, etc! Children are also innate collectors—and for good brain-building reasons. This week, invite kids to play like squirrels and hide a collection of nature treasures for friends to find. Here's how:


The Guide
Get inspiration from squirrels:
Read or watch the video read-aloud of
Girl Versus Squirrel by Hayley Barrett.
(Bonus video read-aloud:
Squirrels Busy Year by Martin Jenkins
).
Watch a video
from National Geographic to learn how squirrels collect and hide food to store for the winter.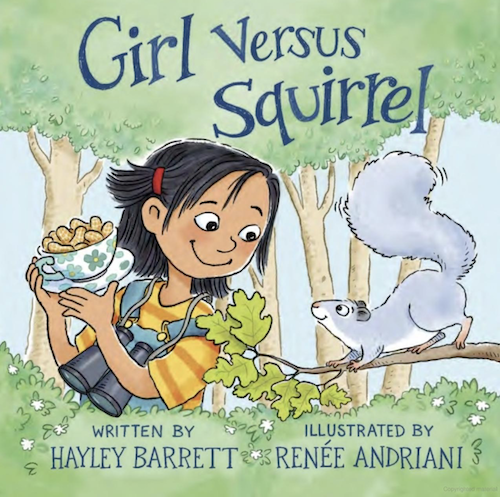 Pretend & move like squirrels:
What better way to fall in love with being active and learn about these amazing creatures than to play & move like squirrels? This week, we'll give kids a whole range of ways to pretend to be squirrels as they move through a series of challenges and imaginative activities. To help kids get going, download and print this set of
squirrel obstacle cards
!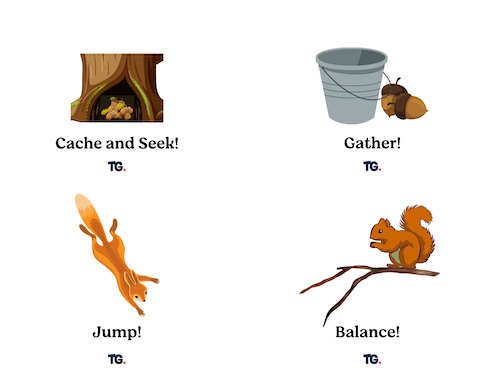 Gather a whole bunch of nature treasures:
Head outside to your backyard, neighborhood, favorite park, or woods. Have fun scampering about like squirrels as you gather acorns, rocks, wood chips, pine cones, flowers, leaves, sticks, etc. Invite your child to invent ways to transport their collection just as squirrels carry treasures in their mouths. What could your child use to carry their treasures to their hiding spots? Pockets? Your shirt (folded over)? A bucket? A bag? Or maybe you could turn a pillowcase into
a bindle
!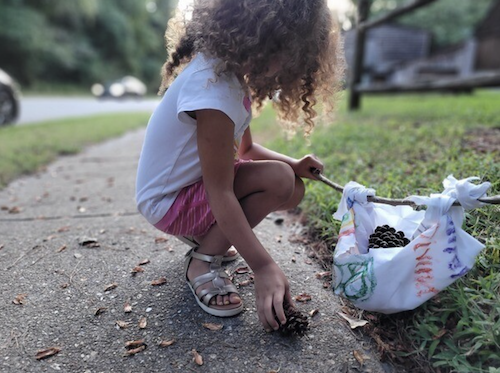 Cache your treasures:
Suggest to kids that you leave your collection of treasures in a spot where other people may find them. Have fun looking for silly or sneaky spots to hide them.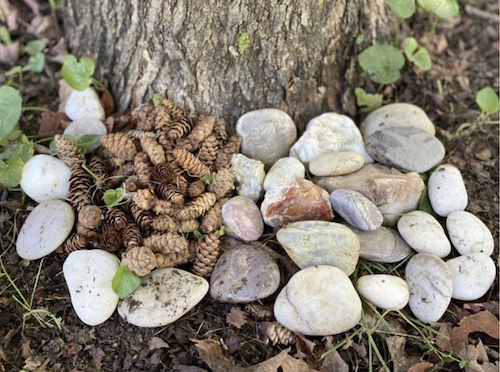 Prompt some thought:
Talk about what you are doing with kids as you cache treasures. Ask, "Who do you think will find these? What do you think they will think when they see them? How do you think they will feel when they see them? What do you think they will do with them?" These kinds of questions help kids form the building blocks of empathy.
Invite others to find the cache:
Leave a few clues to help friends, neighbors or passersby discover your cache. Leave a trail of nature treasures leading to the cache or
make arrows out of sticks
pointing the way to the hidden treasure. Kids can also arrange some of the materials in their cache into a design on the ground to invite friends to add to it or create their own design.
Extension—Try geo caching:
If kids are really into this activity, take a look around for geo caching activity in your area. You can look at apps like the
Geochaching app at Geocaching.com
to find maps and clues that lead you to geo cached treasures. Or, read this super helpful
guide to geocaching with kids
from our friends at Run Wild My Child. This can continue to be a sweet activity to share as a family as kids grow. Kids tend to find it really exciting that so many people are part of the treasure hunt, too! Tip: Remember, pack or find a small treasure to leave behind when you find a cache.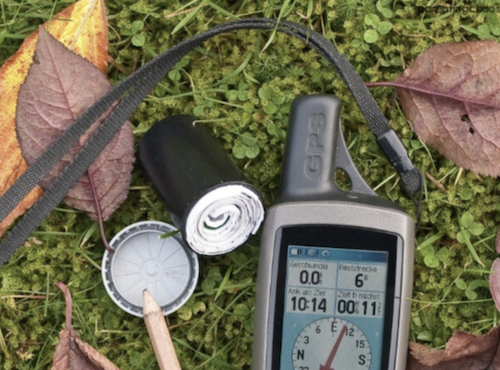 Why is this activity great for kids?
The desire to find, collect and cart treasure from one place to another is a universal pattern in kids' behavior experts call the
transporting schema
, and is the perfect activity to support brain and body development. Kids also use and develop multiple
senses
as they collect, arrange and enjoy the objects in their collection. Creating simple and joyful surprises for others is a super way to teach kids how to spread joy to others,
hook kids on kindness
, and develops both cognitive and compassionate
empathy
.
Try a Free Lesson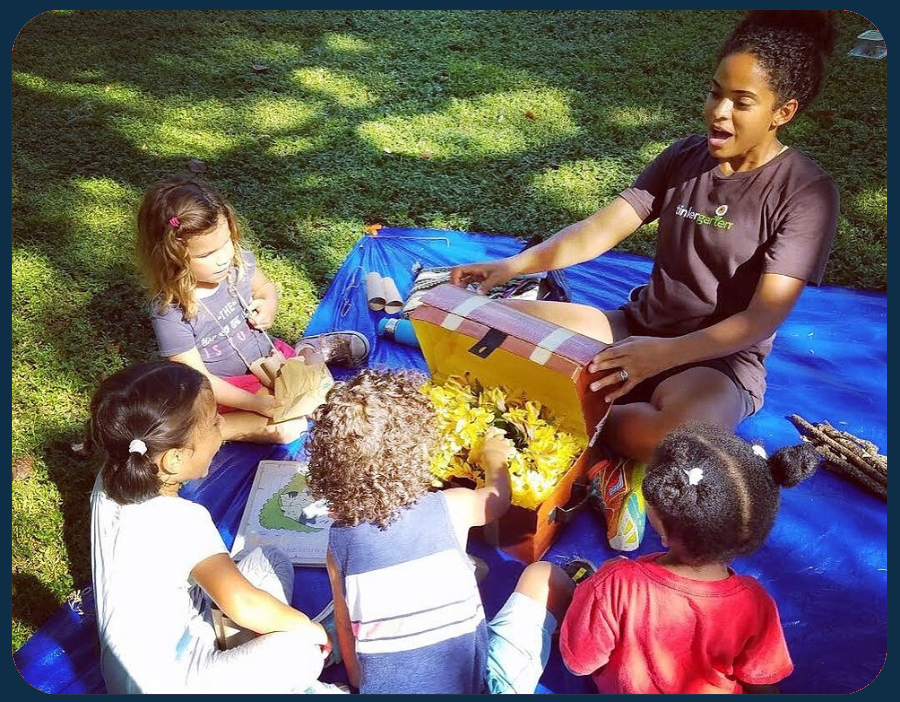 Tinkergarten for Teachers
Teach Tinkergarten in your community or classroom!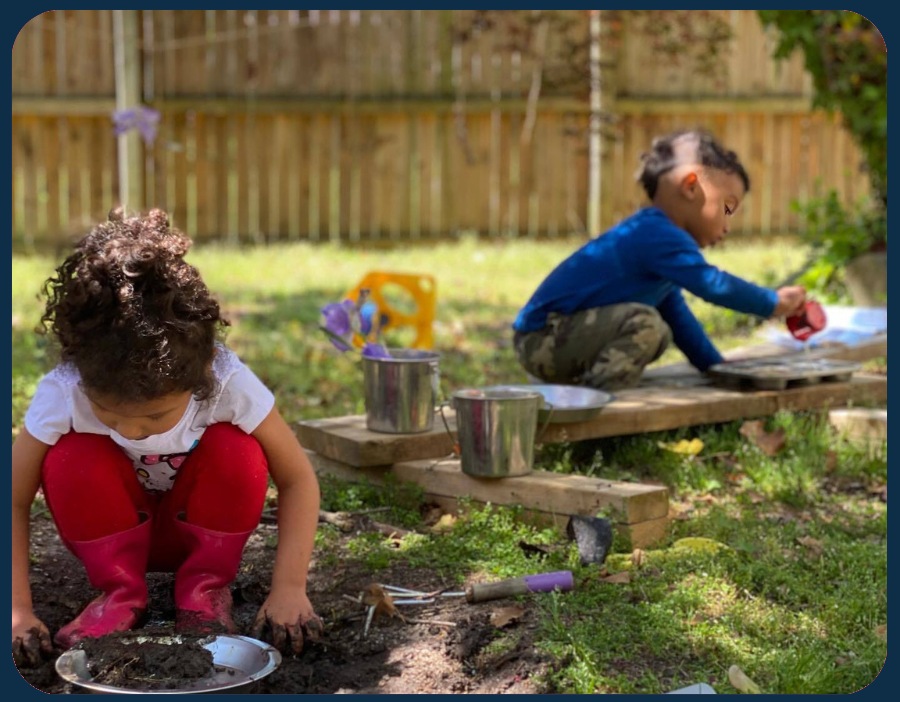 Tinkergarten Anywhere
Enjoy Tinkergarten as a family anytime, anywhere!