Step 1: Learn who is native to your local land:
A great place to start is by researching which native people or peoples are indigenous to the land where you live. You can try using an app like
https://native-land.ca/
to enter your zip code and find out which Indigenous People live, or historically lived, in your area. You can let kids know that "We live on the ancestral home of" whichever people or peoples you discover.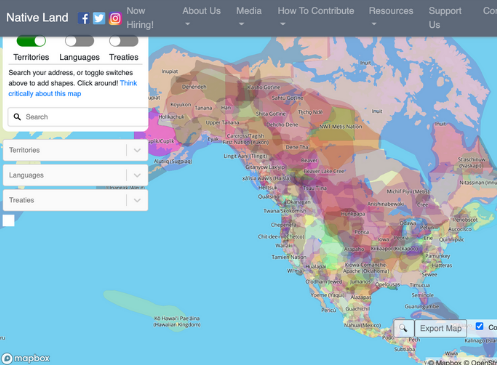 Step 2: Learn more about those People(s):
If you don't know about those native to your area, do some online searches to find out more about the specific peoples. Learn about where the names of local rivers, valleys or other land features came from and what they mean.
As an adult, also make time to find out what happened to them and their relationship with the land, as so often forced relocation and harsh treatment displaced and diminished thriving communities and whole peoples.
Step 3: Focus on the present with kids.
For young children though, a great starting place is
the present
— using present tense and the thriving, vibrant cultures of today. Here's an example of how you can start this conversation with children. "Native people today, and all of (our/their) family and ancestors before (us/them), have always lived here on the land where our country is built. The Tonkawa tribe
is from the land where we live."
You can also share with kids what you learn about the strengths, talents and unique ways of living of the people native to your area. Start by connecting to the festivals, celebrations and happenings within Native communities today by visiting sites like
indiancountrytoday.com
, a news site with current events from across various Native communities.
In many places, the names of important places or natural features like rivers, mountains or even whole regions come from native languages that were spoken in the region, and the meaning behind these names can help us learn more about the land, too. For example, we live in a valley cut by the Connecticut River—a name that we discovered comes from an Algonquian word meaning "land on the long tidal river."
Step 4: Acknowledge.
Whether you are kicking of a holiday, celebration or other type of special gathering—or even as you are about to
take a family hike
, take time to acknowledge land history in a way that feels authentic to you.
Not sure where to start? You may say something like the following:
"Since today is a special moment, I'd love to take time to express our thanks for the land on which we live and play.

Step 5: Learn More!


Read more
about land history acknolwedgement on the Museum of the American Indian site.
Tinkergarten teammates,
Erika McLemore
and
Cholena Smith-Boyd
collaborated with us to select
these beautiful picture books
to inspire learning. Erika is both Muscogee Creek and a citizen of the Seminole Nation of Oklahoma. Cholena is a member of the Shinnecock Indian Nation of Long Island, NY and the former Education Program Manager of the Shinnecock Nation Cultural Center and Museum.
Learn more in our blog article,
How to Make Native American History Part of Your Outdoor Adventures
, full of great insight by our teammate, Erika McLemore.