Age: 0 to 8+

Time: 1 hour+

Materials: old bed sheet or pillowcase; colorful objects from nature (berries, leaves); kitchen spices (turmeric, cinnamon, paprika); water; bowl; tools for mashing (rolling pin, rock, stick, spoon, mallet); paintbrush (optional)

Skills: Creativity, Imagination, Sensory, Persistence & Grit
Young children's worlds are, by design, a blend of fantasy and reality, so the notion of having super powers is right in their wheelhouse. Even very little kiddos can move and pretend to have super powers, flying around or pretending to be super-strong. In this activity, kids use natural pigments to turn a sheet into a superhero cape to inspire imaginative play.
The Guide
Set the stage: Select an old bed sheet or an old pillowcase (the types you won't mind donating to the cause). Plain and light-colored works best. Show kids the sheet you brought. Ask, "Do you know what this is? This is NOT a sheet." Repeat a few times. Then ask, "What could we turn this NOT-a-sheet into?" Accept all ideas. Then say, "What if this sheet was a superhero cape?"
Talk about superheroes: Ask, "If you were a superhero, what kind of super powers would you have?" Would kids be an animal superhero with powerful eyesight to spot prey, the ability to stay warm in cold temperatures, or the ability to run fast? Would kids be an Explorer superhero? How would they use their special powers or abilities to help other creatures?
Head outside: Gather the sheet, some water, a mallet or rolling pin, and head outdoors. Talk about how you can take this ordinary bed sheet and turn it into a colorful superhero cape. Wonder together, "Where could we find color out here?"
Collect colorful (and fragrant) stuff: Walk around together, keeping your eyes peeled for colorful plants and other features of your landscape. Give kids a bucket and carry your own sack to collect items. Snip berries (reminding children that these do NOT go into mouths), small tree limbs, flowers, and other greenery. Even if the colors aren't vivid, herbs like sage and basil can be especially stimulating on a sensory level -- the smells are fantastic. If you feel like you need a few more colors, toss in couple of pantry items -- turmeric, paprika, and beets are great examples of natural pigments. (To add in some ice play, you can also offer kids frozen treasures with pigments frozen inside. Read how here).
Extract color: Bring your stash back to your sheet and ask, "How can we get the color from these objects onto our sheet?" Introduce a little bit of water and model how to use it -- a sprinkle will help the pigment from flowers, grasses and other plants stain the sheet. Welcome kids to use hands and other tools (e.g. mallet, rock, stick, spoon, rolling pin) to mash up the materials to extract the color. Kids can mash and mix their materials and water in a bowl and then "paint" it on the sheet or can mash directly on the sheet itself.

Superhero play: When play is winding down, shake off any loose bits of material and hang the cape to dry. Once dried, help kids tie on their cape and let the superhero play commence! How can kids make the cape move when they run fast in a straight or curvy line or when they run down a hill? What super adventure could kids take today? What superpowers do kids have? How can they use those superpowers to help other people or creatures? Brainstorm together a list of kindnesses you can do for friends, family and neighbors and welcome welcome kids to wear their cape as they bring smiles to others.
Why is this activity great for kids?
This activity is sensory stimulation without actually being overwhelming. Because the ingredients are natural and the project is low-key (it's just an old bed sheet, after all), kids can
engage their senses
of sight, smell, and touch as they work. Whether kids are simply pretending to zoom about the room on their own or they are part of a troop of superheroes, superhero-inspired pretending supports kids with being flexible thinkers and helps kids develop a true superpower—
persistence and grit
. And, as kids think about how they could use their powers to help other people and creatures, they are developing
empathy
—perhaps our greatest superpower as humans.
Try a Free Lesson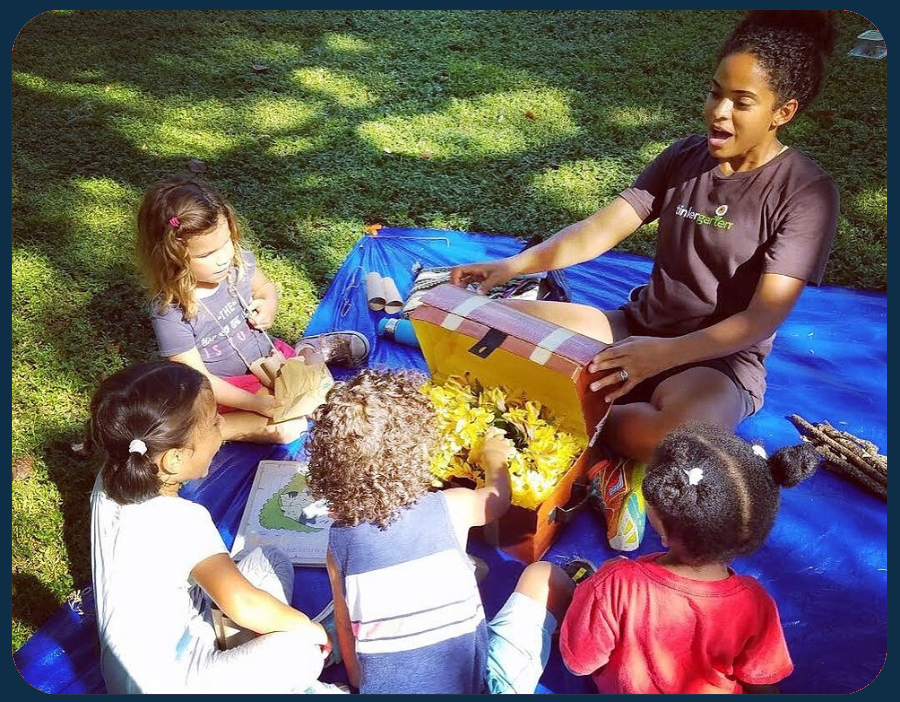 Tinkergarten for Teachers
Teach Tinkergarten in your community or classroom!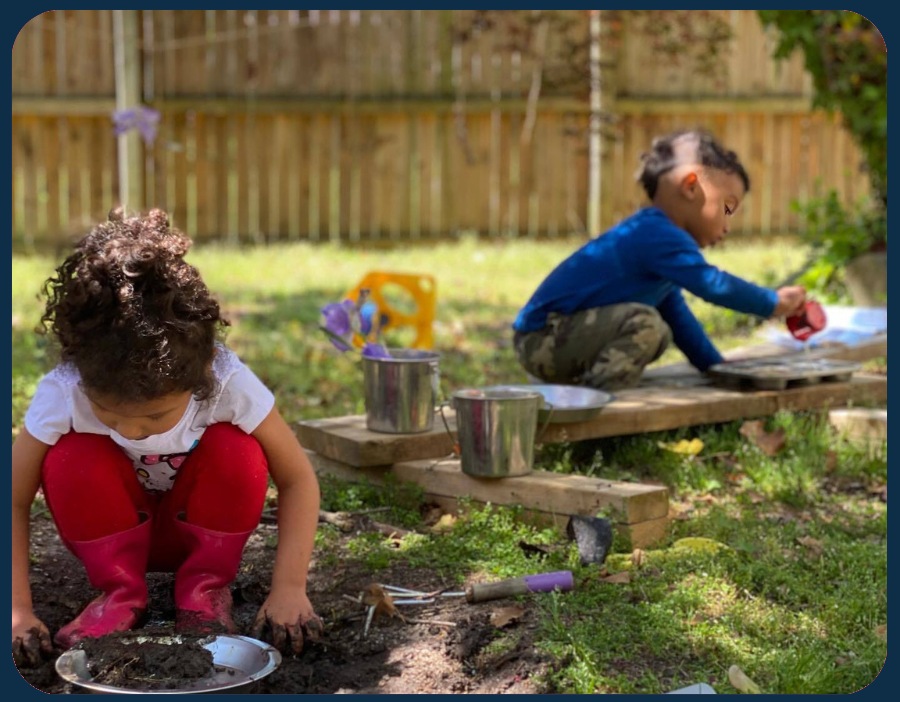 Tinkergarten Anywhere
Enjoy Tinkergarten as a family anytime, anywhere!