Invite kids to make a winter wreath using the treasures that nature provides in your area this time of year. Wreaths can be a festive addition to your holiday decor or make a wonderful gift for loved ones. Here we share three ways to make a homemade wreath to spread winter joy to family and friends and help kids connect with the natural world.
This activity is featured in our December calendar. If you do not yet have your free copy, get it
here
.
The Guide
Collect winter treasures
Grab a container and head outside on a walk in your yard, neighborhood or a local park. Notice what is growing in your area this time of year. Collect fallen leaves, pine cones, tree fruits and seeds and anything else you can find in your winter outdoor spaces. If you have evergreens or other plants growing in your yard, cut a few sprigs, too.
Then, help kids use their found winter treasures to create one or more of these wreaths:
Cardboard wreath
Step 1: Make a cardboard frame
Cut a circle out of a piece of cardboard and then cut a smaller circle inside. Tip: Use two bowls of different sizes to trace your inner and outer circle.
Step 2: Attach twine
Tie one end of a piece of twine or string around the cardboard ring. Then, wrap it around the ring and secure the end to make a loom for kids to weave treasures in and out of. (You can also skip this step and offer glue for kids to attach their treasures to the cardboard.)
Step 3: Decorate!
Invite kids to weave their nature objects through the twine. Or, offer school glue and a paintbrush for kids to stick their treasures. Let kids work at their own pace and weave to their heart's content, if you have time. Try to remember that it's the process of gathering and adding things that matters, not how marvelous the final product is.
Step 4: Display and enjoy!
Tie a piece of twine around one side of the cardboard ring and make a loop for hanging. Then, find a special spot in your home to hang your winter wreath for family and friends to enjoy!
Grapevine or Wire Wreath
Step 1: Purchase a wreath frame
Most craft stores carry wire or grapevine wreath frames in a variety of sizes. These frames provide a sturdy and weather-friendly foundation for a homemade wreath.
Step 2: Decorate!
Invite kids to weave their nature objects through the spaces between the wires or vines. You can also use twine or wire to secure treasures that don't fit well through the spaces (e.g. pine cones). To add fragrance, offer cinnamon sticks, rosemary springs or other herbs!
Step 3: Display and enjoy!
Tie a piece of twine around one end of the frame and work together to find the perfect spot to display your wreath (e.g. a special spot in your home, on the door, on a tree).
Ice Wreath
Step 1: Gather a freezer-safe container
Grab a container that can be placed in the freezer. A bundt cake pan will create the perfect wreath shape, but you can also use a pie or cake pan or any circular container.
Step 2: Make your ice wreath
Follow these steps to make a wreath of frozen treasures:
Fill your cake or pie pan with water and layer in your winter treasures. You can also add orange slices, cranberries or cinnamon sticks for fragrance and a pop of color!
Put both ends of a 10-12 inch piece of twine into the water so that they will freeze in the ice, forming a handle.
Keep your pan outside until it freezes (if temperatures are below freezing). Or, freeze in the freezer (at least 24 hours).
Keep checking back to observe how the water and contents are changing as they freeze. Take pictures!
Step 3: Display, observe and enjoy!
When it is fully frozen, remove from the freezer and put the pan in a sink full of warm water to loosen the ice. Then tip the wreath out.

Take it outdoors and observe, marveling as the sun streams through it. Hang it from a tree limb and observe. Watch as kids interact with it, using various senses.
Why is this activity great for kids?
Designing a winter wreath using found objects supports kids'
creativity
,
problem solving
and fine motor skills. Working with natural objects is also a workout for kids'
sensory systems
. This activity also invites kids to notice the gifts that nature provides in your area this time of year, helping them connect with the cycles and rhythms of the natural world.
Try a Free Lesson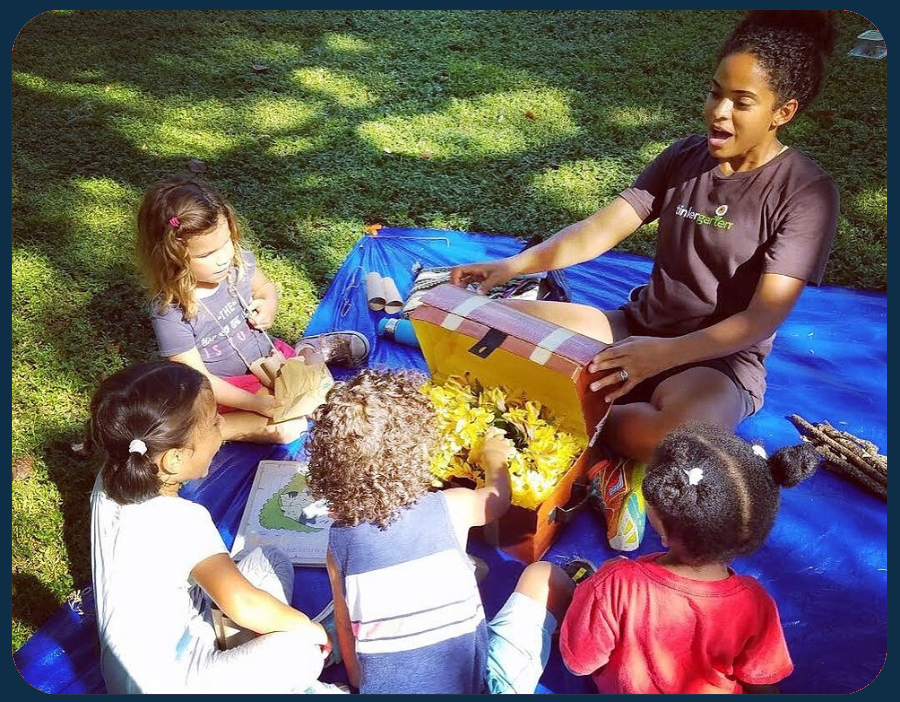 Tinkergarten for Teachers
Teach Tinkergarten in your community or classroom!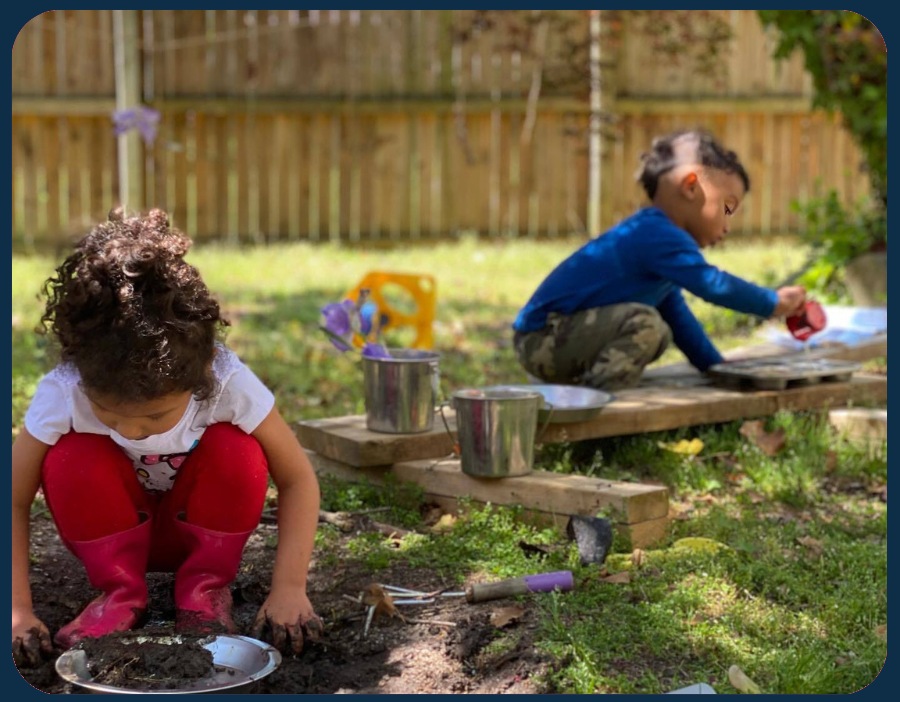 Tinkergarten Anywhere
Enjoy Tinkergarten as a family anytime, anywhere!