"Bear Hunt" Activity for Kids
Most parents we know see the value in getting young kids' bodies moving, although the exact motivation varies from establishing healthy habits, to getting ready to rock the soccer field, or just guaranteeing a good night's sleep. No matter the reason, developing motor skills and balance are critical for developing children. Plus, it really gets exciting when we can connect movement with play and inspire development of imagination and even language.


How do you do it? Start by leveraging a fantastic story—we love
Going on a Bear Hunt
. Then, lay out your own series of obstacles that you can tie into the story. Lastly, live the story and ham it up! Kids will get as much physical challenge as you offer, get lost in the fun and beg to bear hunt again and again.
The Guide
Get to know the Going on a Bear Hunt story: Read the book with your kids. Chant it in the car. Or, watch the author perform it.
Adjust the story as you like: We like to adapt the story to be a "hike" rather than a "hunt" with a focus on being curious rather than trying to capture a bear. We also often pretend to search for a friendly bear who might have taken a snooze so he can join us for a snack.
Make a list of the obstacles: The heroes of the story go through obstacles, each of which have accompanying sounds. You'll want to use these or invent some of your own. We like to add a bit of poetry, for example: Rushing river (splash-splosh); Mucky mud (Squelch-squelch); Big boulders (climb-climb) and Whipping wind (wooo-wooo).
Scout out an outdoor spot and set up obstacles: Pick a space large enough for a good walk and includes logs, rocks and other objects to climb over as well as changes in elevation and ground cover that can add to both the physical challenge and the experience. Identify a trail or path you'll follow on your "hike." Either plan your path or move logs, branches, and stones to create physical obstacles that also inspire pretending. Find or create opportunities to climb, walk a line, jump, roll, run, and spin. If it's snowy or muddy, include some animal tracks that you can pretend are the bear's.
Start the chant: Once you have the kids outside, start the chant. "We're going on a bear hike. We're gonna see our friend, bear..." Suggest that today, you will go on your very own bear hike.
Go on your bear hike: Start walking and, when you get to the first obstacle, echo the book. "Oh no! A rushing river?! We can't go under it. We can't go over it. We'll have to go through it." Then, move through the "river" using motions and even discuss strategies (e.g. swim, boat, etc.) for how to cross. Make your sounds as you go to enhance the sensory experience.
Reverse your steps: Once you've found the "bear," reverse your steps until you are back to your starting place. If you have a tarp or a blanket, get under the "covers," just like they do in the story.
Adjust for the ages: This activity is ideal for preschoolers, ages 3 to 5. That said, younger siblings can participate and benefit. 2 year-olds and even children as young as 18 months will enjoy and benefit from mimicking the physical elements of you and/or your older children. Even though they may not use the language, they will benefit from hearing the poetry of this activity. If you have older children, then can easily get lost in this. Better yet, they may love to play the bear at the end for their younger siblings and friends.
Why is this activity great for kids?
By combining those physical challenges with pretending, you not only make this really fun, but you make it memorable while helping kids develop their
imaginations
.
This is also an easy game to play anytime. As kids get older, they can play this with friends at recess or during free time. Or, when your family plays again,
kids can start to lead the game
by imagining and inventing new obstacles for the family!
Try a Free Lesson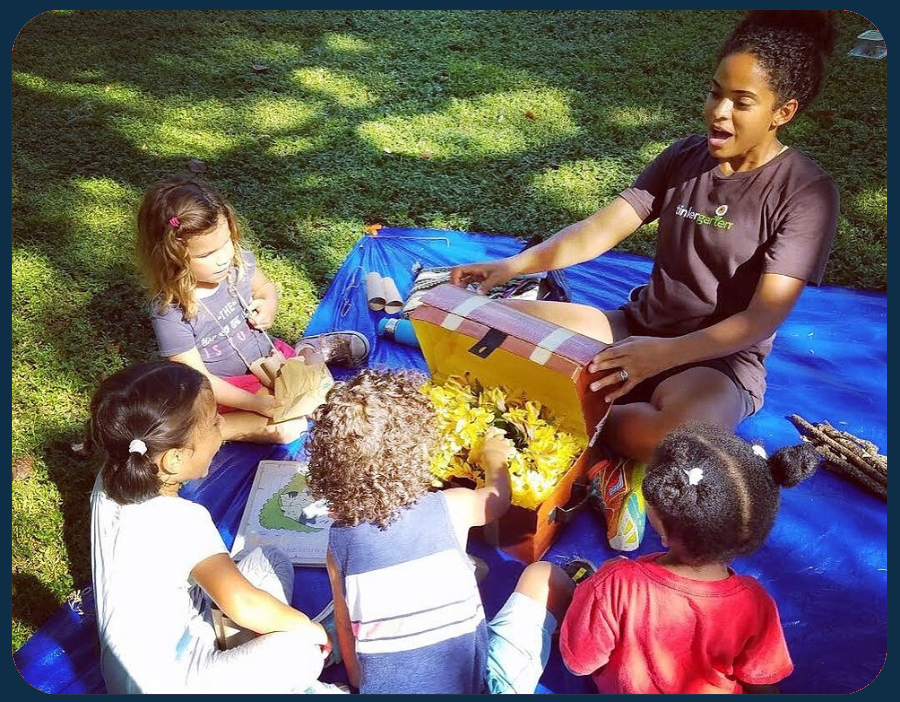 Tinkergarten for Teachers
Teach Tinkergarten in your community or classroom!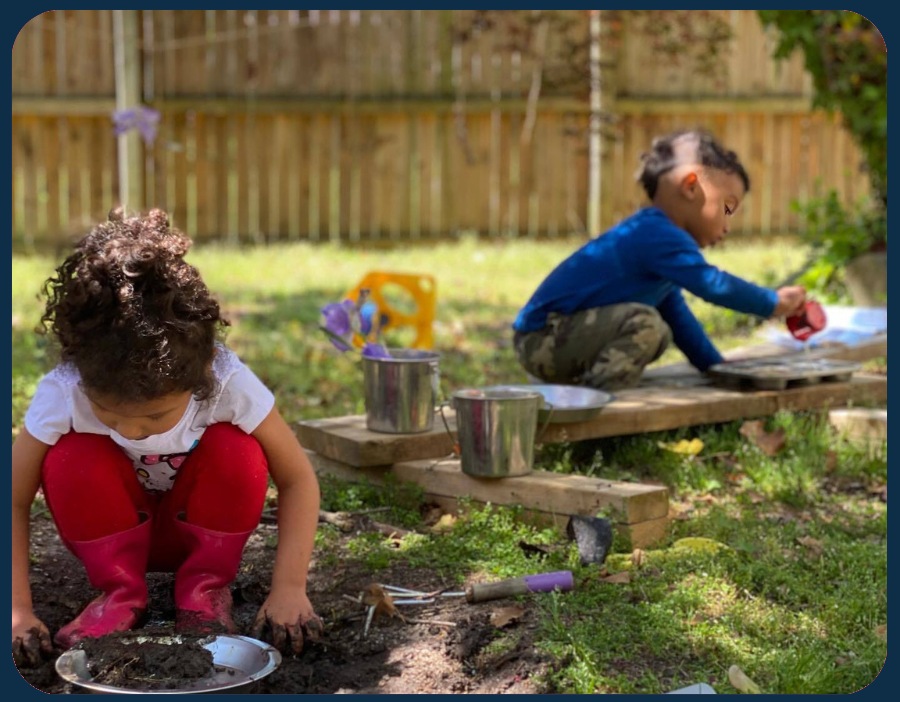 Tinkergarten Anywhere
Enjoy Tinkergarten as a family anytime, anywhere!