Holiday Cooking with Kids
As part of our
November Activity Calendar
, and right in time for Thanksgiving, we're sharing fun ways to celebrate harvest, food, cooking and the sustenance that nature provides. Cooking is such an important part of health, happiness and our human connections. Finding ways to involve young kids in all parts of the process supports their body, mind and spirit (and makes harvest time so much fun!). Around the holidays, food also intersects with
our family traditions and culture
, giving kids the chance to feel a sense of belonging and strengthen their roots.
But, it can be hard to know how to let littles get their hands dirty in the kitchen in a way that is safe and actually results in food to eat. With just the right tips, it can be done.
This activity is featured in our November calendar. If you do not yet have your free copy, get it
here
.
The Guide
Choose the right time:
Choose a time to involve kids in cooking when you are not on a tight schedule. Instead of having them help with dinner when everyone is hungry and anxiously awaiting their meal, start meal prepping well in advance—or enlist kids' help in making a leisurely snack.


Choose the right meal:
Pick something that kids will actually eat. Start simple; five or fewer ingredients is a good guideline. Need a starting place? Try out some of our favorite kid-friendly
campfire recipes
that can be cooked over a fire, grill or on the kitchen stove. Or, try out our
Pumpkin Seed Exploration DIY
with our favorite roasted seed recipes or this simple
apple cake recipe
from the book
Apple Cake: A Gratitude
by Dawn Casey.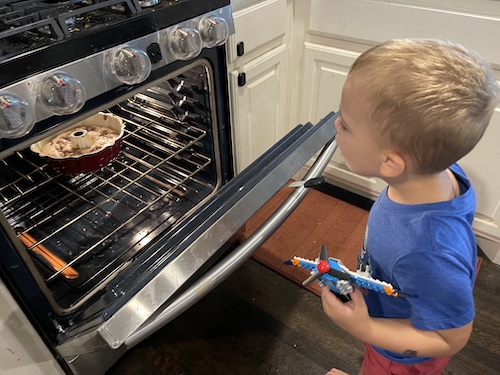 Offer the right tools:
Offering kids-safe and kid-sized tools can help kids feel confident as chefs—and can reduce risk (and mess). Offer mini-sized whisks and spatulas for stirring and mixing and narrow rolling pins for baking (2-inch diameter versions fit well in little hands). Kids can safely use
crinkle cutters
and
nylon
or
wooden
cutting knives for slicing fruits and softer veggies. Doing food prep on the kitchen table rather than the kitchen counter (or offering a stool) puts kids at the right height for cooking.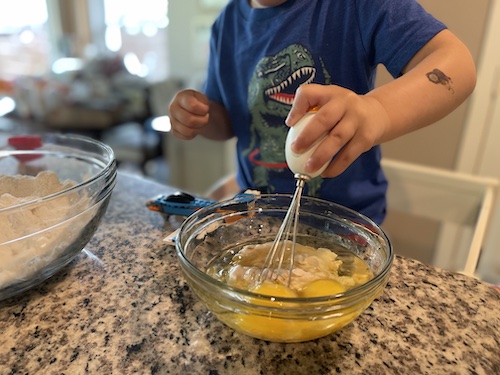 Choose the right tasks:
Think about what kids can help with independently or with minimal support. Measuring and pouring ingredients into a bowl, mixing ingredients together, brushing or "painting" oil onto bread or vegetables, removing seeds or husking corn and rinsing veggies are all great entry points for most kids.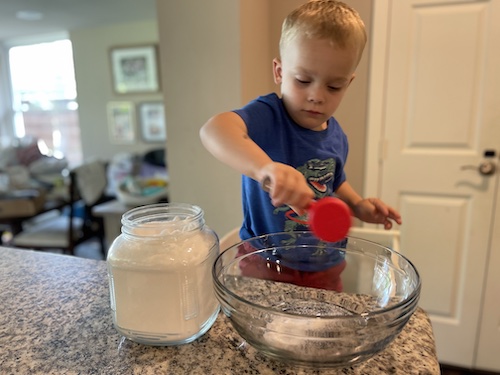 Older kids can help with cutting—start with softer foods like mushrooms or strawberries and offer kid-safe options, such as a butter knife, crinkle cutter or a
wooden
or
nylon
knife. Doing some prep work in advance will help reduce how much time kids need to wait to get to their "part."
Embrace mistakes and mess:
Embrace cooking "mistakes" as opportunities to help kids learn about measuring, pouring and cooking and build skills over time. If your ingredients are likely to make a big mess if spilled, consider placing a towel or drop cloth on the floor for easy clean-up. Have damp and dry kitchen towels handy for messy hands or surfaces.
Enlist kids' help in wiping down cooking surface afterwards. Measure ingredients separately and put them in small bowls, like they do on TV cooking shows. That way if kids pour a little bit too much or crack an egg shell into the bowl, they can help adjust and learn from it (and take the worry out of potentially ruining the meal).
Taste as you go!
Offer safe ingredients for kids to taste. Talk about the textures and flavors of the ingredients. When possible, try out the ingredients in different states (raw vs. cooked veggies) and invite your child to describe the differences and tell you which version they like best.
Share gratitude:
Explore the flavor of different herbs and spices. Wonder together where the food was grown, who cared for the plants, animals and land that contributed to the meal. As you taste and talk about the ingredients, kids can take a moment to share gratitude.
Engage the senses:
Slow down to let kids to use all their senses to engage with the ingredients. Feel the softness of the herbs, smell the spices, listen to the sound of food sizzling in the pan.
Play with your food!
If kids decide they are done helping or you need to move on to grown-up cooking tasks, offer some of the ingredients and tools for kids to continue playing and experimenting with. A bowl of water, flour, rice or beans and some spoons or measuring cups will keep kids engaged in cooking play (and they'll be practicing skills they can use in future projects).
Why is this activity great for kids?
There are loads of learning benefits to cooking with children:
Following a recipe supports receptive language skills.
Cooking reinforces important math and science concepts like measurement, volume and capacity and gives kids a chance to observe what happens when ingredients are mixed together and how they change with heat or cold.
Using tools to mix, stir, cut and pour ingredients enhances fine motor strength and control.
Working on real-world tasks boosts confidence and provides kids with life skills they will be able to build on and call on as they get older.
Taking time to smell, touch and taste ingredients activates multiple senses, helping kids to feel more alert and focused.
At holiday time, we can share family traditions and rituals with kids, which give them a strong sense of belonging—something we know leads to resilience and a strong sense of self down the road.
Try a Free Lesson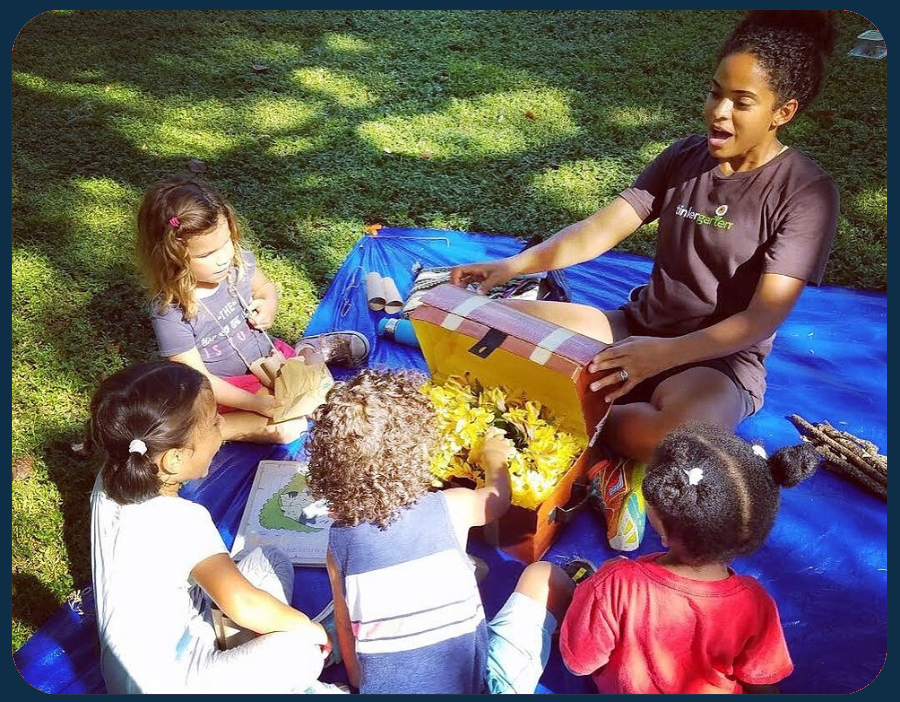 Tinkergarten for Teachers
Teach Tinkergarten in your community or classroom!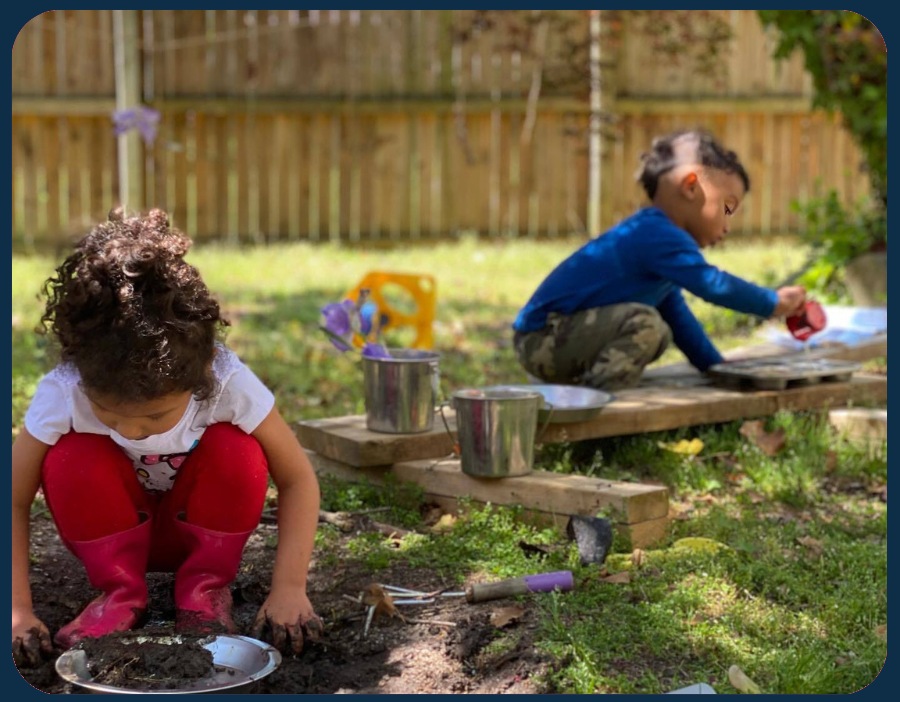 Tinkergarten Anywhere
Enjoy Tinkergarten as a family anytime, anywhere!