One of the best parts of camping is cooking over a campfire— and there is so much more to campsite cooking than the classic s'mores or hot dogs on a stick. Want to up your campfire meal game? Whether you are camping outside or in the living room, try out a few of our favorite campfire recipes. Each of these is sure to be a crowd-pleaser for wee palates, can be cooked over the campfire or over the kitchen stove, and are simple enough for kids to be a part of the preparation and cooking process.
The Guide
Bannock Bread
Originally made from moss, lichen, ground plant bulbs, nut meal, cornmeal and cattail pollen, bannock bread has been a staple campfire food among some Indigenous peoples of North America for centuries. There are accounts of Scottish fur traders also making a version of this food that resembles the version we were introduced to today.
It takes just a few ingredients and just a few minutes of prep before your camping trip. This delicious recipe can be enjoyed on its own, or sprinkled with cinnamon and/or sugar. Kids will enjoy helping with measuring, mixing and kneading the dough, too!
What you'll need:
2.5 cups flour
2 tsp. baking powder
½ tsp. sugar
½ tsp. salt
3 tbsp. oil
1 cup water
stick
Directions:
Mix the dry ingredients ahead of time and store in a container or resealable bag.
When ready to cook at your campsite, add the oil and a bit of water and mix together. Continue adding the water one bit at a time until it forms a dough that does not stick to the hands.
Leave the dough to rest for 30 minutes.
Divide the dough into 6 portions and use the palm of your hand to roll each portion out into a long worm or shape.
Wrap the dough around a stick.
Roast the dough over the fire, turning frequently, until the bannock is cooked through and brown. (If "camping out" at home, you can also cook the dough in a frying pan with a bit of oil or butter).
Campfire Pizza
We love this easy pizza recipe, because it uses pita bread instead of sticky dough, making it easy to transport to the campsite. Kids can enjoy the creative process of choosing their toppings and building their own pizza, too!
What you'll need:
1 large pita bread
½ cup pizza sauce
1 cup shredded cheese
Any toppings your family enjoys (e.g. pepperoni slices, sliced vegetables)
Tin foil
Directions:
Get your campfire hot with low flames.
Spread pita bread with the pizza sauce and sprinkle cheese over each one.
Add your toppings.
Slide each pizza onto a foil base that has been folded three times.
Cook on a campfire grill or directly on hot coals until the cheese is melted.
Campfire Muffins in Oranges
Offering kids a novel way to eat familiar food is a super way to garner excitement about cooking and eating. For an easy and creative twist to breakfast muffins, bake some muffin mix inside of oranges!
What you'll need:
3 oranges
1 (7 ounce) packages blueberry muffin mix (or any flavor)
Tin foil
Directions:
Cut oranges in half.
Scoop out the orange segments to eat alone as a snack.
Prepare the muffin mix according to the package directions.
Fill the orange peel cups half full of batter.
Wrap each one loosely with heavy duty aluminum foil.
Place in hot coals, making sure that the batter side stays up.
Cook 6-10 minutes until muffins are done.
Banana Boat
Kids will get a kick out of this spin on s'mores, with all of the classic ingredients roasted inside bananas!
What you'll need:
Bananas
Mini marshmallows (or marshmallows broken into smaller pieces)
Crushed graham crackers
Chocolate chips or pieces of a chocolate bar
Tin foil
Directions:
Keep bananas in their peel and slice them lengthwise down the middle.
Open the slit and stuff in the marshmallows.
Top with chocolate and graham cracker bits.
Wrap in foil and cook over a grill on the fire or place on top of coals until the whole banana is black (you can also bake in the oven if enjoying a living room camp-out).
Egg in an Orange
Roasting food on a stick is great fun for kids! Try this easy way to create an egg roasting basket out of an orange peel.
What you'll need:
Orange
Stick
Egg
(optional) salt and pepper
Directions:
Cut a large orange in half and use a spoon to scoop out the fruit (and enjoy as a tasty snack).
Cur an "x" on one orange half about a half inch below the rim.
Cut an "x" on the opposite side of the orange, a half inch below the rim.
Thread a stick through the two cuts to hang the orange like a basket.
Crack an egg into the orange half.
Roast over the campfire for about 10 minutes.
(Optional) Add salt and pepper to taste.
Fruit Kabobs
This easy recipe is a super way to add a creative twist to fruit. Kids will enjoy arranging their colorful fruit on a stick and roasting over the fire. Kids can also taste test raw and roasted fruit to see how the heat changes the texture and flavor.
What you'll need:
Stick
Sliced fruit (bananas, pineapple, peaches, strawberries)
Directions:
Thread stick through fruit slices.
(Optional) Brush the fruit with melted butter, honey or orange juice.
Roast over the fire for about 5 minutes.
Enjoy as is or dip fruit into yogurt.
Why is this activity great for kids?
Cooking with kids is a super way to share in family rituals and transitions while teaching kids practical life skills. Every sense—even taste (hurrah!)—get stimulated and engaged, turning on kids' brains! Kids also have a chance to explore science concepts as they measure, mix and cook their food as well as seeing food appearance, texture and taste transform when it's heated. Finding fun and creative ways to cook meals together while camping is a great way to connect as a family and build memories in the outdoors together.
Try a Free Lesson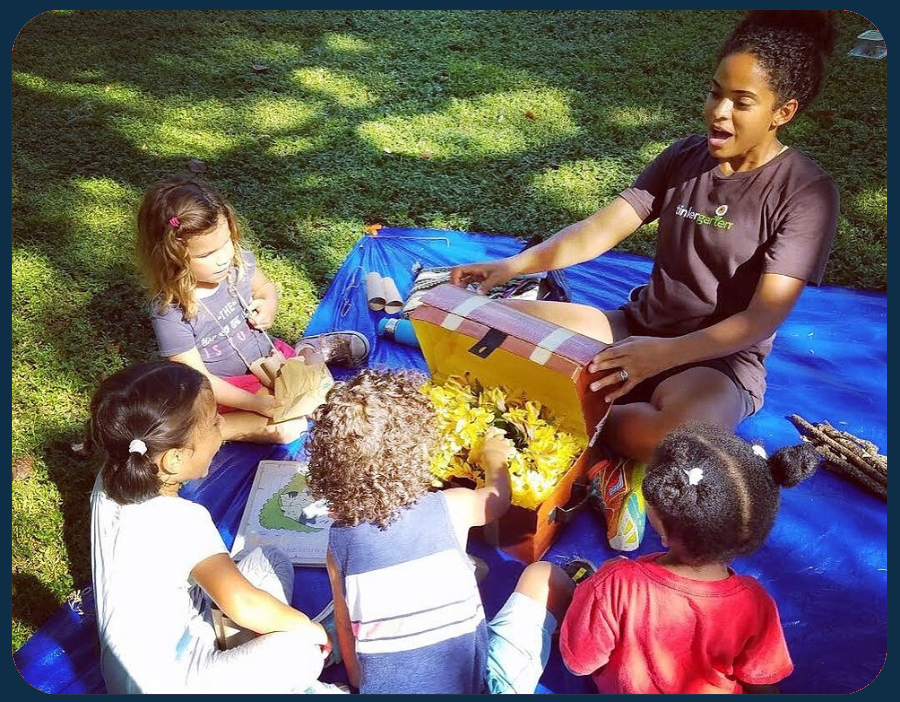 Tinkergarten for Teachers
Teach Tinkergarten in your community or classroom!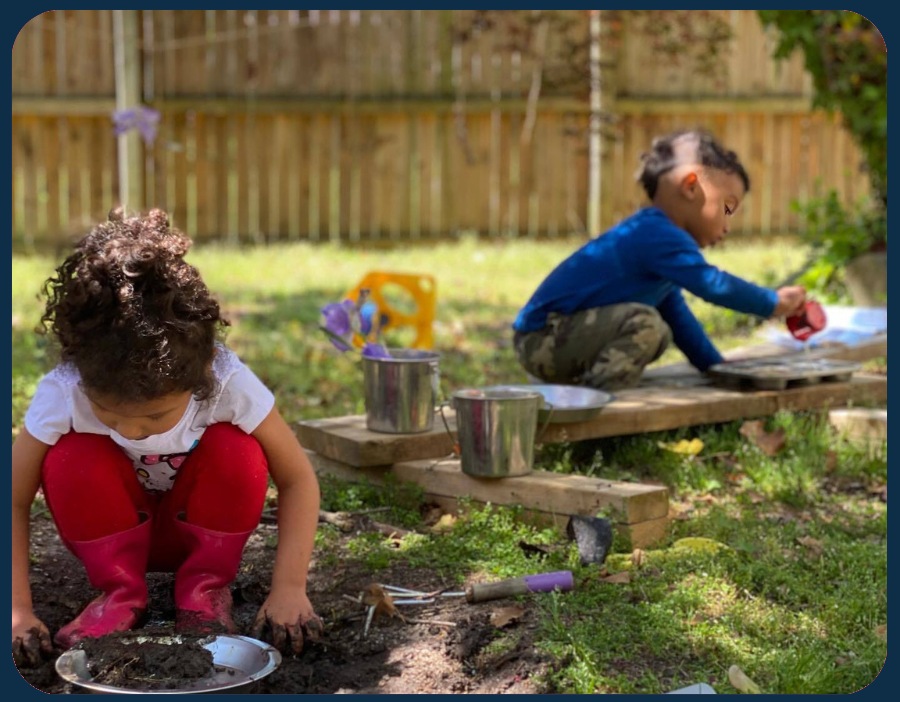 Tinkergarten Anywhere
Enjoy Tinkergarten as a family anytime, anywhere!