Flexible Work in Foothill Farms
Flexible, outdoor work teaching kids in your community. Inspire a love of both nature and learning through activity-based classes at local greenspaces in Foothill Farms.
Tinkergarten's play-based learning classes are the best way for kids to experience the great outdoors during Spring, Summer, Fall, and Winter. At Tinkergarten, we are proud to be every family's guide to purposeful outdoor play—created by education experts and loved by families everywhere. We're looking for great candidates to become Tinkergarten Leaders and reach more families in Foothill Farms. Maybe that's you or someone you know!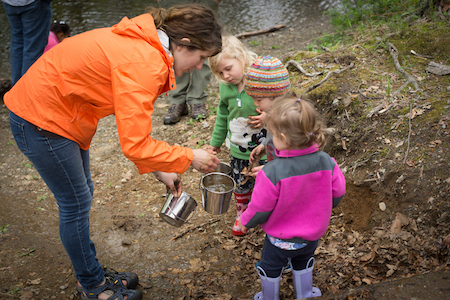 Why our Leaders love being part of Tinkergarten:
Working Outdoors: Our classroom is nature, and connecting with kids and families in local greenspaces—away from screens—is truly joyful.
Flexible Schedules: Our sessions are 1-hour long, and you pick the day and time that works best for your schedule. Lead as many classes as you like!
Bring Your Kid(s): Have kids of your own? Bring them to class (free of charge) and they can gain all the benefits of the amazing Tinkergarten Curriculum.
Set Up for Success—All Leaders receive thorough training in our play-based learning model and marketing support to attract families.
Meaningful Work—The program helps kids develop a strong foundation in 8 essential skills they'll need to become capable, confident and creative learners.
Social—Build strong connections with other families in your community.
Join our team and get more families in Foothill Farms learning through outdoor play!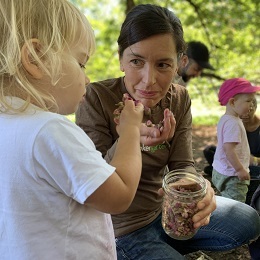 Contribute Meaningfully
Life is too short not to love the work you do. Help kids get the start they deserve—and parents the support they need—by bringing families together to learn outside in their local community.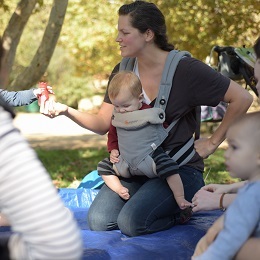 Flexible Work
Make additional income and set your own schedule. If you've got kids, you can bring them to work, too!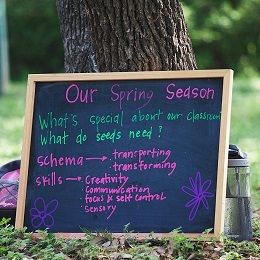 Extraordinary Training
Become part of a talented and supportive team. Receive amazing training in teaching for early childhood, community development, and much more.

"I've got a whole new definition of what work can be. I spend my time helping kids and parents in my community, and I'm learning more about myself than I ever have. I'm outdoors more, I get exercise, get messy and laugh, and my son tags along with me—I can't believe I get paid to do this!"
Beth Ashley
Tinkergarten Leader, Brooklyn, NY
Are You Ready to Lead?
If you are, click "Apply" now to get started! Or, if it's not a fit for you right now, everyone knows someone who would make a great Tinkergarten Leader. If you do, you can
nominate them!
Who can become a Tinkergarten Leader?

Our Leaders bring a wide range of talents and experiences to their work. You don't need a formal teaching credential to be a successful Leader. All you need is:

A Joy and passion for play
A love of nature and your community
A natural ability to connect with kids and adults
A supportive, team spirit
A respect for all people and living things

How are Leaders compensated?

Though there are many rewards for teaching Tinkergarten beyond monetary, including training, community, and the joy of seeing children and families thrive outside, Leaders also earn monetary compensation for every live session they lead.

How does compensation work?

Leaders earn compensation for every full-season class they lead, and the amount of compensation per session taught increases for every enrollee in that class. Leaders can lead as many viable live classes as they wish during the 4 seasons (Winter, Spring, Summer and Fall) of the year.

Compensation varies depending on the number of children enrolled in each 60-minute class session. Note: each season of Tinkergarten is made up of nine sessions. Here is a breakdown for the compensation per 60-minute session:

At the maximum of 15 enrolled children/class, Leaders earn $100/session, or $900 for the full-season of 9 sessions.

At the minimum of 4 enrolled children/class, leaders earn $44/session, or $396 for the full-season of 9 sessions.

Leaders who lead consistently and impact a significant number of families over time qualify for our Evergreen Leader program, which includes a range of benefits, including an increased level of compensation.

What other benefits do Tinkergarten Leaders receive?

Tinkergarten Leaders also receive extensive onboarding, orientation and learning opportunities as well as curriculum and materials to support them in delivering the program, season after season. Leaders also have access to coaching, content, and programs designed to help them reach new families and grow their class communities. While active, Leaders are also encouraged to participate in a teammate's class, and can enroll their first child at no cost. Perhaps the most rewarding part of Leading is being part of an incredibly passionate, supportive professional community of early outdoor educators—our Leader team!

Learn more about the many benefits of being a Tinkergarten Leader here.

Are there any costs to becoming a Tinkergarten Leader?

There is no upfront cost to becoming a Tinkergarten Leader. You'll just need to commit to offering classes each season in your community, and you'll start earning money after launching your first successful class.

Once you join as a Leader, our team makes a significant investment to equip and prepare you to deliver the highest-quality learning experience to families in your community. This includes tremendous onboarding, orientation and Leader learning opportunities. We also provide you customized technology tools, mentorship, community outreach support, curriculum and support, season after season. In addition, Tinkergarten absorbs many of the costs of running classes including things like coverage of any location fees, insurance, and seasonal teaching materials.

As you start building enrollment in your season, we'll send you a New Leader Starter Kit — a full set of high-quality materials to use as you lead season after season. However, you will not need to spend money upfront to access these resources or receive these materials. Rather, once you are successfully leading and earning compensation, we will deduct a $100 Starter Fee in each of your first two successful seasons, for a total of a $200 Starter Fee.

Tinkergarten does not earn money from these one-time Starter Fee deductions. We simply apply them to offset costs and keep Tinkergarten sustainable. Again, Tinkergarten will cover the cost of all seasonal materials needed to deliver classes for as long as you remain an active Leader.

What is a Leader's relationship with Tinkergarten?

Tinkergarten Leaders are independent contractors of Tinkergarten (not employees). Tinkergarten develops, tests, refines, and provides the curriculum for every session of every season for the leader, and provides the technology platform that enables enrollment and management of each class. Tinkergarten staff also provide coaching to Leaders on best practices for delivering high-quality learning experiences for families, as well as community development. Leaders are the educators who bring the live portion of the program to life in their community. Leaders always choose when they'd like to lead classes as well as how many classes they teach each season.

Please note: Because Leaders are independent contractors, Tinkergarten does not collect taxes from Leader pay. Therefore, it is a Leader's responsibility to claim income in excess of $400 with the IRS each year. Tinkergarten will provide the 1099 form for tax purposes to each Leader at the end of each year.

How flexible is the work?

Choose the time, location and amount of classes you run. It's up to you. If you are a parent, your kids can participate in the program for free. Training is flexible and takes place online. Choose from day or evening sessions to ensure you can balance the work with life.


What does the application process entail?

The application process includes five steps, and is designed to ensure that candidates and our team have the chance to know one another and identify if this is a true, mutual match. If you are motivated, you can complete them in just a few weeks!

Online Application (~15 minutes)
Learn More About Tinkergarten—View 2 informational videos (~25 minutes)
Submit a Video — Submit a demonstration of you working with kids in 4 different ways (directions supplied)
Live Video Interview — We get to know you better and answer your questions. (~40 minutes)
Welcome and Background Check — We welcome you and ask that you complete a secure background check

What happens once you are accepted?

Our team will welcome you into our New Leader Onboarding and Certification program. You'll get one-on-one, group and community support as you establish your first season of classes (and ongoing!). You'll also complete our graduate-level New Leader Course—perhaps the most loved part of becoming a Leader.

Leaders complete the self-paced, online New Leader course in their first season. It prepares them not only to deliver superb class experiences, but to more deeply understand our approach and to reflect on and develop their own special craft. The course includes self-guided and live components and covers five topics in depth:

Tinkergarten Mission, Program Design and Impact
Community Outreach — How to Engage and Build Local Community
Child Development — Supporting Explorers (kids) in our Program
Adult Development — Supporting Guides (grown ups) in our Program
Supporting All Learners — Striving for Justice in our Work

Thank you for all the wonderful learning courses throughout the years. The training I had in child development deeply impacted the way I think about teaching. — Nicole, Leader for 14 seasons

There is just nothing better than the Tinkergarten Leader training. I would love to refer parents and myself to a paid offering of the child development portion of the training. It gave such a richness to my experience as a mother. — Ellen, Leader for 8 seasons