Explore the Crescent Moon
As part of our March Activity Calendar, we can't wait to share sweet ways to help kids explore the crescent moon. We share this activity to help kids learn about Ramadan or to enhance their own family's Ramadan celebrations.
Need your free copy of the Activity Calendar? Visit
tinkergarten.com/calendar
today!
The Guide
Behold the Crescent Moon
Ramadan officially begins and ends according to the lunar calendar which follows a 29- or 30-day cycle determined by the cycle of the moon. The first sighting of the new crescent moon starts the month of Ramadan.

Especially in dense and well lit places, it can be hard to catch a first sighting of a crescent moon, but on or even a few evenings after the crescent moon first appears (Wednesday, March 22nd, 2023), you can see that the moon glows a crescent-type shape shape.

In the evening, take a walk (maybe even in kids' PJs before bed) and look up in a spot where you can see the rising moon. Notice its crescent shape. You can even make the same "C" shape with your hand and hold it up next to the moon in your view. Introduce the word "crescent" if that is new to your kids, too.

Watch as the moon changes, and keep an eye out for the crescent shape to return as the moon wanes in early April.


Learn More About Ramadan
Nearly 2 billion people in countries all over the world celebrate Ramadan. If you celebrate, we wish you a month full of happiness, reflection and peace. If you don't, use the month to learn more about how people around the world celebrate Ramadan. This will give your child (and you) a window into how so many people around the world celebrate.

Here are some ways to learn more:
If you celebrate, consider sharing about your traditions with friends.
Gently ask friends who celebrate to share anything they can about their traditions and what Ramadan means to them.
Check out this list of 8 great children's books about Ramadan written by Muslim authors.
School aged kids might also love learning more about Ramadan through the eyes of young girl named Nadia in this PBS video.
As you learn more about Ramadan and the traditions and symbols that are important to those who celebrate, wonder with kids about if and how those traditions connect to traditions you have.
For example, our kids were really interested in the fanous lanterns that our Egyptian friends light in celebration of light and hope for Ramadan. Our kids felt a connection to the homemade lanterns we make in the Fall and the candles we make around Winter Solstice and Christmas. We even made a lantern for our friends covered in crescents and stars.
Being helpful to others or doing good deeds is also a part of Ramadan that kids could connect to. Kids may get inspired to find ways to help the Earth as they learn about or celebrate the month.
Explore the Crescent Shape
Once you have noticed the crescent shape of the moon, you can also look for crescents in other places. Or, make your own crescents to play and create with.

It's easy to cut crescents out of paper to play with. Just follow these simple steps:
Draw a circle. Maybe you make a super free-hand circle. Or, if not, you can use the bottom of a glass, a roll of tape, an upside-down bowl or the end of a toilet paper tube to help you trace one.
Slide the circular object over a bit, then trace just the part of the circle that overlaps with the first circle.
Cut out your crescent! If kids have decent tracing and scissor skills, welcome them to help make crescents, too.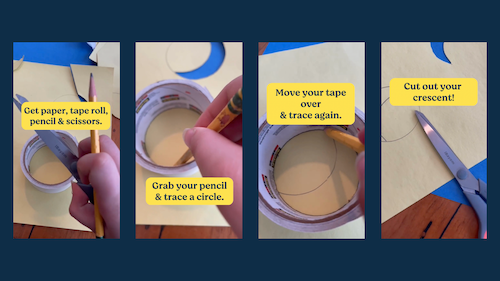 Our 10-year old explorer
made this video
and the image above to help kids (or grown ups!) use a roll of tape to make crescent shapes.
Once you have a bunch of crescents cut out, place them into a pile next to a blank piece of paper. You can arrange them to make different pictures, use glue to make a crescent collage or simply marvel at how beautiful, unique and joyful the crescent shape can be.
Why is this activity great for kids?
Noticing the changing shape of the moon is a way to help kids (and us) slow down and connect with the cycles of nature. If your family celebrates Ramadan, these activity ideas could be great for kids to do alongside other holiday traditions. If you do not celebrate, we hope these offer ways to learn about a holiday and the lives of so many people around the world with kids—a wonderful way to help children learn to value all people, even those different from themselves.
Try a Free Class
Two class formats: try a free In-Person session (where and when available) or try Tinkergarten Anywhere, our on-demand product available anytime.
In either format, a certified Tinkergarten Leader will teach a Tinkergarten lesson and inspire your kids to play.
Sample the additional activities and resources families get each week to keep kids learning outside at home.