It's Screen-Free Week, and the World Health Organization just released new, stronger guidelines urging us that children under five should spend minimal to no time on screens. These guidelines seek to address the link between screen time and the rise in obesity (obesity rates have tripled worldwide since the 1970s) and other diseases.
There is no doubt that our increasingly sedentary, screen-centric lifestyle limits children's opportunities for motor development and physical activity—both of which have a lasting impact on a child's quality of life and chances of growing into a healthy adult.
We are still learning about the impact of screens on the developing brain, but, per pediatric expert, Dr. David Hill, the W.H.O. is advancing the approach that, "If we don't know that it's good, and there's reason to believe it's bad, why do it?"
We'll keep a front row seat to the action as researchers continue to hone in on just what time on screens does to the young and rapidly developing brain. In the meantime, we see several clear and deeply concerning patterns. Join us in counterbalancing these patterns by limiting screen time and pumping up green time.
Less physical activity: Research shows that kids who are outdoors more are more physically active. Here are two simple ways to spark outdoor play that inspires the movement of big muscles:
A Twist on the Squiggle: Inspired by one of our favorite books, all you need to do is bring ribbon or other strips of fabric outdoors and welcome children to use their bodies and imaginations to transform "squiggles" into endless, marvelous new things.

Hunt the Wind: Turn an old bed sheet or pillowcase into a wind flag, then enjoy using our bodies to learn more about the wind—even create some of our own, joyful breezes!

Visit our DIY activities for even more ideas to support gross motor development and physical activity.
Narrowing of the senses: When kids are on screens at the exclusion of other activities, their sensory development is narrowed to focus nearly entirely on sight and hearing. This under stimulates and under develops other critical senses (and not just the five we study in Kindergarten!), in turn, diminishing brain development and impacting children's behavior, wellness and capacity to learn. Outdoor play, on the other hand, serves to stimulate a wide range of senses. Here are a few of our favorite ways to inspire kids to engage multiple senses: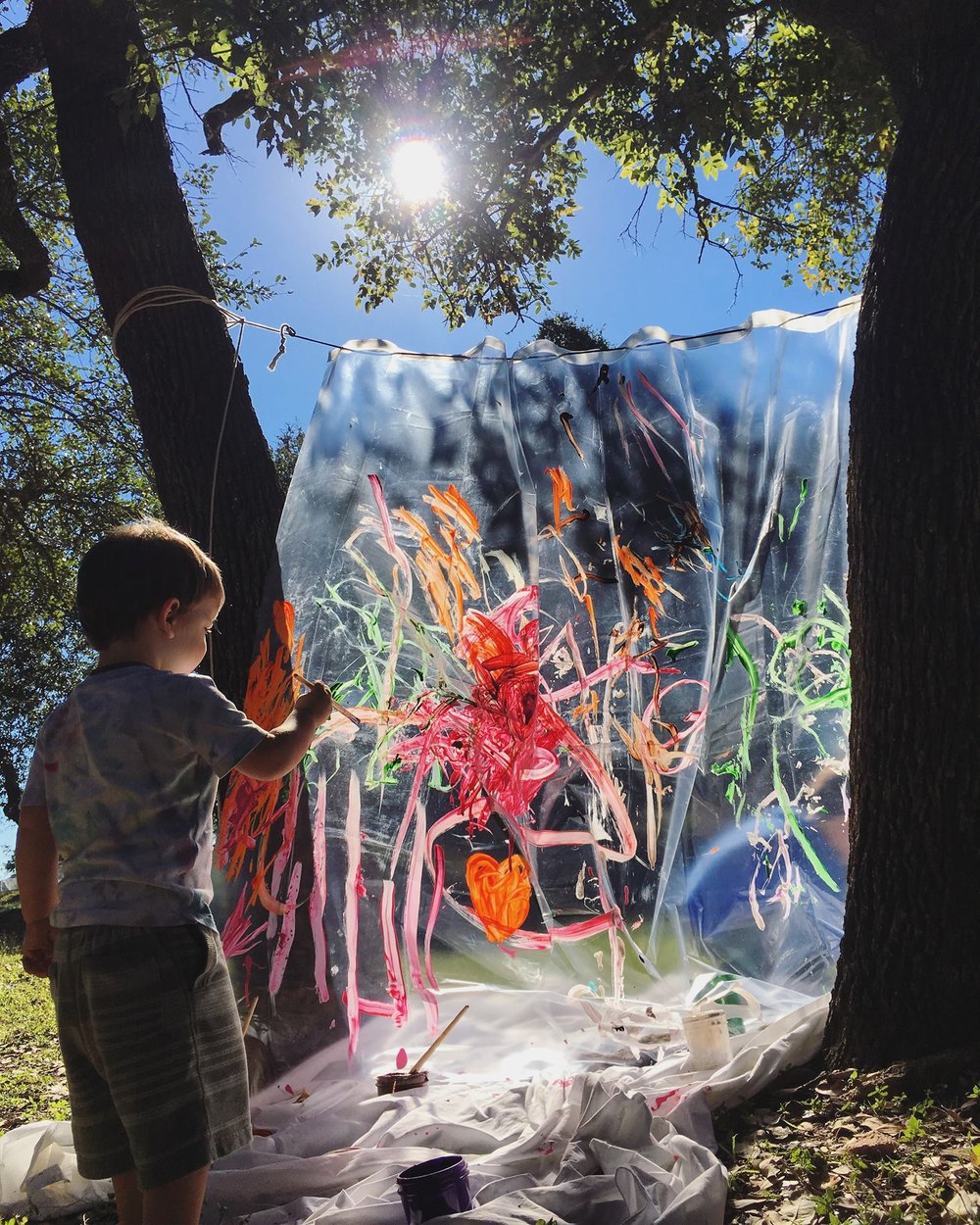 Photo: Summer Miles Photo
Catching colors: Turn an old, shower curtain liner into a two-way canvas and let children explore how to capture color together.

Renewable Art: Repurpose old paper (or even old artwork!) and offer children the chance to sense and problem solve their way through the process of paper-making. In the process, you'll activate multiple senses and spark creativity!

Petal Potions: Potion making truly never gets old, and if you use a clear container and marvelous scents, you activate multiple senses in the process!
Visit our DIY activities for even more activities that support sensory development.
Missed opportunities for JOY! We know that joy is a powerful force for learning, and both play and nature offer increased chances to spark joy. Here are a few of our most joy-inducing play starters:
Kings and Queens of Wild Things: First, read aloud Maurice Sendak's Where the Wild Things Are to whet kids' imaginations. Invite kids to create their own crowns using the natural treasures around them, then let your wild rumpus begin! It's a simple but developmentally powerful and delightful pastime.

Going on a Bell Hunt: With equal doses of quiet and wild, this Montessori-inspired game quickly becomes a favorite way to build imagination, focus and self control, and memories of free, joyful play.