Years ago in an early Tinkergarten class, we were helping c spot meaningful patterns of behavior in their kids' play and learn what those patterns meant for development in children. A caregiver in class said that seeing this insight reflected in their twin girls' play made them feel like a "child whisperer."
As both parent and educator, I love those moments. They remind us to do what expert educator John Holt says: "Trust children." It's easier said than done, though, right? Adult brains and child brains work so differently!
Kids' minds are messy, and they need to repeat actions and experiences in order to streamline and strengthen their brains—essentially, that is how early learning works. For us, armed with only an efficient adult mind, it can be easy to miss the incredible hand does-brain wires learning and development that happens when kids repeat and repeat and repeat the same, simple patterns as they play.
Experts call a certain set of these patterns "behavioral schema"—and you'll recognize them right away. For example, does your child spin in circles? That's a schema called "rotation." Do they line things up in rows? Yup, that's known as "trajectory." We call the pattern of packing, moving and dumping objects "transporting." Without any teaching, regardless of culture, kids all over the world exhibit and repeat these patterns when they play.
Once you know about these patterns, you'll notice them all the time. Plus, because they are so engaging, kids will stick with them for long periods. Kids have fun. We get stretches of independent play (and maybe some time to get work done!). And, we can trust that a natural, brain-building process is happening. Win-win for the team!
Want to see more?
Watch this 3-minute video from our Just Between Us GrownUps video to learn more:
What are some of the patterns?
Keep your eyes peeled for a few more examples of common patterns or behavioral schema:
Children all over the world demonstrate the

"transporting" schema

when they fill a container with smaller objects, move that container about, dump and repeat.

Kids who line up their action figures in a long, straight line are enacting the

"trajectory" schema

.

Hiding out in forts or other cozy spots can be evidence of

"enclosing and enveloping" schema.

Do you notice kids mixing and mashing the different parts of dinner to make a soupy mess? Or blending all of the colors of paint in the art station? Yup, that's "

transforming

."

Clicking LEGO bricks together, attaching and re-attaching velcro and a love affair with tape are all examples of "connecting."

Kids who spin, roll or get mesmerized by watching things spin (e.g. a ceiling fan) go around and around are engaged in the

"rotation" schema

.
Want to take a deeper dive? Read more about behavioral schema in play here.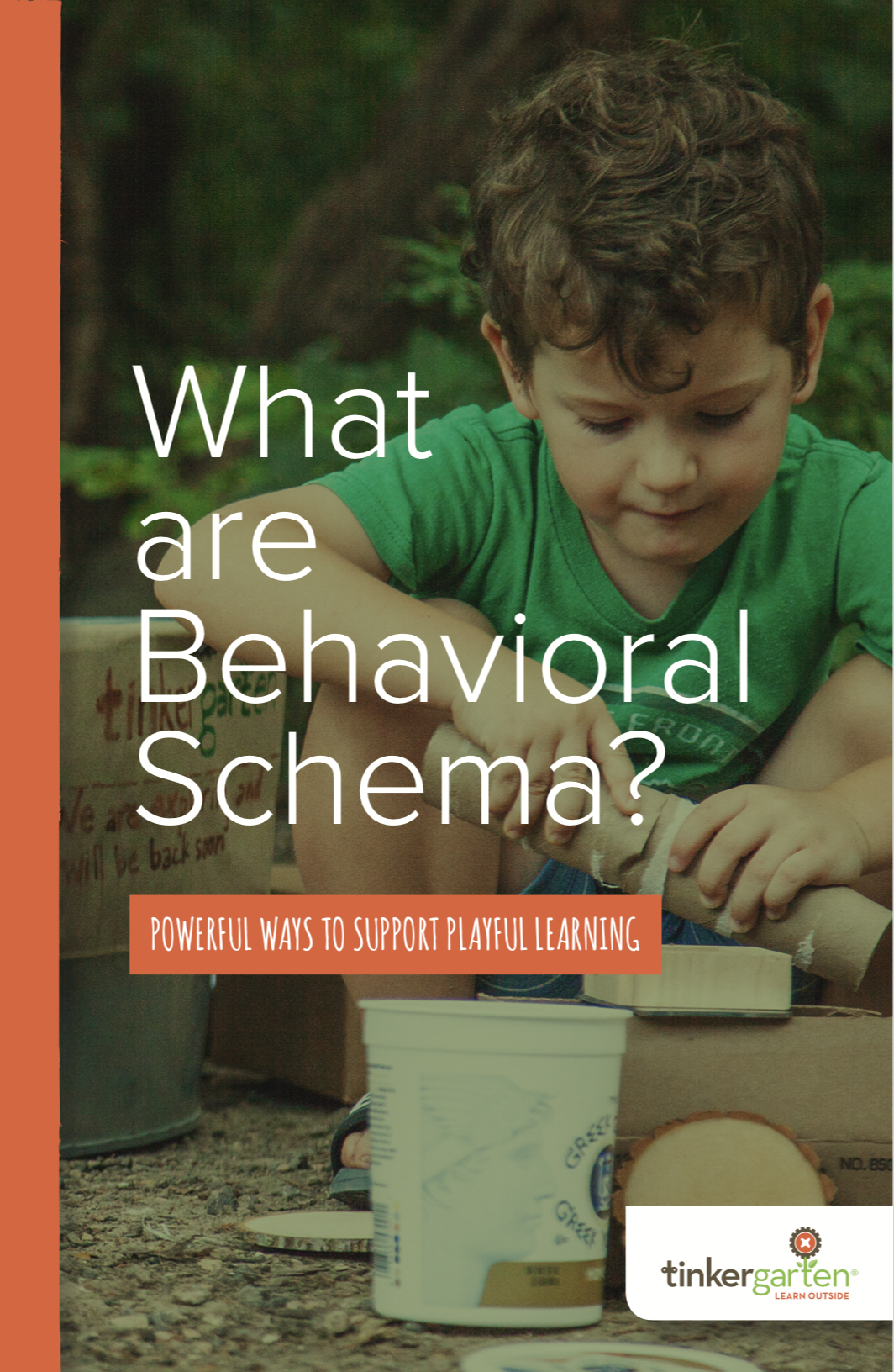 Why behavioral schema matter
I first heard of behavioral schema nearly 13 years ago, when I was trained as a Forest School Leader in London. The name "behavioral schema" is derived from the work of developmental psychologist Jean Piaget. Piaget used "schema" to describe how kids, mentally and physically, build mental models of the world around them. It's part of children's natural process of building understanding and knowledge. Repeating the actions help kids develop concepts. For example, if I line up objects now, I build mental models that will help me sequence information later.

Using schema to better teach our kids
Noticing Schema in Kids' Play
Just learning that these patterns exist, have names and are universal helps us better see young children's play as learning. Suddenly, children seem less wasteful as they pile stickers randomly onto a piece of paper (or the new wooden table). Rather, they are enacting the "connecting" schema, engaging in a natural, valuable process that results in a stronger brain and greater understanding of their world. How elegant of them!
Once we know how to spot schema, we also naturally become more curious. The more curious we are about kids' behavior, the more we start to do as Magda Gerber advises:
"Observe more. Do less."
When adults act as observers, we ease up on directing kids, giving kids more space to initiate their own learning through independent play. Freed from the burden of directing, we also benefit from more chances to notice and learn even more about a child's interests and capabilities, giving us new ways to support their learning.
Responding to What You Observe
To support schema in early childhood, you can start with simply getting out of the way. Give the time and space for kids to play long enough to explore schema.
Then, you can look for ways to give kids even more opportunities to engage in the schema that interest them most. If a child loves to spin ("rotation"), let them go for it, even if you fear they'll pop their cookies. Better yet, if you notice they are really into spinning, invite them to roll down a hill. When they stir a pot of potion outside, narrate and say something like, "Wow! I see how hard you are working at stirring around and around and around. Or, flip a bike or stroller over and marvel together at a spinning wheel.
More Resources Can Give Even More Ideas
Toy makers, playscape designers and play experts weave these patterns into the experiences they design. Tinkergarten lessons are also designed to activate a range of behavioral schema, and lesson plans point out to teachers how the materials, environment/set up and invitation we give can provide opportunities for schematic play.
The more opportunities kids have to engage in schema, the better. If you haven't tried before, make a note to step back and notice behavioral schema in a child's play, then look for ways to honor or support it. Or, look at the activities and lessons you're planning to do with the kids you love and teach. Do they include opportunities to activate any of the schema? Do your plans involve enough free play time for kids to explore a schema that is relevant to them? If not, could they?
There is much to gain from these often unseen glimpses into the growing mind at work. And, luckily, they are right there for the spotting.