With so many "special days" on the calendar, they can start to feel a bit less special. One marvelous exception is International Mud Day on June 29th. We could not agree more that marvelous mud deserves its own day. Enjoy 6 of our favorite ways to celebrate and see why we are so bullish about this most special of special days!
6 simple and fun ways to play on International Mud Day:
Make mud. Slow down and take time to wonder and delight in what happens when water and dirt meet.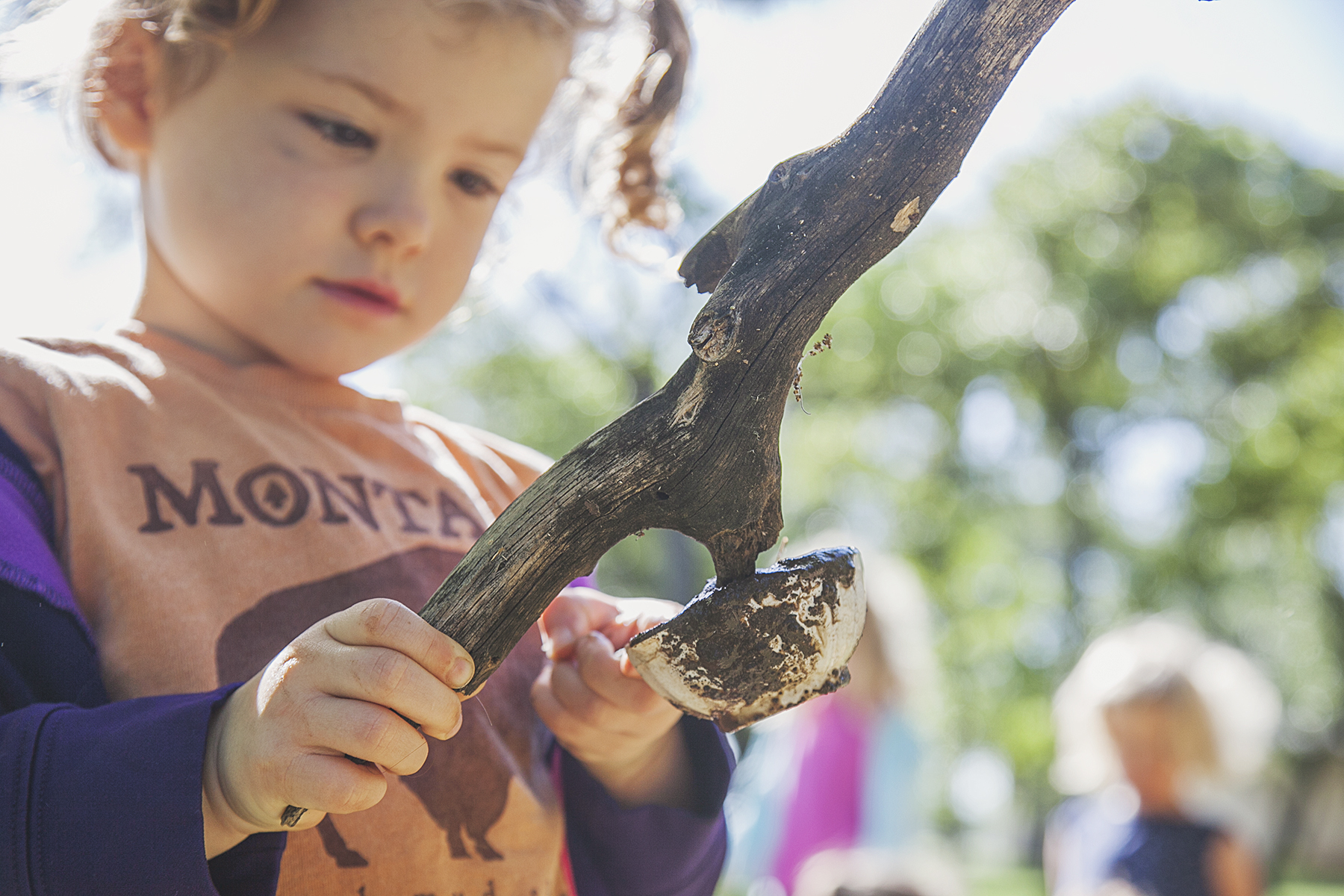 Stick in the mud: Make a patch of mud, then have fun sticking sticks, stones and other treasures into the softened earth--a perfect way to ease into mud play!
Mud pizza pies: Explore mud recipes to whip up your favorite "food." Our team loves to turn a circle of mud into a pinecone pepperoni pizza. Bring out some muffin tins or pie pans, and you can make mud pies, cakes and more! On Instagram? Enter the 4th annual Wilder Child Mud Pie Contest.
Trucks in the mud! Bring your favorite transportation toys outside and let them haul dirt, make tracks and enjoy the messy fun. Bring along a little earth-friendly soap + water, and have a car wash for the trucks and you, too.
Build homes and hideouts: Have a small LEGO friend, action figure or toy? Build that friend a home or hideout and make mud one of your building materials. For wee ones, they may just literally hide the toy in the mud. For older/more ready builders, it's possible to construct all kinds of cabins, huts and homes using sticks, rocks, mud and more!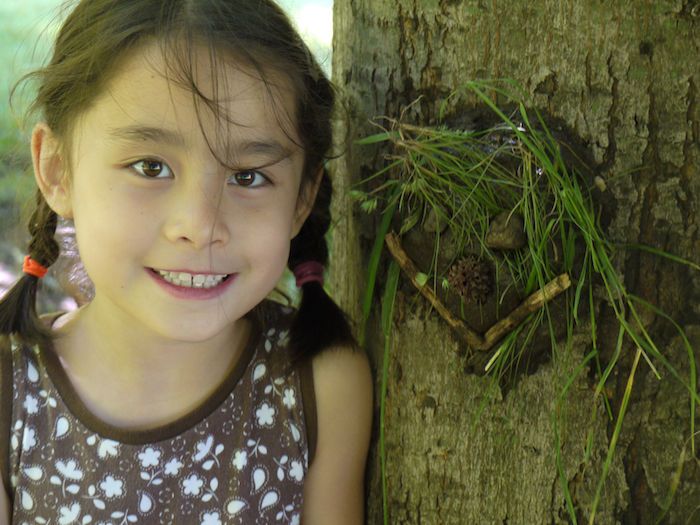 Faces for the trees: One of our all-time favorite ways to play with mud and help kids develop empathy. Make a mud patty, plop it gently on a tree or log, then use nature treasures (pebbles, pine cones, acorn caps, etc.) to form the features of a face—pure delight!
Who says June 29th is International Mud Day, anyway?
This special day has an origin story you can really get behind. At a 2009 World Forum summit, two early childhood experts, one from Australia and the other from Nepal, bonded over their belief that losing nature play was harming kids. Though worlds apart, they formed a sisterhood between their communities around a shared commitment to mud play. This eventually led to International Mud Day, now celebrated around the world.
Mud Play is worth the fuss.
No matter when you last let mud ooze through your fingers, there are so many reasons to slow down with your kids and give a day to mud. Here are but a few of our favorites:
Mud activates kids' senses.
Mud offers kids a marvelous multi-sensory experience. It is fascinating to see, touch, smell and hear (and, to some friends, even to taste). During mud play, kids are usually on the ground, changing their head position and using large muscles to move around, activating other essential senses like the vestibular and proprioceptive. Opportunities to hone a variety of senses is all the more important in this digital age, when young kids are spending more and more time seated and over-indexing on-screen vision.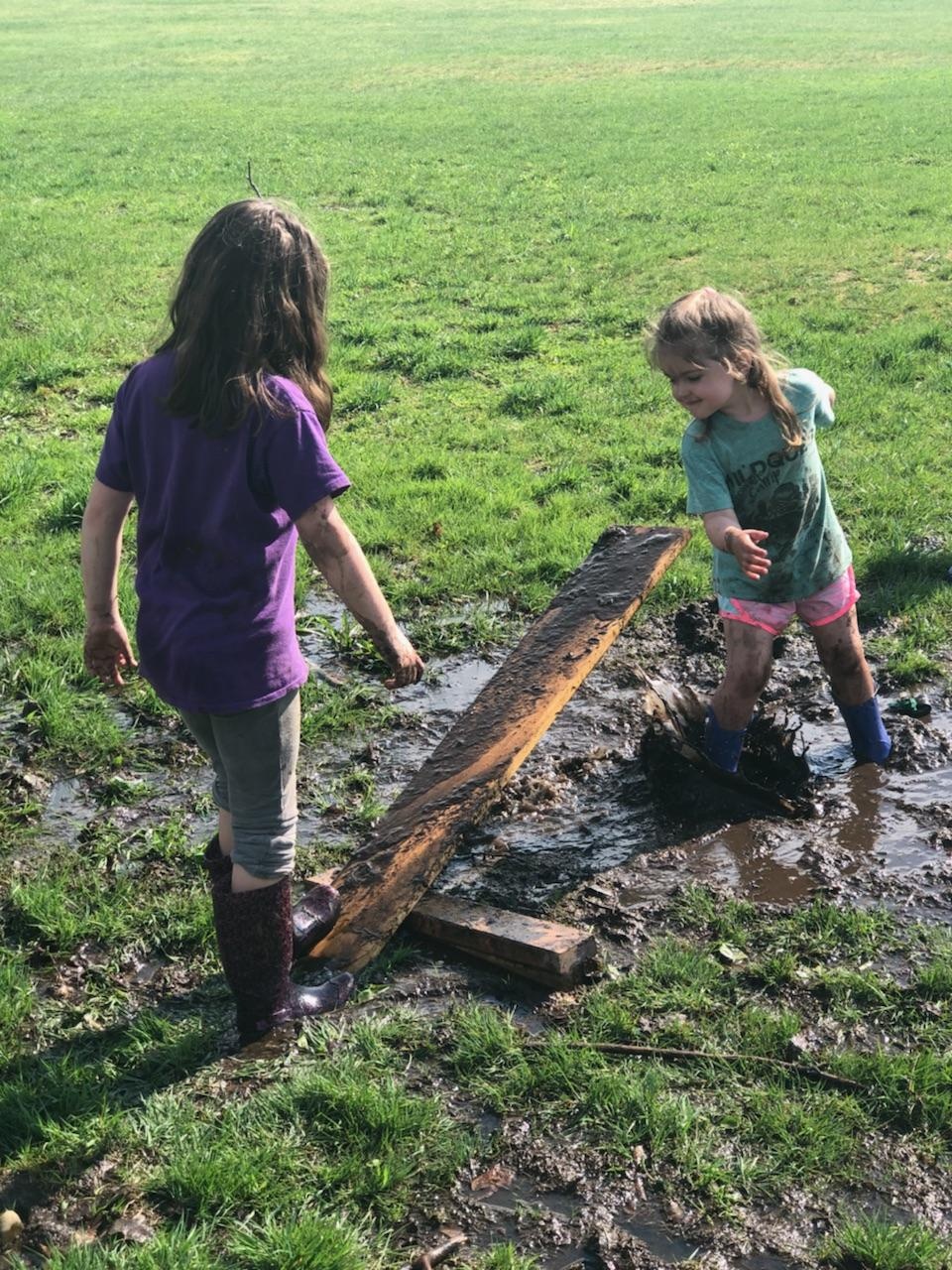 The world is mud-luscious and puddle-wonderful. —e. e. cummings
We learn more when multiple senses are activated.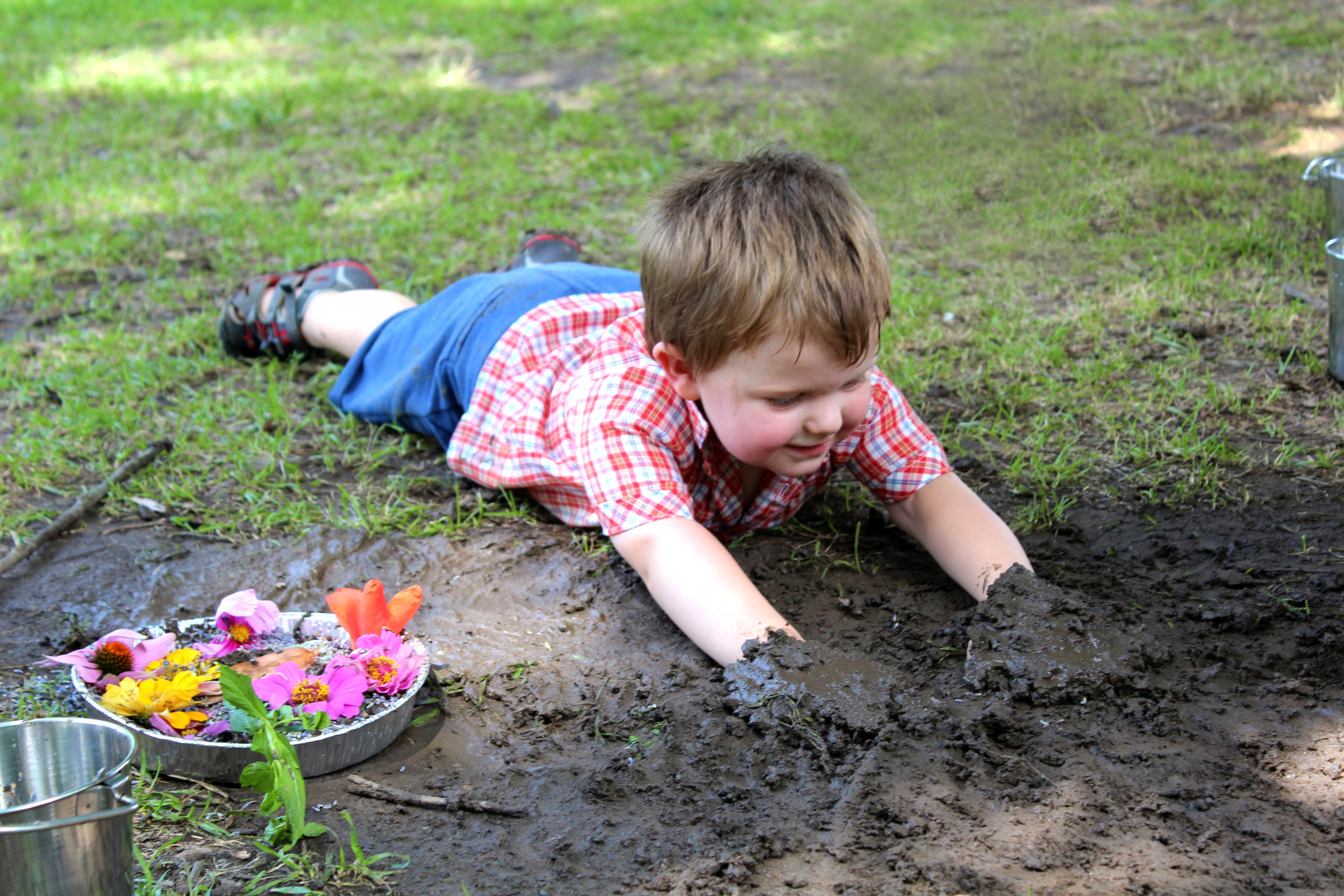 When multiple senses are engaged, kids not only hone each sense, they get to practice integrating them, which is something the brain needs to learn to do in order to get more efficient. Kids also learn to prioritize and organize the input from multiple senses, helping them learn to cope with and thrive in a multi-sensory environment—critical for such a busy and distracting world. Sensory integration also lays the groundwork for higher-level thinking skills. Who knew mud could do so much for the brain?!
Mud can be for all kids, with the right approach.
Mud can be intense, even overwhelming to some kids (and to some of us adults, too). For one, it's pretty early on that kids get the idea that mud is "dirty" or "bad" from the adults around them. So, we may need to present a pro-mud attitude before kids can dive in.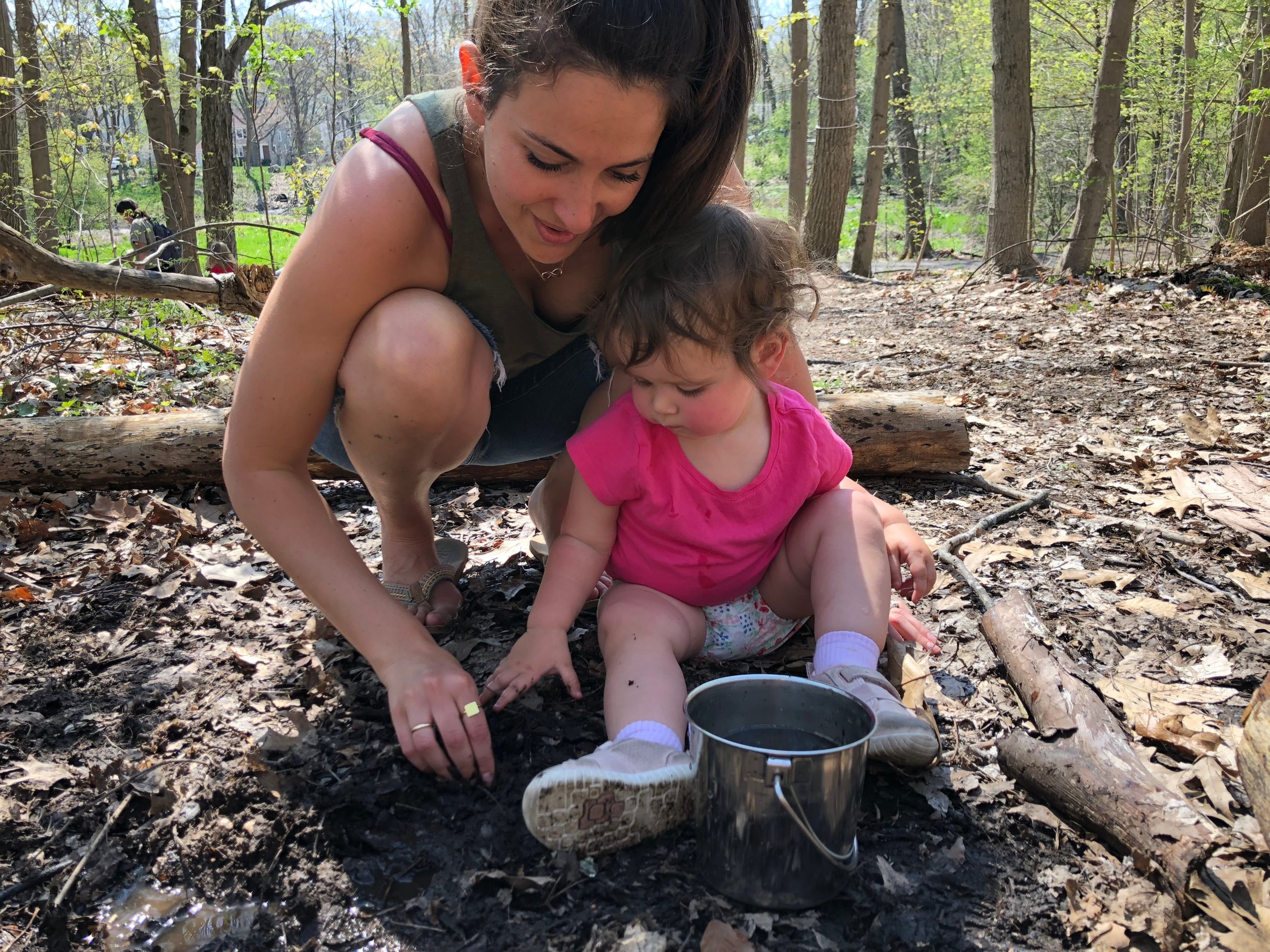 Kids also have unique sensory systems. And, for some kids, mud is too stimulating. Imagine each child has an internal sensory cup that is right-sized for them. That cup fills up the more sensory stimulation a child experiences. If the cup is large, it takes a lot of stimulation to get full (i.e., rolling in the mud). If that cup is small, even a little bit can overflow the cup and lead to an overwhelming experience. As play supporters, we can watch and observe our child's approach to sensory inputs and start to gauge the size of their "sensory cup."
Two ways to help all kids access mud.
First, help your child activate their sense of touch before using it to help them prepare for stimulation. Simply rub your hands together for about as long as you're supposed to wash hands (~2 Happy Birthdays). In Tinkergarten class, we call it "warming up our mud hands."
You can also offer tools like sticks, rocks or leaves to reduce the intensity of mud play. Giving kids an intermediary tool allows them to still feel the texture of mud through that object rather than directly on their skin.
Mud makes play even stickier for the brain!
Not only does mud activate the brain by activating multiple senses, it also easily supports several play patterns that are naturally engaging for young kids. Experts call these patterns behavioral schema. For example, as kids mix water and dirt to make marvelous mud, kids activate the "transforming" schema. Mud also helps kids stick things together, activating the "connecting" schema. Cover objects with mud or build little mud huts, and you've nailed the "enclosing" schema.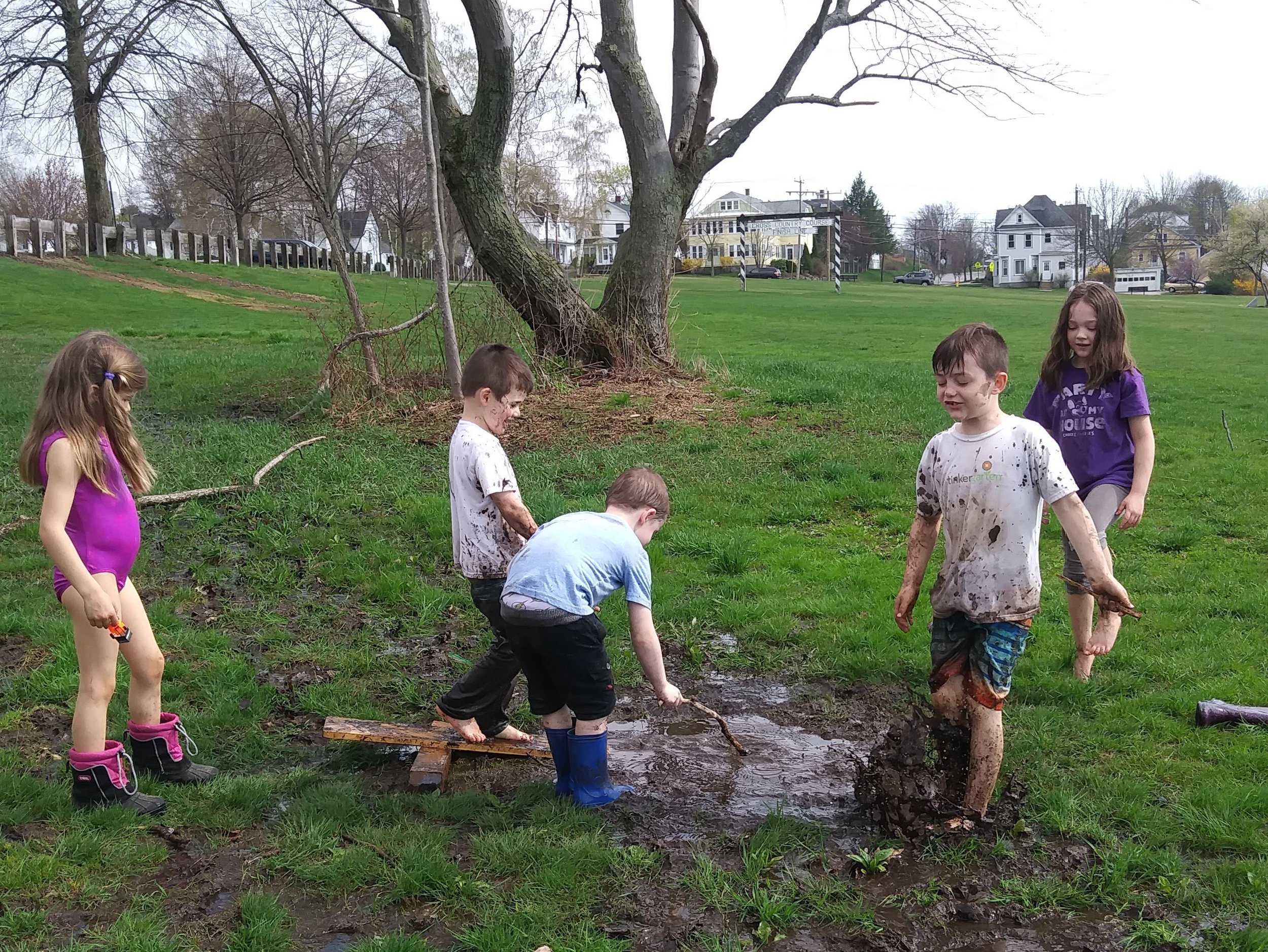 Mud is for makers!
Mud is the ultimate building material for animals and for kids! The chance for messy play during childhood is also a concrete way to support the kind of free thinking that leads to creativity down the road. And, we know messes can drive us wild, so we can help you manage the mess, too!
Mud is healthy, to boot.
Mud is good for you! Our world has actually gotten too clean for kids' good health. Playing in the dirt actually builds immune systems, and it can even lift our moods.
Enjoy and share!
No matter how you celebrate, we wish you a mud-luscious International Mud Day. And, please share how you celebrate using #Tinkergarten and #WFMudDay to help spread the IMD mission and impact of this most special special day!