Once you have kids, the dwindling daylight that hits you in late fall can go from an irksome change to something that upends whatever sense of control you have over your schedule, shifting kids' sleep, moods, and even behavior. Plus, you are losing daylight to do whatever you love to do. And since the pandemic started, when the outdoors seem to be the safest place for social connections and meet ups, the lack of daylight even cramps our chances to connect with friends. So, it's pretty easy to get down when we turn the clocks back.
This negative feeling is exactly what Brian—my husband and Tinkergarten co-founder—and I were experiencing eight years ago when we lived in Brooklyn with two kiddos under age three. We resented the darkness, the change in schedule, and how it limited our outdoor time. But then we realized we didn't want our kids to see us railing against the inevitable changes in life—weren't we trying to prepare them to roll with whatever life handed them?
"There is nothing permanent except change." —Heraclitus
How a Tradition Grew
That's when we got the idea for Lantern Walk, now a national event in its ninth straight year. That first year, I reached out to fellow parents and friends and put a notice on our local parents' listserve to join in a lantern walk one Sunday evening in late November. At dusk, we headed to our local park with our kids and a handful of homemade lanterns. What happened next blew me away. I had to stand up on a bench just to see all of the people who came out, and I was overwhelmed. Hundreds had shown up—with kids, guitars, and a strong desire to come together with light to face the darkness of approaching winter. It was magical. And it was the start of a tradition that has engaged hundreds of thousands of families all across the country.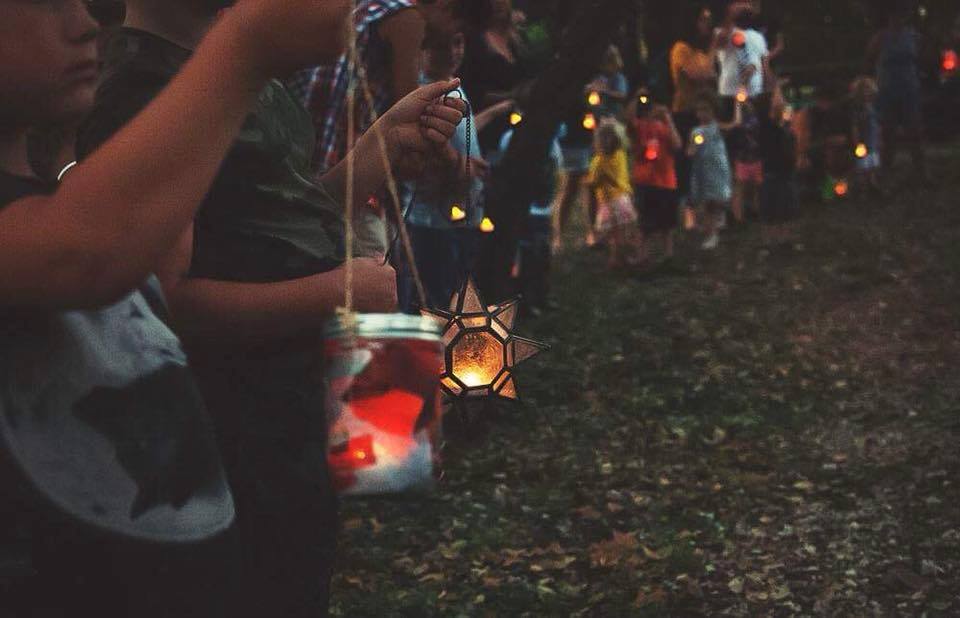 Why We Carry Lanterns
There are light festivals around the world, from the Mid-Autumn Festival celebrated in China and Vietnam to Germany's St. Martin's Day festival. And nearly every faith tradition has a winter holiday that involves light—from the Hanukkah menorah to Christmas tree lights to the Mishumaa Saba (The Seven Candles) of Kwanzaa. This Fall Lantern Walk tradition is tapping into that same universal power of light, hope and community—nothing new, but never more needed than now.
Our Tinkergarten Lantern Walk keeps it simple, honoring of the cycles of nature, with kids and families helping to prepare by making homemade "lanterns" that even wee kiddos can design (here's that project), or even just by joining in and holding flashlights.
The chance to walk outdoors at dusk is a rare experience for kids who can open their senses to sounds, sights, and smells they cannot experience in the daylight. On the walk, we sing songs, move our bodies, and celebrate our favorite local greens paces, our planet and our growing community of families who treasure the outdoors together.
2021—Back In Person!
This year, more than ever, we appreciate the importance of a ritual that inspires hope and helps us to embrace the massive changes we've been through and the uncertainty that remains—that we now realize is always there. We are also thrilled that our team will be offering hundreds of local Lantern Walks Events in person around the country! Search for a walk near you and learn more about the events at tinkergarten.com.lantern.
In locations where we don't have local Lantern Walks, we can offer families the tools and inspiration they need to host a Lantern Walk in the way that works best for them. Walk alone! Walk with just your immediate family! Gather friends and neighbors to meet up and walk at safe distance from one another. Or, organize the broader community to do a lantern hunt so families can walk or drive around and see the lanterns that their neighbors, community organizations and local businesses hang in their front windows. Visit our Lantern Walk Toolkit page to learn more, and even get or give sweet Tinkergarten Lantern Making kits to make it easy!
Sign Up to Walk!
Visit tinkergarten.com/lantern to sign up to walk, and you'll receive a toolkit designed to help you prepare for and enjoy whichever kind of walk your family chooses. Just join us and add your light to the hundreds of thousands of families who will illuminate the night with us on November 1st!
"Thanks to impermanence, everything is possible." —Thich Nhat Hanh