Spending time outside is essential for our overall well being—even when the temperature dips way down. That is why we are thrilled to share this Winter Gear Guide—wisdom we've gathered from thousands of Tinkergarten Leaders over 21 seasons. Scroll on down or hop through the links below to learn from how our team gears up to #PlayOutdoorsall4!
Winter Gear Guide Contents:
VIDEOS + Lists—How to Gear Up by Region:
Health professionals agree that getting outside in winter is not only safe, but highly recommended for emotional and physical health. Today's kids get 50 percent less time outdoors than children in the 1970s—and many of the health conditions that afflict kids now, like asthma, obesity, Vitamin D deficiency, ADD, and more, track with that trend. Think of being outside year-round as your apple-a-day for wellness, offering sunlight, fresh air, physical activity, and just the right activation of all of our senses.
Also, navigating some cold-induced discomfort builds resilience and grit to help kids handle the snowballs life will throw their way.
Still worry that bringing kids outdoors in the blustery chill can be dangerous? On most days it's truly not—and you can use tools like this chart to see what experts deem "safe." Most of the time, as long as you are dressed well, time learning and playing outdoors is only good for all.
Winter is also an ideal time for natural discovery. Whether you crack ice puddles and marvel at the brave cardinal who sticks it out, or you welcome a cool breeze and new birds who visit your area to escape the cold, winter helps us discover how living things thrive. And, we can all end our outdoor sessions healthy-cheeked, refreshed and ready for tea time (a favorite Winter Tinkergarten tradition!).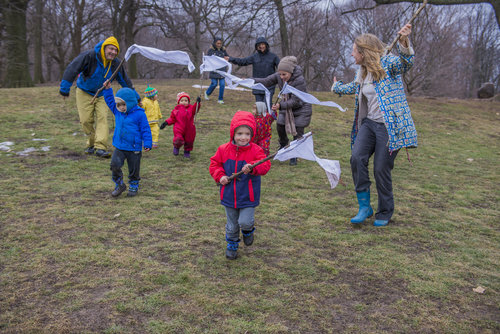 Dressing the Part
Dressing kids and ourselves well for winter outdoors is also essential—often making the difference between joy and misery. It's not always easy to figure out what to wear, though. How bundled is enough, and how do you keep from spending, well, a bundle? That's where, after 21 seasons of outdoor play across the country, we can help!
We've talked to Tinkergarten Leaders in all 50 states and compiled our collective wisdom on what to wear and how/where to find it. We've got videos, gear lists and gear sourcing tips—with versions depending on the climate you explore—from sunny but chilly Southern California, to frozen-over Minnesota, to damp and cool Seattle.
Got the gear, but getting it on is the problem!
As for actually getting your kids in the clothes once you have 'em? Here are a handful of expert tips:
Leave enough time so you're not getting dressed under duress—kids can shut down when we have to rush!

Ask kids to help you dress and do it together. Pretend to forget what comes next and put them in the helper position.

Sing a song that narrates what to put on next, like "Putting on our cozy socks, cozy socks, cozy socks…" (Need a tune? Use something familiar like Twinkle Twinkle or Happy Birthday)

Give kids choices. "Should we put a boot on this foot first, or that foot?" "Red hat or blue hat today?"

Flex your patience muscle—it is one of your parent superpowers, and it gets stronger every day!

Come to Tinkergarten

—We have warm tea, shelters and even extra "paws" (a.k.a. warm socks) on hand at winter classes—even mitten-resisters are happy to slide on some paws!
NOTE: For You Too!
In our regional gear videos below, Tinkergarten leaders layer-up with their kiddos. That's because grown-ups need proper layers too—it's easy to get so caught up in getting our littles snug that we forget ourselves. We need self-care, too! All of the info below applies to you as well; the comfier you are, the happier your outings will be.
We've Got You Covered
Once you have the right gear, sign up for a Tinkergarten class near you to join up with a class of families committed to not only playing but learning outdoors all winter! We'll make sure that winter becomes your favorite season and kids thrive all season long!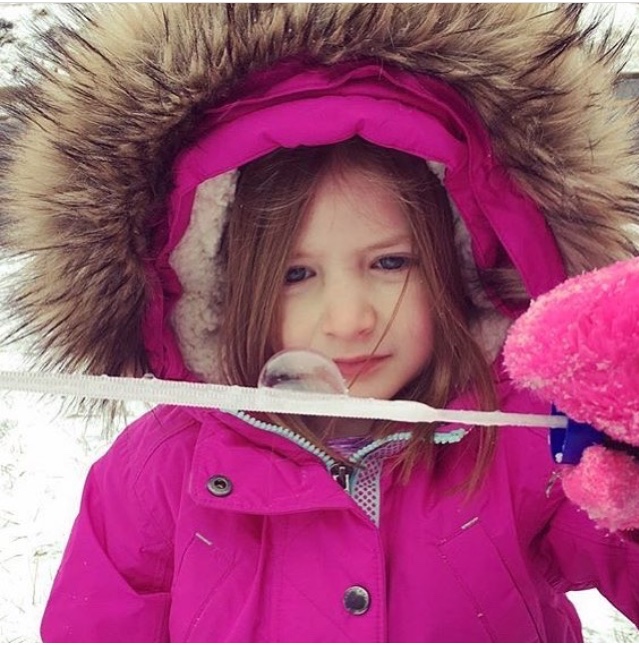 WHERE TO BUY: FAVORITE GEAR BRANDS + DISCOUNTS
Keep an eye out for these—our Tinkergarten team favorite brands—especially, if you can find them in swaps or on sale. Many are an investment, but they last, work like a charm and really deliver on quality. See below for current discounts and remember to ask friends and family for gear gifts, too!
Socks and Base Layers
Outerwear
Accessories
Gloves
Hats

Zutano

—We have a sweet spot for these super cute hats.

Leaders report any wool, fleece-lined hat does the trick. Just don't shrink it in the dryer!

Face- and neck-warmers
Boots
Depending on how much you need, gear can be spendy—especially once multiplied by multiple siblings. Our favorite places for affordable, quality gear: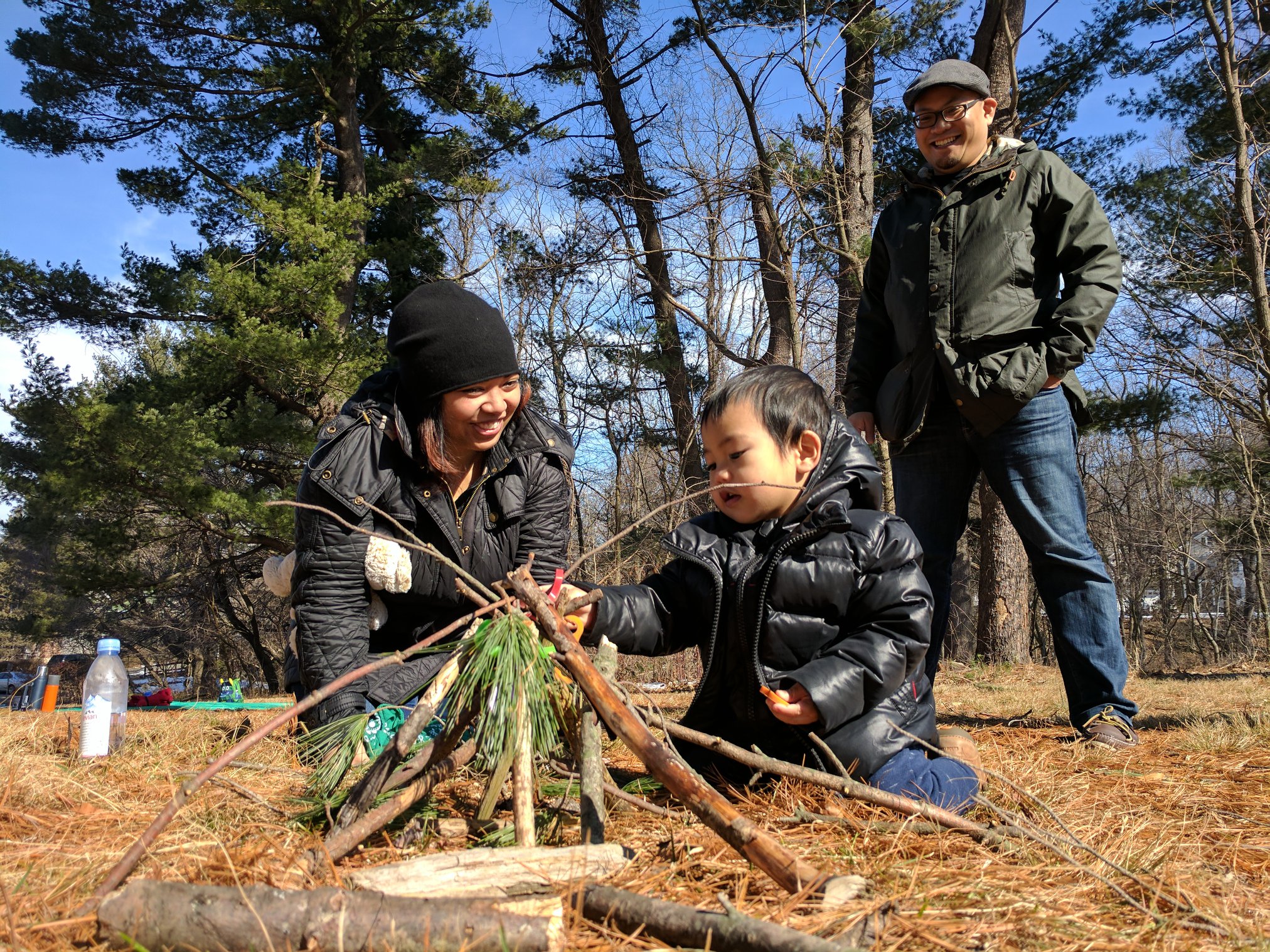 HOW TO GEAR UP—VIDEOS and LISTS BY REGION
Deep Freeze in Minnesota, starring Meghan and Brady
Gear List for Deep Freeze Regions:
Base Layer
Undershirt (tight to skin, wool)

Leggings (tight to skin, wool)
2nd Layer
Sweater or fleece

Fleece pants
Outer Layer
Snow pants (overalls)

Snow coat
Footwear
Accessories
Winter hat

Mittens

Neck warmer/face protector (We love

Turtle Fur

)

Thick lotion for face to prevent cold-chapping (optional)

Hand warmers (optional)
Essentials: Sense of wonder + a sense of humor
Mild and Wild in Orange County, CA, starring Laura and Evie
Gear List for Mild Regions:
Base Layer
2nd Layer
Outer Layer
Footwear
Accessories + Essentials
Wet and Chilly in Seattle, starring Ali, Rustin and Mutsy
Gear List for Wet and Chilly Regions:
Base Layer
2nd Layer
Outer Layer
Waterproof jacket and pants or single suit (We love Oaki rain suits)
Footwear
Rain or snow boots (We love Bogs)
Accessories
Essentials: Sense of Wonder and a Sense of Humor
Chilly to Cold in Texas, starring Erika and Maya
Gear List for Chilly to Cold Regions:
Base Layer
2nd Layer
Outer Layer
Footwear
Accessories
Warm winter hat

Light mittens
Essentials: Sense of Wonder and a Sense of Humor
Mountain Cold in Appalachia, starring Sarah and Court
Gear List for Mountain Cold Regions:
Base Layer
Undershirt or leotard (tight to skin)

Leggings or pajama bottoms
2nd Layer
Outer Layer
Snow pants (overalls!)

Snow coat
Footwear
Accessories
Essentials: Sense of wonder + a sense of humor. "Word up, Tinkergarten!"