Celebrate Winter Solstice
The Winter Solstice marks the longest night and shortest day of the year, as well as the official beginning of winter. The phenomenon is caused when the Earth's axis tilts the furthest away from the sun, giving less than 12 hours of daylight to all locations north of the equator. Although it's the day of greatest darkness, the Solstice is a time of great hope for the sun's rebirth, as we start to move towards the Summer Solstice once again. This moment has been marked with festivals and feasts by peoples around the world for centuries.


For kids of all ages, a simple celebration is still powerful. Although both ancient and modern pagan Solstice rituals span several days, we suggest a celebration on Solstice Eve and or Solstice Day. We tend to focus on themes related to evergreens, circles, lights and hopes. Whatever you decide, we wish you light and a very Merry Solstice.
This activity is featured in our December calendar. If you do not yet have your free copy, get it
here
.
The Guide
Talk about Winter Solstice:
If this is your first year marking Solstice, with great enthusiasm, let kids know that tonight is Solstice Eve! Once you make it a practice, count down the days to Solstice and engage kids in planning your rituals.
Learn more
about Winter Solstice celebrations around the world.
Welcome Solstice on a walk:
Going on a walk just before and through dusk. Given that this is the day with shortest daylight, darkness falls early, so this "early walk in the dark" can be a unique experience alone.
Solstice plants:
At the start of our walk, we look for fallen twigs, solstice plants like evergreens and holly (both Ancient Romans and Ancient Celts would deck their halls with boughs of holly, which was thought of to be magic for its ability to stay green through winter) as well as marvelous winter weed flowers. If your climate doesn't have these plants, gather bits from your favorite local plants.
Make a winter spiral:
If we are in our own yard, we borrow a handful of boughs of evergreen to lay a winter spiral on the ground with a candle in the middle to symbolize the sun and how we are at the darkest part of the year's cycle, about to start moving back towards the sunniest part of that cycle. (If we're off to a public park, we come bearing our own boughs of green so as to respect the environment.)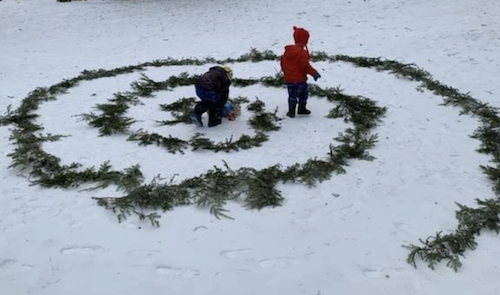 Go around and around!
Here is a perfect time to act out the year's cycle while exploring the concept of rotation, a phenomenon that kids' bodies just love and are driven to do as they develop both kinesthetically and cognitively. Walk around the spiral and back out again, spinning around or even rolling down a hill.
Light and hopes:
Bring a
fall lantern
or, if it's cold enough,
botanical ice lanterns
. You can also bring plain, small candles and place them in the sand or dirt. As dusk is really falling, make a circle of candles, one for each of your family. Light them one at a time, giving each the chance to share hopes. These can be hopes for the world, hopes for family and friends, or promises to do good things for your community or neighbors—whatever inspires, grounds and makes kids feel connected.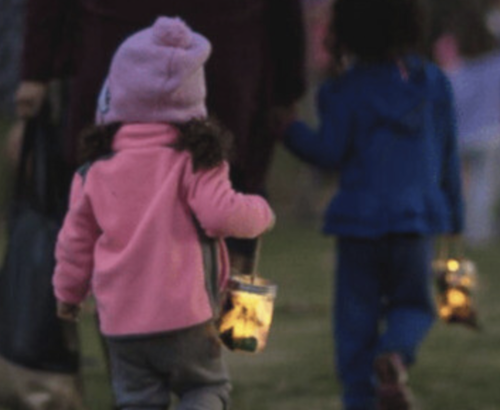 Decorate your home a bit:
As you walk, collect tree fruits to turn into
simple nature ornaments
when you go back indoors for the night. Or, collect freshly fallen boughs from a willow tree and bend them into 5-pointed stars, another marvelous pagan symbol of Solstice.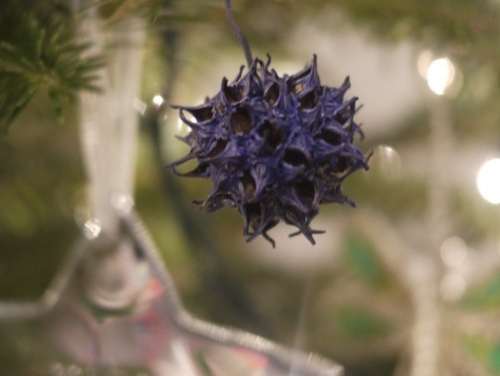 Feast!
No Solstice tradition is complete without a feast of some kind. Whether it is a favorite family dish, cookies shaped like the sun, or sunny-side-up eggs for dinner, enjoy some special feast. Our menu has varied a bit, but always includes cookies by candlelight.
Why is this activity great for kids?
Helping kids become alert to and welcoming of the changes in their environment
connects them to nature
and helps them
embrace change
—and there is nothing more predictable in life than change. This simple, yet powerful idea, can be one of life's most important skills to learn. The simple ways we celebrate Solstice also help kids develop their
senses
, engaging in powerful behavior patterns associated with learning (e.g.
transporting and rotating schema
).
Celebrating Solstice has even deeper community roots. Regardless of your family's religion, Solstice is a tradition that transcends religious beliefs and traditions, and can be celebrated universally and inclusively. It is critical to us personally as a family, and in our Tinkergarten classes, to embrace difference. We also hope kids develop an equally important sense that we all share the Earth, that our many celebrations have links back to common themes and a common humanity. For our family, celebrating Solstice illuminates those ties. Without feeling that connection to others, it is hard for kids to develop
empathy
. This idea may be abstract to the youngest children, but by making Solstice a part of our annual ritual, we can help them to deepen that empathy quite naturally as they grow.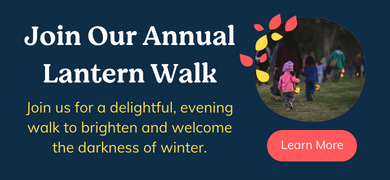 Try a Free Class
Two class formats: try a free In-Person session (where and when available) or try Tinkergarten Anywhere, our on-demand product available anytime.
In either format, a certified Tinkergarten Leader will teach a Tinkergarten lesson and inspire your kids to play.
Sample the additional activities and resources families get each week to keep kids learning outside at home.
Become or Recommend a Leader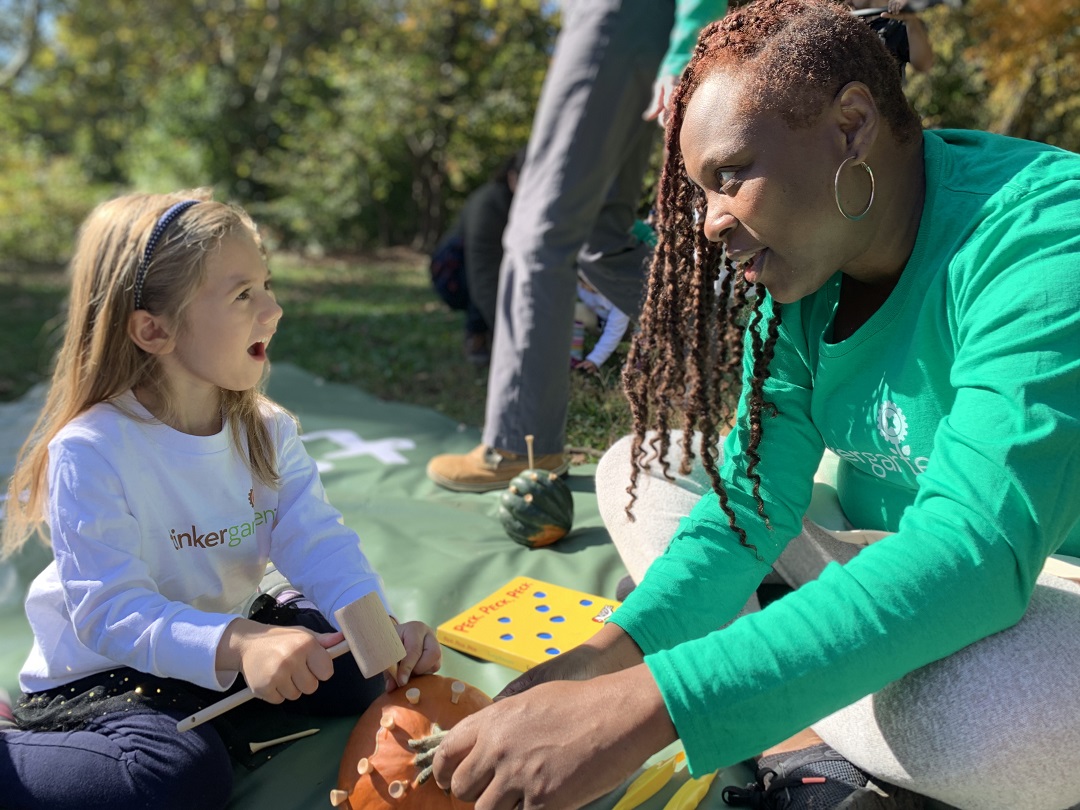 Help us bring Tinkergarten to your community.
Recommend people you think would make great Tinkergarten Leaders.
Maybe that's you!
Earn a $100 gift card to Amazon if your nominee becomes a Leader!