Age: 0 to 8+

Time: 1 hour+

Materials: cardboard box, recycled containers, tape or glue, markers or paint, nature treasures

Skills: Creativity, Imagination, Science
What would it be like to go on a trip to Mars? Outer space is captivating for kids and adults alike! Play that revolves around a real-world theme, like outer space is a super way to nurture kids' imaginations while getting them hooked on science. As featured in our January Activity Calendar, in this activity kids turn a cardboard box into a rocket ship and blast off on an imaginary Mars expedition!
If you don't yet have your free copy of the monthly Activity Calendar, download it
here
.
The Guide
Learn and wonder:
NASA's website has numerous resources to help kids learn about Mars. The
Mars Perseverance Rover Interactive site
has photos and video taken on Mars as well as a 3D view of the rover and rocket from the 2020 mission. You can also look at
these photos
from National Geographic Kids of the vehicles from the NASA Perseverance mission.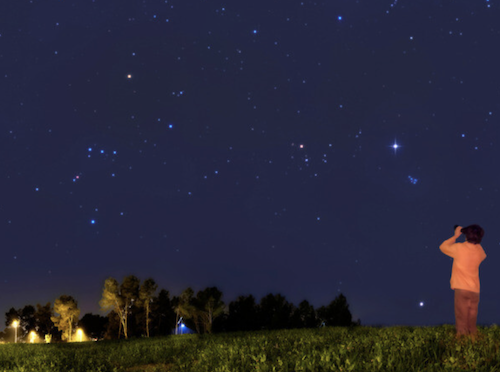 Experiencing the night sky first-hand is the best way to inspire wonder and curiosity. If kids can stay up a bit later, head outside to behold the moon, planets and stars. Wonder together, What do we see? Where is all that light coming from? What do you think is out there? Take kids' ideas and offer some simple ways to think about it. Apps like
SkyView
,
Star Tracker
and
Star Walk
enable you to see and identify the constellations in your night sky just by pointing your phone in different directions. These apps work just as well in daylight as in the night, making them a great way to explore the stars without interfering with bedtime.
Get inspiration from literature:
Watch the read-aloud of
My Rainy Day Rocketship by Markette Sheppard
. Then, say, "Would you like to pretend to go on a trip to Mars?" Wonder together how you would get there. What would you need to pack? What do you think you would see and do when you arrived?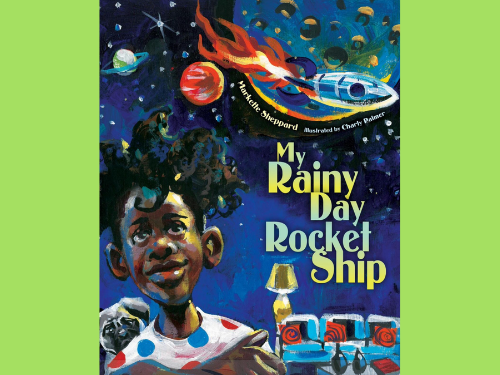 Build a rocket ship:
Offer a cardboard box or two, some recycled containers and tape and wonder aloud how your child could use these materials to make a vehicle that would transport them to Mars. Offer your assistance in suggesting and gathering materials your child needs for their rocket ship, rover or jet pack. Kids can gather nature treasures, markers or paint and small recycled objects like buttons or bottle tops to add buttons, dials and other details.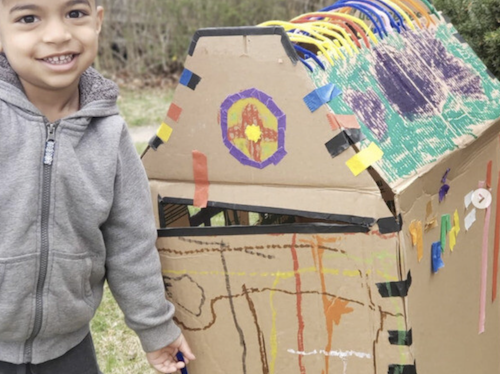 Prepare for a Mars landing:
Take your space vehicle outside and wonder how you could create a landing spot that looks like Mars. The surface of Mars is rocky with many volcanoes. Can kids gather rocks for their landing spot? Shape dirt or mud into volcanos?


Blast off!
When kids are ready to take their rocket ship for a spin, make a moment of counting down "3...2...1...blast off!" Then, step back and let the pretend play roll! To help extend play, you can offer tools your child can use to investigate the surface of Mars when they have landed. Magnifying glasses and paintbrushes can be used to excavate and examine the Mars soil and look for signs of life. A bag or bucket can be used to collect interesting specimens. To extend play even more, let your child know that scientists have been searching for signs of life on Mars. If there was life on Mars, what does your child think it would look like? Invite your child to use mud or forest putty and nature treasures to create their imagined life on Mars.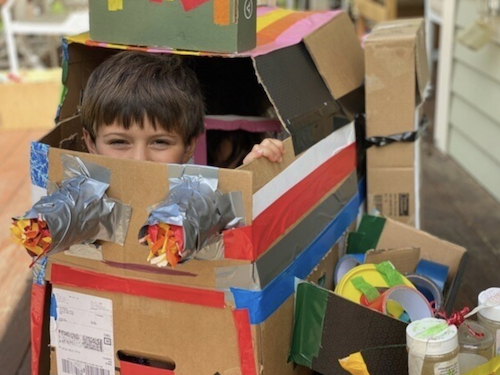 Want more ideas like this?
Why is this activity great for kids?
Incorporating outer space themes into imaginary play is a great way to get kids curious about the universe, hooked on science, and inspired to imagine. And, turning a box into a rocket ship or rover supports kids
divergent thinking
, a key component of creativity. Play that revolves around a captivating, real-world theme, like outer space inspires the kind of child-led play that keeps kids engaged and re-inventing.
Try a Free Lesson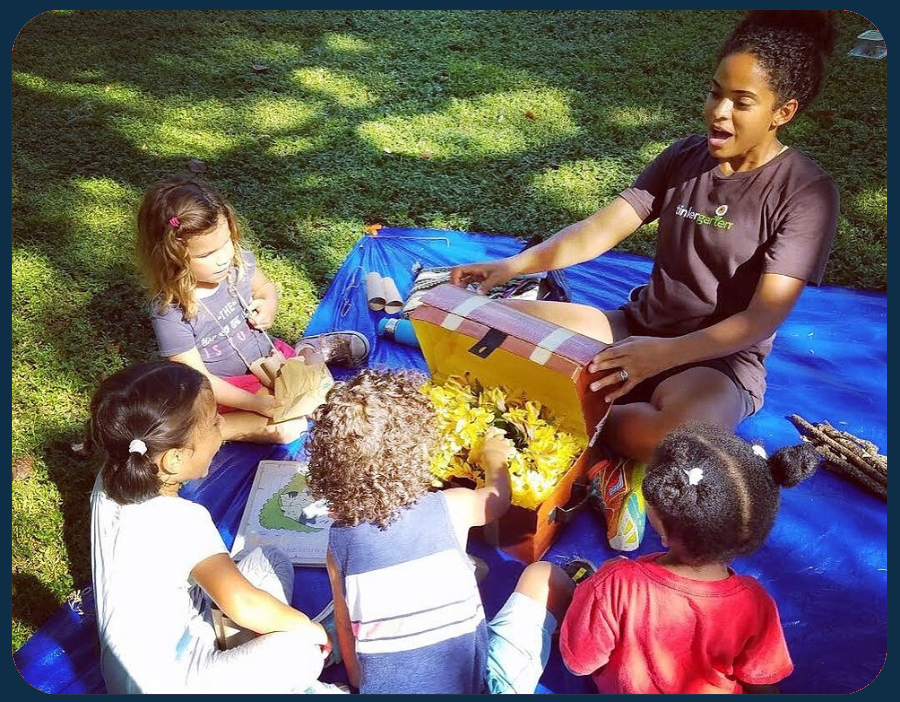 Tinkergarten for Teachers
Teach Tinkergarten in your community or classroom!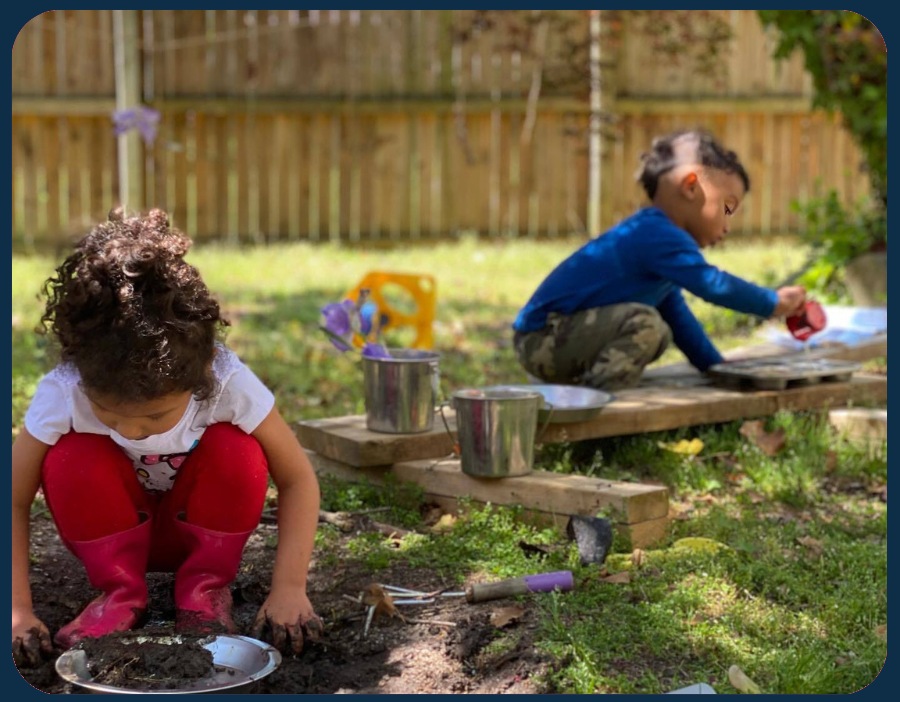 Tinkergarten Anywhere
Enjoy Tinkergarten as a family anytime, anywhere!