Nature is full of cycles and rhythms, and the more we connect kids (and ourselves) to those rhythms, the more rooted we all feel. One great and easy way to do that is to celebrate each new month—a unique chapter in the Earth's yearly story. We like to take a "Welcome Walk" to bring in the new month, and challenge ourselves to use all of our senses to discover what the world is doing as each new month begins.


This activity kicks off our December Calendar full of ways to connect with nature each day this month. If you don't have one yet, visit
tinkergarten.com/calendar
to get your free copy!
The Guide
All you really need to do is carve out some time for a walk. The walk can be short or long—it just takes a little extra framing to feel like a special, welcome walk. Here are some ideas:


Step 1: Start out by asking kids, "Do you know what today is?!" Take ideas, then share that it is the start of a brand new month—December! (Note: if you miss the first day, no worries...just try to do this in the first week of a new month).

Step 2: Suggest taking a "welcome walk" to welcome in the new month. As you are gearing up with whatever layers and things you need (warm coat, snack, sunscreen, etc.), wonder what else you should bring.
Step 3:
If you like, print out a copy of
our Welcome, December! worksheet
or just look at it with your child for inspiration. Take a minute to make sure you have the 5 senses you'll see (see, hear, smell, feel and taste) ready. You can "warm them up" a bit by looking around, listening for a sound, sniffing the air and rubbing hands together. [Tip: If you'd rather your child not taste things outside, pack a snack to enjoy together on your walk!]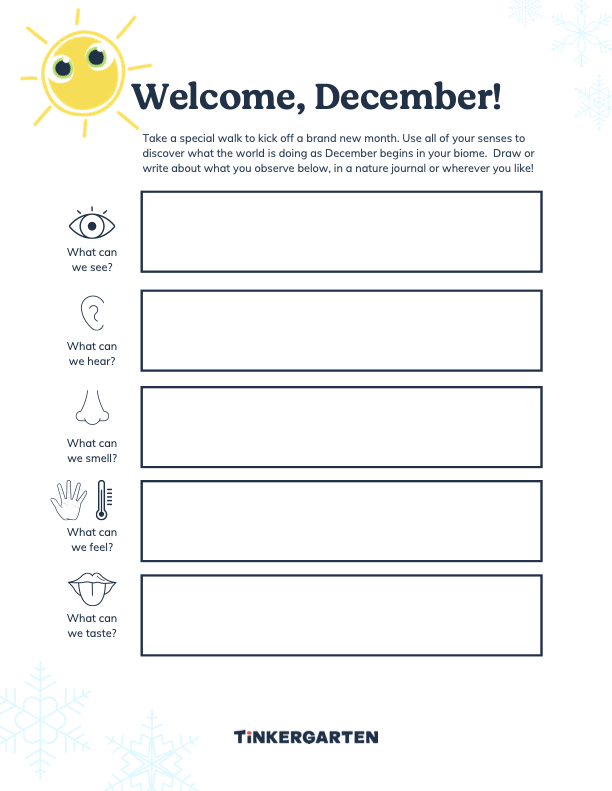 Step 4: Go for your walk and stop along the way to sense what the world is doing in your biome as December begins.

Step 5: Draw or write down what you sense. Or, wait to do that together when you take a break or later, after the walk is done. You can also take pictures to remind you of the things you notice and talk later about all that you sensed or share your discoveries with family and friends who couldn't join you on your welcome walk.


Step 6: As your walk ends, chat with kids about which of the things they noticed were their favorites. Share yours, too.


Step 7: Before you wrap up your walk, stop for a minute to share how grateful you are for the marvelous things you noticed. "Welcome, December!"