Set Up a Winter Gear Swap
Kids always outgrow their things, and parents and caregivers feel the squeeze to afford new things. Plus, we often don't know what to do with the clothes, gear and toys they outgrow.
In some communities, Buy Nothing groups or consignment stores really help. There are networks like
Freecycle.org
that help to connect people. Or, you can search social media. For example, many families exchange within their Tinkergarten classes! Search for "buy nothing" on Facebook to find a local group, or hold a yard sales or visit an old-school donation site like Goodwill or Salvation Army.
My favorite way to solve the gear problem also builds a strong sense of community—set up a free clothing swap among local families.
You can start small. All it takes is getting a handful of parents to bring what they can and take what they need. Then, once the swap is over, you can donate whatever is left!
This activity is featured in our December calendar. If you do not yet have your free copy, get it
here
.
The Guide
Find a space for your swap.
You'll need a space in which you can receive, categorize and set out items. If your size is small enough, host your swap at home or, weather permitting, in your yard or local park. If you are involving a lot of people, find a place that has enough room for all of the items and for volunteers to organize and for participants to "shop." If weather is an issue, you can inquire about using space in a local school, place of worship, community center, etc.
Once you have a space, pick a date and time.
Give the whole thing three or four hours tops, then split up the time:
Set a time for dropping off items (e.g. noon to 1:30pm on the day of your event).
Set a time for shopping for items (e.g. 1:45 to 3pm on the day of your event).
Decide on how it will work:
How many different things can people donate? What can people not donate? Toys have become hard to donate after our swaps, so we now stick to clothes and gear—but that still makes a huge impact!
Decide about whether or not you'll welcome kids to come and, if possible, if volunteers or an older child/teen can offer an activity for kids to do while their grown ups shop and swap. (Find hundreds of outdoor activity ideas at tinkergarten.com/activities).
Do you want to make it festive? Add in some music and refreshments and voila, it's a party!
Decide where you will donate any leftover clothes and gear, too.

Spread the word!
Make a flyer, document or communication that explains what you'll be swapping and how it works. Be explicit about:

Exactly what you will include in the swap and what you'll turn away.
The quality of items you'll include in the swap (e.g. clean, gently used items).
Where people can come to drop off items and where they'll wait for the swap to begin.

Connect through your personal networks, parenting groups, schools, faith organizations, etc. to spread the word and welcome as many families as you can to benefit from your swap.
Secure volunteers & materials
Get friends who want to participate to promise to help, too. You'll need help organizing the items as they arrive by category and age to make the swapping smooth.
Gather bags or make it really clear to swappers ahead of time that they should BYO bags. Gather bags or boxes for packing up any leftover items for donation once the swap is done.
Enjoy the swap!
Enjoy the chance to connect with other people and enable the reuse of quality gear and bring any leftovers to a local survival or donation center—all in the service of getting kids outside. Hurrah!
Why is this activity great for kids?
Spending time outside
is essential for our
overall well-being
, even when the temperature dips way down. Giving our kids four full seasons of meaningful time outdoors unlocks mental, physical and emotional growth that is too important to miss—but winter gear costs can really add up. Hosting a winter gear swap is a great way to connect with local families while supporting kids in your community with staying and playing outside every day this winter.
Try a Free Lesson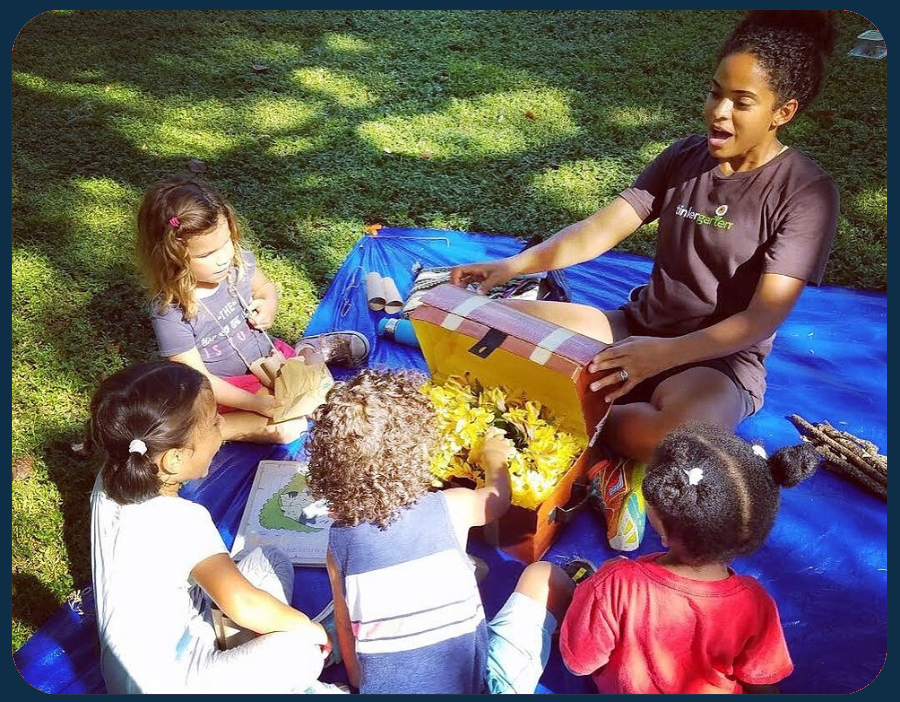 Tinkergarten for Teachers
Teach Tinkergarten in your community or classroom!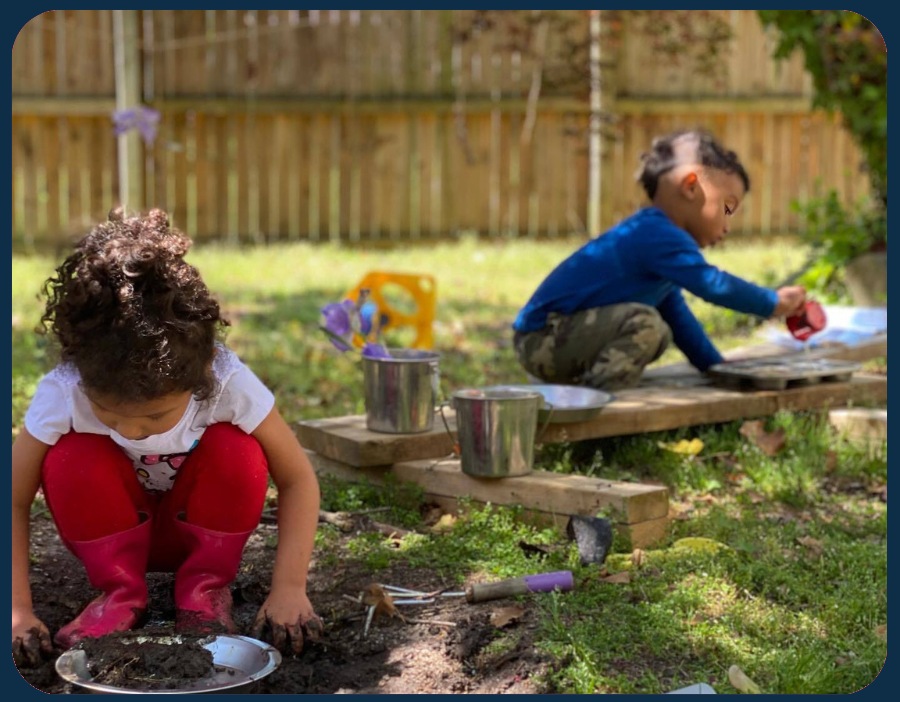 Tinkergarten Anywhere
Enjoy Tinkergarten as a family anytime, anywhere!