As part of our Tinkergarten April Calendar of Activities, we've cooked up a special activity to help families everywhere celebrate National Picnic Day on April 23rd.
From where we sit, any day you can stand to sit outside is a good day to dine al fresco with kids. The food always tastes better and a normal meal or snack is suddenly exalted from the mundane to the special once you move it outdoors. Plus, the whole experience is so much more than the meal—you get to plan, prepare, pack up, trek, eat and leave no trace. Read on to see how to engage kiddos in the joy and lessons each step can offer, then enjoy your next meal outside together!

If you don't have it yet, download our free April Calendar full of activities and sweet ways to celebrate nature and play all month long at tinkergarten.com/calendar.
The Guide
Plan:
Gather your picnic team and wonder together where you'd like to go. Your yard? A local park? Adventure to a park or outdoor spot a drive or bus ride away? Then, check to make sure that green space is allowing visitors and allowing eating. Some green spaces are still restricted these days.
Prepare

Work with kids to choose which foods you'll include in your meal. As you talk through the choices, wonder together where the food came from and take a moment to share gratitude for all of the yummy, healthy foods we get from nature.
You can engage kids in preparing the food, too—even littles. If kids are a little young to be "helpful" they could work alongside simply exploring some of the "ingredients" with their senses. I've always found it helpful to have kids do the washing, which leads to water play while I focus and get things prepped for the meal.
Pack:
Pack up your food.
Be sure to pack a blanket, water and a bag to collect any waste. If you've got them, use earth-friendly containers. In our OutdoorsAll4 community, members love products from brands like EcoLunchbox, Planet Box and Stasher bags. We've gotten rid of all single use containers in our house, and it feels so good!
At Tinkergarten and in our family, we also bring a bandana (or other piece of cloth) for each person to use as a "food blanket." Kids can eat over the blanket, then gently fold it up to make sure that crumbs and other bits of human food don't make their way into the environment.
If pesky bugs abound, pack some bugspray and sunscreen, too!
Trek:
Whenever you can get out the door, head to your picnic spot. Pick a wildflower or two to make the spot feel special. Enjoy whatever outdoor play time you've got, then enjoy setting up for an outdoor feast.
Eat:
Enjoy every taste and texture and notice how good everything is when you eat outside! We love to take a minute to share thanks for the feast, looking around to remind ourselves how much nature provides. While you are eating, enjoy the chance to connect and talk about what you are eating and whatever is happening around you.
Leave No Trace:
When you are done eating, help kids understand how to leave no trace. Leaving any litter harms the environment, but it's also safe to assume that it's not ideal for animals to eat our human food. To help kids leave no trace, we like to wrap up any leftovers in their food blankets (i.e. bandana) then place that bundle into a bag. When we get home, we just shake out each food blanket and either compost or throw out whatever was left from the picnic.
Why is this activity great for kids?
Try a Free Lesson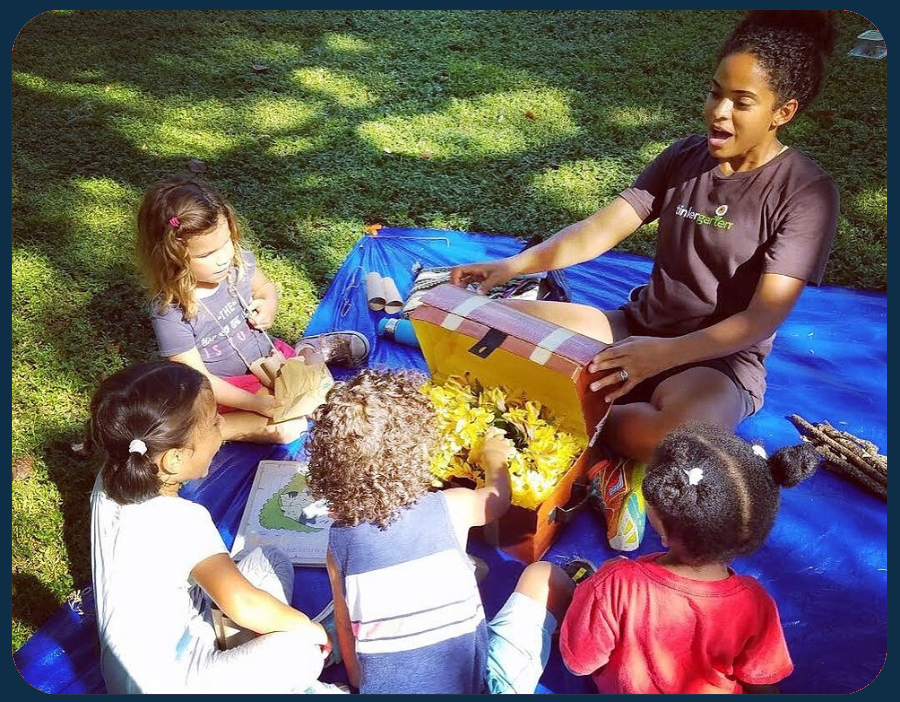 Tinkergarten for Teachers
Teach Tinkergarten in your community or classroom!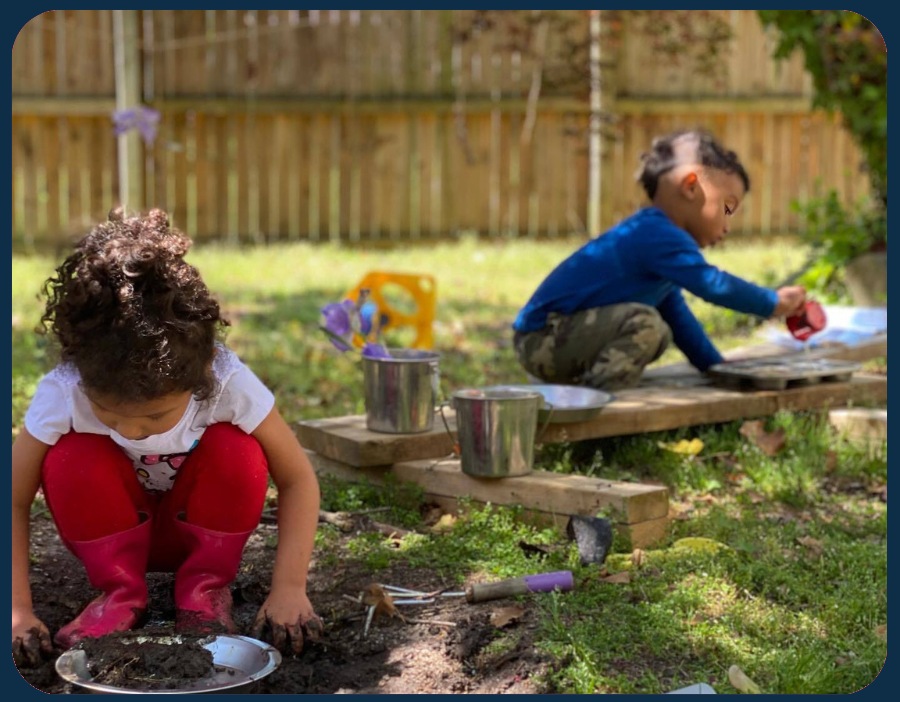 Tinkergarten Anywhere
Enjoy Tinkergarten as a family anytime, anywhere!