Age: 3 to 8+

Time: <30 min

Materials: kraft tape, nature treasures

Skills:
As part of our
May Calendar
and in honor of the 10th anniversary of the very first Tinkergarten class, we share one of our all time favorites—and the play invitation we gave in that first class.
The Guide
Prep your materials: Gather tape (paper craft is our favorite, but duct tape works too) and a pair of scissors. Then, head outside!
Select the spot: Pick an outdoor area with a range of small, light objects with interesting colors, shapes, textures and/or scents (for example, flowers, grasses, leaves, seeds, berries, bark, even dead bugs!)..
Wonder: Hook kids with a bit of wonder with an invitation like:

I wonder how we could collect nature treasures without using any containers...no buckets, pockets or anything. Hmmm...
I wonder if we could make nature jewelry...like bracelets or anklets. What do you think?

Wrap some tape: Wrap tape inside-out around your and kids' wrists, ankles, legs, etc. If kids don't really want to wear the tape, you can wrap it inside-out around a tree trunk, pole or other feature of your outdoor space.
Hunt for decorations: Encourage kids to scan the outdoor area using all their senses (except for taste!) to find interesting objects to help decorate their bracelets, anklets, etc.
Stick away: Help kids see how easy it is to stick found objects to the tape. Give a little coaching if kids get frustrated that objects too big, heavy, round or wet won't stick.
Patterns: For older kids, encourage them to make patterns or designs on the tape—a great challenge that gives a growing math brain a nice workout, too!
Parade! Once all of our designs are complete, get your silly on. Have fun parading about with your beautiful accessories or make it a point to behold your creations.
Why is this activity great for kids?
This classic is a winner for so many reasons. First, it activates many different senses, from sight to smell to touch—and often the vestibular sense as well as we bend down and reach up to gather treasures. Gathering or "transporting" objects as well as sticking or "connecting" objects are two behaviors that kids all over the world repeat in their play. These patters are known as "Behavioral Schema" and when we encourage them, we encourage kids to engage in brain boosting play! Finally, any pretend play that flows from decorating either our bodies or our spaces helps kids develop their imaginations and their spirits.
Try a Free Lesson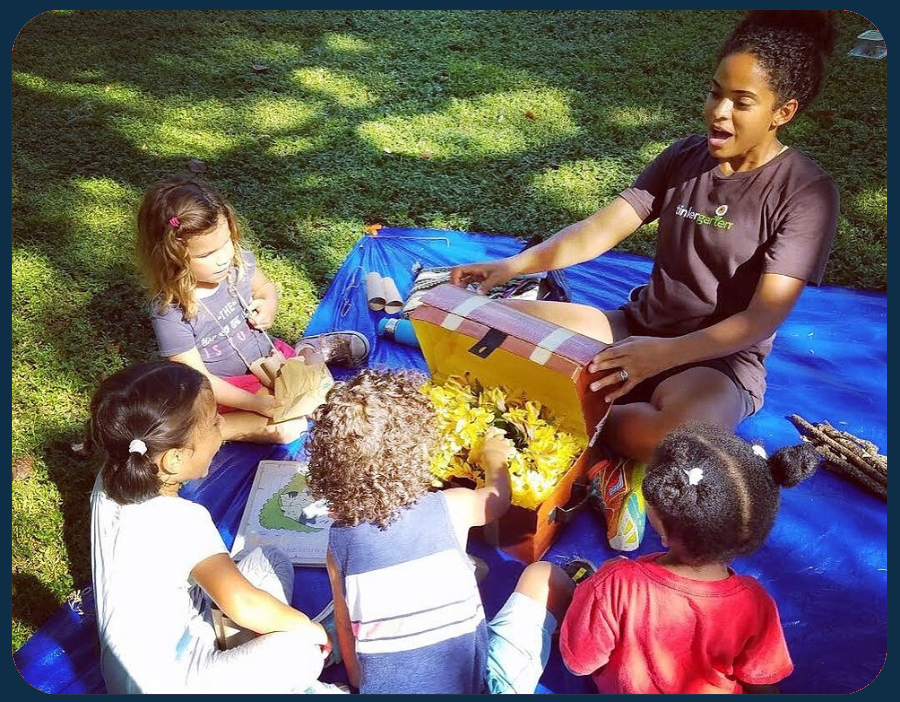 Tinkergarten for Teachers
Teach Tinkergarten in your community or classroom!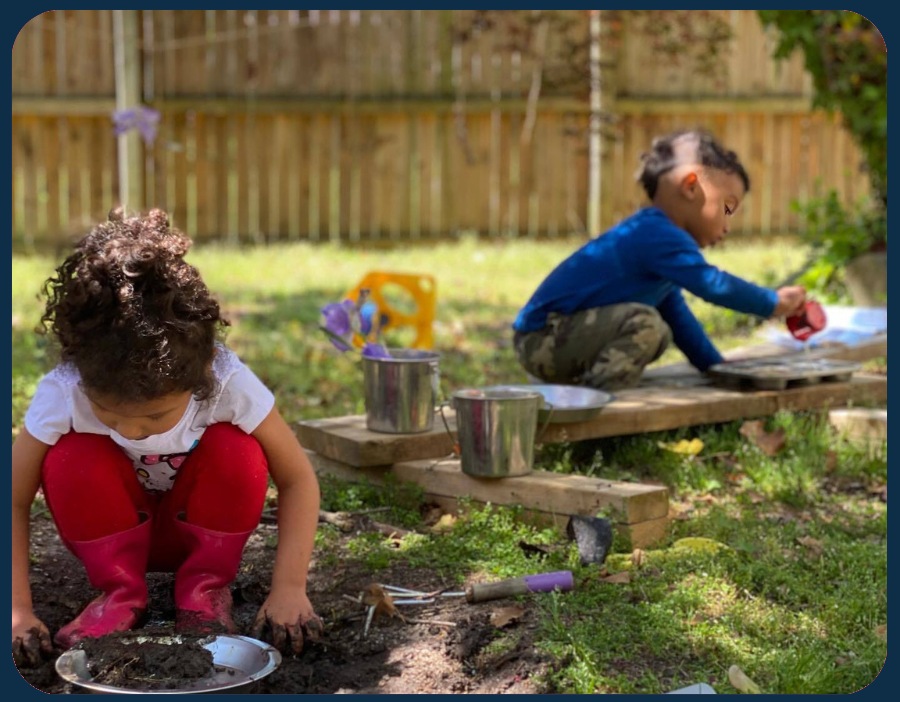 Tinkergarten Anywhere
Enjoy Tinkergarten as a family anytime, anywhere!