Play is important for all kids, especially when it's child-led, meaning the actions, discoveries and inventions feel like a child's own. Often, though, getting kids to play independently is easier said than done. Enter: play projects —play that revolves around a real-world theme. In this activity we introduce one of our favorite play projects- an outdoor bake shop! An outdoor bakery is simple to set up and, since play with food and cooking is, quite possibly, the most universally appealing and accessible pretend play theme at any age, you'll set the stage for hours of independent play as your child whips up their own nature treats. Here's how:
The Guide
Set it up
Choose an area in your outdoor space that can transform into your bake shop. All you really need is a patch of dirt and space to play. Want to jazz up your outdoor kitchen? Offer a few simple items to help transform their outdoor space, such as a crate, log or piece of wood to make a cooking surface or a pile of sticks to make a fire for cooking their feast. Need ideas? Read here to learn how to make a simple no-nails mud kitchen or here for inspiration from our OutdoorsAll4 FB community. Or, keep it simple! A bowl, dirt and water will inspire just as much imaginative play and learning for kids!
Add a few props
Gather a few kitchen tools (i.e. muffin tins, cake pans, mixing bowls, spoons) you don't mind getting dirty and place them in the play space. Offer a bin or bowl of water, too, to invite kids to make mud for their bakery creations. Start with just a few items at first—kids learn much more when you start simple and co-create the experience bit by bit, over time.
Wonder
Head outside to your play space together and wonder aloud how these materials could be used to create a bake shop. What kinds of baked goods would your child create in their bake shop? What ingredients would they need for their cakes, pies and cupcakes? What can they find in their outdoor space to use as pretend baking ingredients?
Play
If kids hear this invitation and run with it, let the play roll and join in alongside, following their lead. Talk to kids about what else they might need for their bake shop. What could they use to display their baked goods? Does their bakery need a sign to welcome customers?
Get more ideas
If you can, visit a local bakery together and take note of the different types of baked goods for sale. Or, "shop" around your indoor kitchen for ideas. What spices might they use in their bake shop? What tools might they use in their bakery? What containers might they use to store nature "ingredients" in their baking space?
Why is this activity great for kids?
Not only does project play inspire hours of focused, independent play, but when young kids repeat play within the same theme, important neural connections are strengthened. Playing and experimenting with ooey, gooey mud helps children to strengthen their sense of touch—and we know that the better kids are able to tune and integrate their senses, the more effectively they can learn. Lots of our kids get to help in our kitchens, but an outdoor kitchen is their domain and one in which both kids and parents can totally embrace the mess. This kind of unbridled mess-making frees up kids to develop genuine creativity.
Try a Free Lesson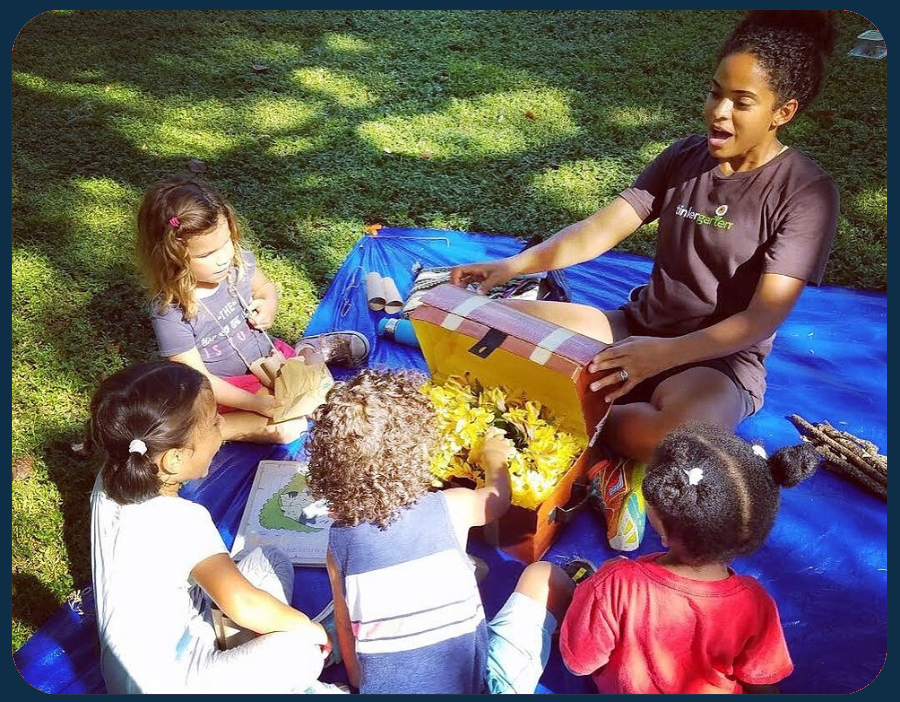 Tinkergarten for Teachers
Teach Tinkergarten in your community or classroom!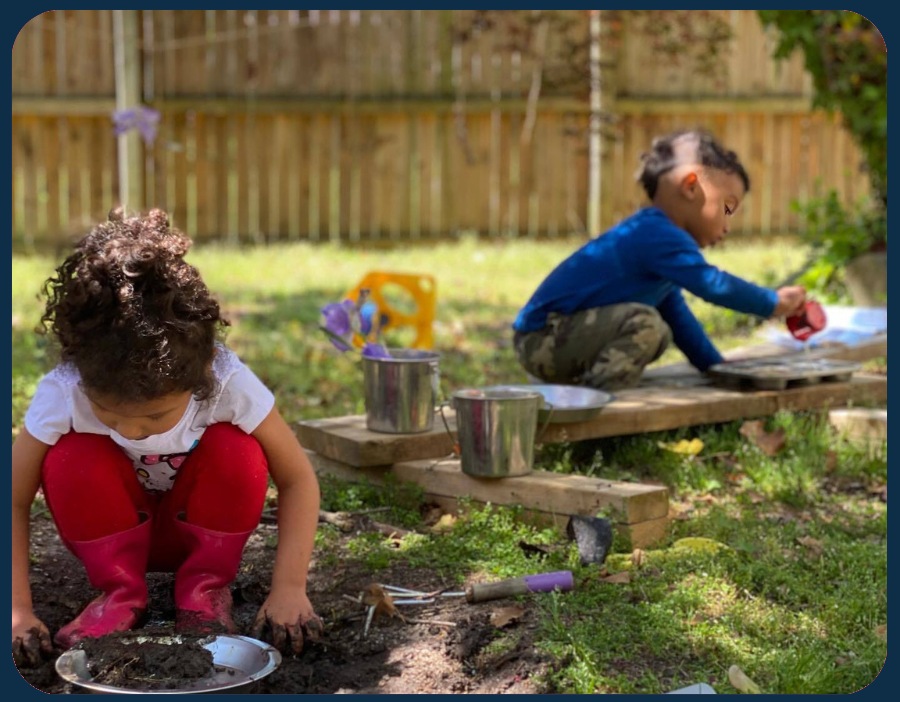 Tinkergarten Anywhere
Enjoy Tinkergarten as a family anytime, anywhere!