Make Music Like Wild Things
Age: 6 to 8+

Time: 1 hour+

Materials: Digital recording device (e.g. iPhone); 1 container w/ lid per kid; rubber bands; string

Skills: Creativity, Problem Solving, Sensory
Music never loses its ability to move us. In fact, as kids get older and get exposed to more and more music, their capacity to appreciate and be moved by music grows. Somehow, though, around age 5 or 6, so many of our music makers start to grow more shy about letting loose the playful musician inside. Perhaps it's for good reason. Many start to learn to play an instrument, focusing on technique over wild experimentation. We also know that most kids enter school and hop on the activity and playdate circuit, a lifestyle in which chances for unstructured play with sound grow few and far between.
To reawaken the wild musician inside, take your kids outside to make music. Give them the open-ended challenge to make as many different sounds as they can with a few materials from home and with all that mother nature has to offer. Bring your phone or any digital recording device to capture each different sound, honoring each discovery and motivating them to bang, rub, shake and shuffle outside the box. Add some live music and turn the day outdoors into a jam session. If you are a digital adventurer, download the sounds and add them to a favorite track, making your own nature mashup. No matter how you spin it, making music outside with your kids is good for body, brain and soul.
The Guide
Pack a few materials: Bring metal containers to bang, drop or plop objects into; rubber bands to stretch between branches and pluck; and canisters with tops (e.g. yogurt, raisin or oatmeal containers) to fill with pebbles, wood chips, acorns, etc. Pack some string too to give kids even more options. Pack a phone or digital recorder too!
Start with silence: Start out by lying down, closing your eyes and listening for the natural sounds around you (this is great, challenging practice with self control). Talk about the many sounds you hear.
State the mission: Ask kids, "How many different sounds can we make outdoors?" Their mission, should they choose to accept it, is to make as many as they can. If they need a jump start, gather pairs of sticks and explore how many ways you can use them to make sounds (e.g. bang them together and on logs, trees, objects from home, rub them against rough bark, shuffle leaves or dirt around). Keep the containers handy so kids can use them to make more sounds.
Record the sounds: As kids play, record new sounds using a digital recorder (like the voice memo app on the iPhone). Soon, kids will likely be excitedly calling you over to record, proud of each new sound.
Add a live Jam session (optional, but fabulous): If you play an instrument or know friends who do, add in some live music that everyone can bang, beat, strum and even dance around to. Sing a few of your favorite songs and bang or clang along.
Chant a rhythmic poem while kids play along: We love the poem Grassy Grass Grass by Woodie Guthrie, for example. Repeat it a couple of times so kids can pick up and join in with the rhythm and words. Teach it to them and you give them a chant to sing as they take a long walk, wait for the bus, or anytime their mind needs a beat to grab hold of.
Make a mashup: Once you are back at home, drop your sound files into a program like GarageBand, and lay them over a favorite instrumental track. Many kids will enjoy watching this process, and some will even be able to teach you! Play the track back for your kids and see if they can remember how they made the different sounds. Share the track, dance around and relish the glory of the new record you just cut.
Have little kids on hand? Here's how we help kids age 0-5 make music like wild things.
Why is this activity great for kids?
Watching even "big kids" lose themselves in the
joy
of making sounds and music is super gratifying. It's so rare that kids just get to be noisy and generative, and it's a perfect way to develop the
creativity
they'll so desperately need in the future. Just taking time to be silent and listen to the sounds around them also helps develop
self control
and further hones kids'
senses
. Further, as kids adjust materials and methods to make new sounds, they experiment and problem solve. Being musical is also tied to brain development and even success in school. Research shows that participation in music, especially at an early age, can help improve a child's
learning ability
and
memory
by stimulating parts of the brain that are related to
memory
,
language
,
patterns
and
emotional development
. All of this may explain why participation in musical activities is such a predictor of success in school, college and beyond.
Try a Free Lesson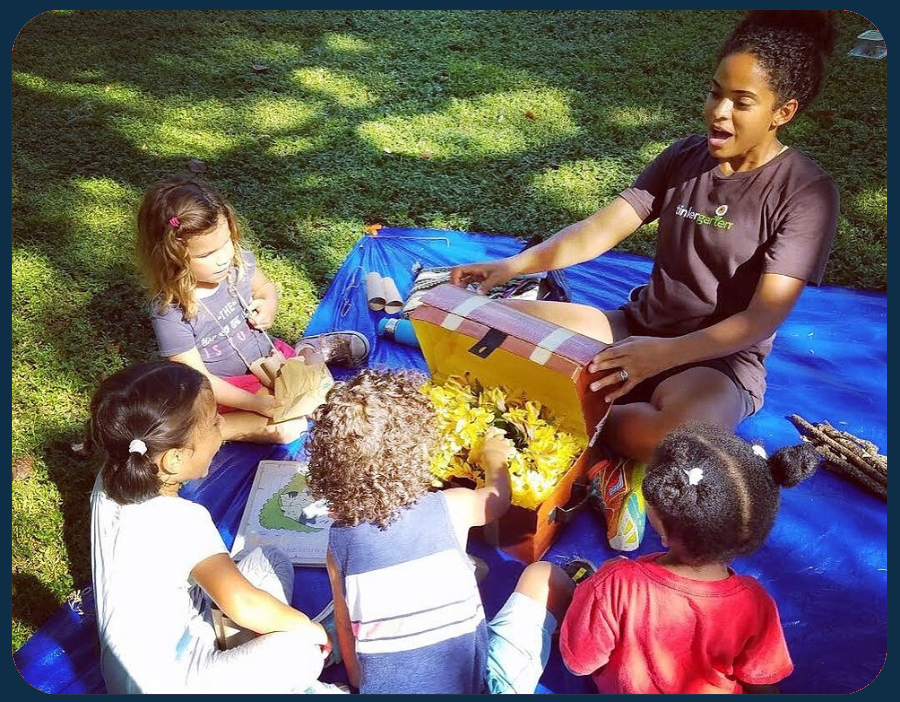 Tinkergarten for Teachers
Teach Tinkergarten in your community or classroom!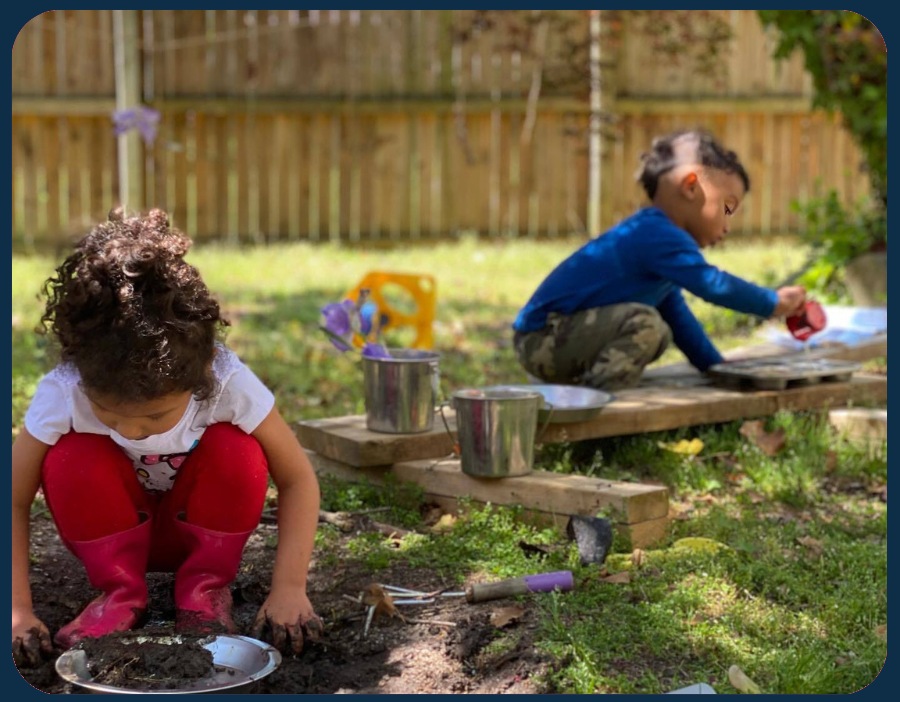 Tinkergarten Anywhere
Enjoy Tinkergarten as a family anytime, anywhere!