Cooking in the Mud Kitchen
Play with food and cooking is, quite possibly, the most universally appealing and accessible pretend play theme at any age. All you need is a few kitchen utensils, some dirt and water and voila! You'll set the stage for hours of independent play as your child whips up their own mud recipes.
The Guide
Set up your kitchen: Ask, "Would you like to have your very own outdoor kitchen to cook your own 'nature food'?" Show your child the kitchen utensils you have set aside for use in their outdoor kitchen and invite them to help find a good spot to set up their cooking tools. Look for an area with a patch of dirt and welcome kids to help arrange the cooking tools in the space.
Want to jazz up your outdoor kitchen? Offer a few simple items to help transform their outdoor space, such as a crate, log or piece of wood to make a cooking surface or a pile of sticks to make a fire for cooking their feast. Need ideas? Read here to learn how to make a simple no-nails mud kitchen or here for inspiration from our OutdoorsAll4 FB community. Or, keep it simple! A bowl, dirt and water will inspire just as much imaginative play and learning for kids!
Make mud! Trickle a small amount of water on the ground, and use a stick to do a little mixing. Then hand the container of water to your child, stand back, and watch them get to work. Mud making can be super engaging for kids and you may find that your child needs lots of time just to experiment with mixing, stirring and pouring the dirt and water.
Shop for "ingredients": When you sense an opening or a pause in play, suggest that you do some shopping for ingredients together. Talk together about favorite foods you eat as a family. Then, suggest that you search your outdoor space for nature ingredients to add to their pretend food. Kids can use a bindle, bag or pail to gather sticks, leaves, seeds, tree fruits, flowers, grasses, etc. Kids can also pick up more as they cook. Find objects with a variety of colors, sizes, weights, and even smells to bump up the sensory impact.
Guide play: Let kids play and play alongside them. Periodically "ooo" and "ahhh" about their dishes and ask them about what they are cooking. Play the Sous chef. Sprinkle "ingredients" (leaves, tree fruits, grasses, etc.) around where kids are working or set them out in small pails or piles. Do some experimental cooking yourself, and share your own dish when ready.
Extend Play: Offer spices that your family uses often when cooking to add special flair to their dish. Pull out an old sheet table cloth and enjoy a feast together. Then pretend to smell, taste and savor your delectable delights.
Why is this activity great for kids?
Playing and experimenting with ooey, gooey mud helps children to strengthen their sense of touch -- and we know that the better kids are able to tune and integrate their senses, the more effectively they can learn. Once kids know how to make and manipulate mud, they have a tool for play and building with virtually unlimited uses. When kids transform the shape, texture, or nature of materials (in this case, turning dirt and water into mud), they also engage in a universal behavior pattern called the transforming schema, which supports brain development. Lots of our kids get to help in our kitchens, but an outdoor kitchen is their domain and one in which both kids and parents can totally embrace the mess. This kind of unbridled mess-making frees up kids to develop genuine creativity.
Try a Free Lesson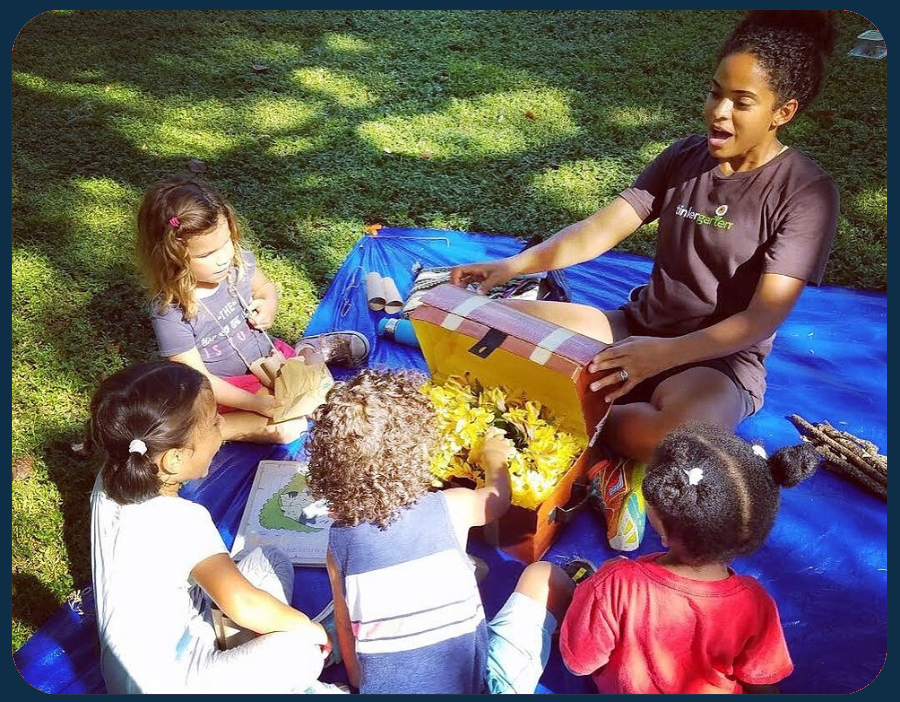 Tinkergarten for Teachers
Teach Tinkergarten in your community or classroom!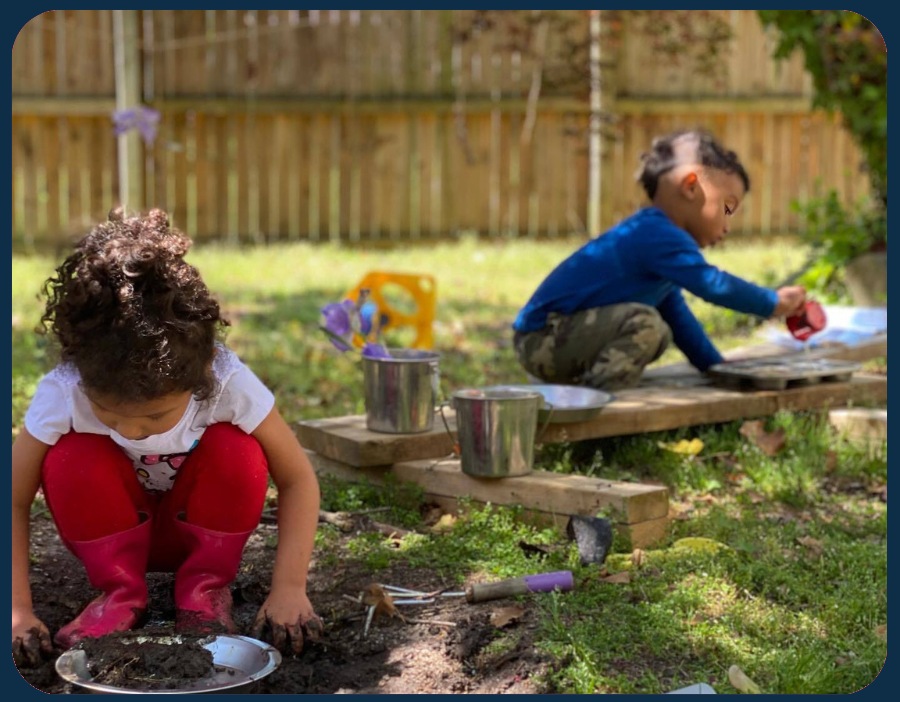 Tinkergarten Anywhere
Enjoy Tinkergarten as a family anytime, anywhere!