Camo Hunt Activity For Kids
Add a twist to the usual trail walk and give kids a chance to discover a powerful nature concept: camouflage! What kid doesn't like to go on the hunt for treasure? This time, the treasure is purposefully pre-planted yarn of 2 types: bright and colorful and camouflage (green, tan and brown). Kids will get hooked on the "hunt," grabbing as much yarn as they can. In the process, they should also grasp the idea that, out in nature, bright colored yarn is easier to find than green or brown yarn. Although your discussion with them will differ a lot depending on their ages, you'll get a chance to communicate on their level about their discovery, and maybe even what it means for the animals and plants in your environment. Use it as a precursor and give even more substance to a shelter building or hiding out activity like Hare-y hideout.
The Guide
Prep your yarn: You'll need at least two different types of colored of yarn: one vibrant (pink, purple, teal, yellow, orange, etc.) and one that is green and/or brown. Cut pieces of each yarn (about 6-8 inches each).
Lay the trail: Go out and place equal amounts of each type of yarn along a patch of trail or woods. Sprinkle strands on the ground, hang them on limbs of trees or on the leaves of low plants, leave them peeking out of logs, etc.
Hike/hunt with the kids: Then, bring kids on a trail walk, asking them if they notice anything. Assuming they'll notice the yarn (if not, point it out), give them time to hunt for the yarn.
Reflecting on their findings: After a few minutes of hunting, call kids together to share and look at what they've found. Ask them what they notice and prompt a bit if they don't readily notice that there are two types of colors and that they have found more of the bright colored yarn than the green/brown type. Let them know that you hid the same number of pieces of each color. Wonder, "Why do you think you found more bright colored yarn than green/brown yarn?" If you are with kids ages 3 or 4, they probably won't have an answer, and that's okay. We recommend not forcing it or providing a long explanation about "camouflage." Rather, accept any ideas they may have, model how to wonder "Why?" something is as you notice it, and rest assured that this will be a memory that they can apply later when they are ready to understand the concept of camouflage. Others who are 5 and older typically can make the connection.
Chat more about this: If you are with kids ages 5 and over, you can have a great follow-up chat by asking questions like, "If you wanted to hide really well in the woods, what might you do? What color yarn would be hard to find in the winter? Why do you think animals want to blend into the environment? Why do you think flowers are often so brightly colored?"
Leave no trace: Sweep back through the trail to ensure that you've gotten all of the yarn.
Why is this activity great for kids?
Such a hunt helps hone visual sensory skills and subtly encourages kids to take a closer look at the world around them. Plus, there is nothing like a hunt to motivate even the busiest explorer to block out distractions and focus on the task at hand. Allowing kids to discover the concept of camouflage naturally enables them to make connections between the color of an object or animal and its surroundings at the level appropriate for their age and knowledge. No matter the age, modeling how to ask open ended questions and inspire lifelong curiosity supports kids at becoming self-directed learners.
Try a Free Class
Two class formats: try a free In-Person session (where and when available) or try Tinkergarten Anywhere, our on-demand product available anytime.
In either format, a certified Tinkergarten Leader will teach a Tinkergarten lesson and inspire your kids to play.
Sample the additional activities and resources families get each week to keep kids learning outside at home.
Become or Recommend a Leader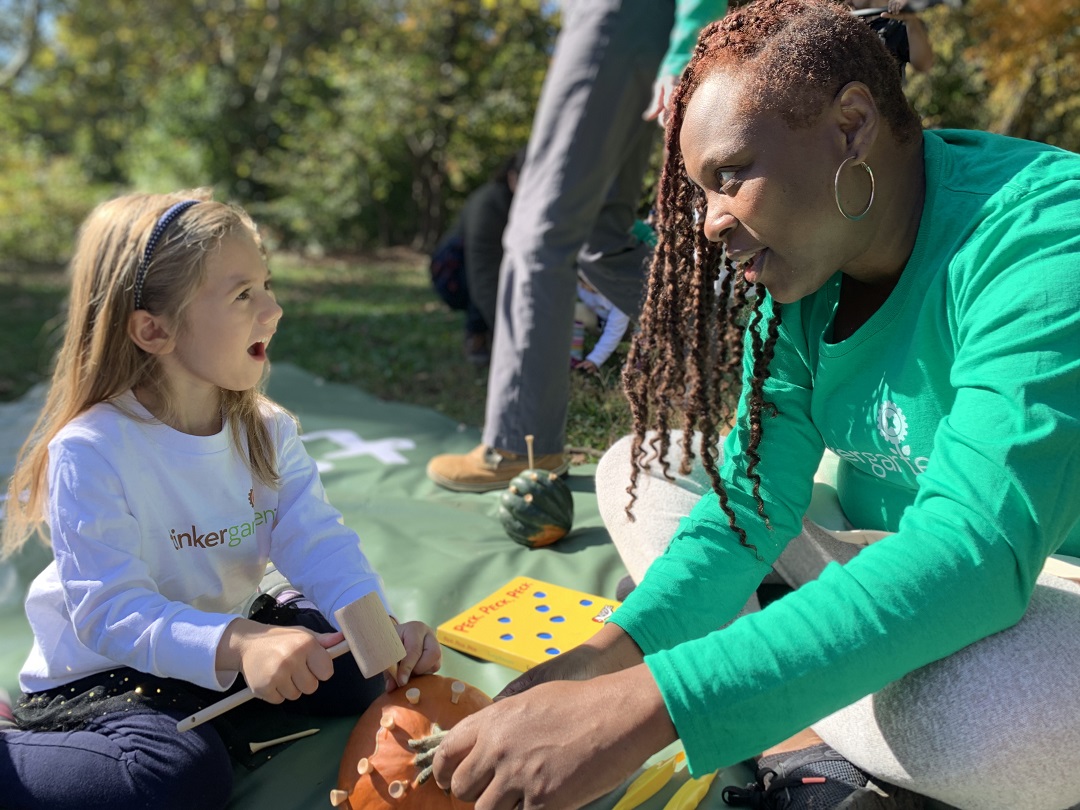 Help us bring Tinkergarten to your community.
Recommend people you think would make great Tinkergarten Leaders.
Maybe that's you!
Earn a $100 gift card to Amazon if your nominee becomes a Leader!